Potter Sapphire Ferguson had one rule: no more artists. There have been too many disappointments and too many heartbreaks. That is, until she sees wildlife metal artist Grady Magee welding a sculpture of wolves, and Sapphire's self-control is completely incinerated. Whoa, Nellie. A cowboy with an artist's soul…and a hard, sexy body. How can she resist?
Sapphire tells herself it's just sex—incredibly and unbelievably intense sex—between two consenting adults. No love and no getting hurt. Except that Grady isn't just an artist. He was raised at Thunder Mountain Ranch, and he's all cowboy. He's playing for keeps…and he'll have to prove to Sapphire that he can have an artist's soul and a cowboy's heart.
Thunder Mountain Brotherhood #6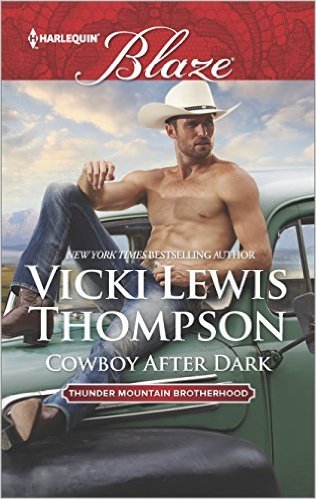 Hotter when the sun goes down
White- water rafting guide Liam Magee is a cowboy at heart—happy to return to his country roots at Thunder Mountain Ranch for his foster brother's wedding. And when Hope Caldwell shows up as a guest…well, the occasion just got more interesting. She's started looking at Liam like he's one ride she couldn't possibly resist, so why is she holding back?
Hope can't keep her eyes (and her sexy thoughts) from the hotness that is Liam. She'll never let herself believe in love and happy endings—she learned that lesson the hard way—but maybe she can have a little fun while she's on vacation. After all, there's only so much trouble one cowboy can cause in a week…especially once the sun sets!
Thunder Mountain Brotherhood #5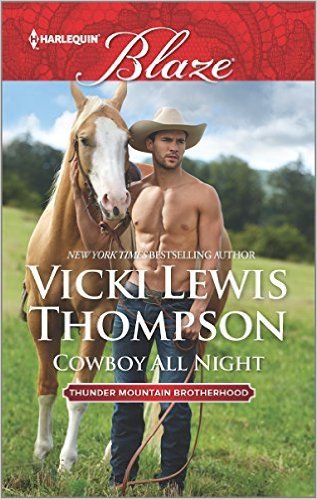 Blame it on the Stetson…
Brant Ellison's easygoing nature makes him one of the most sought-after horse trainers in Wyoming. His powerful muscles don't hurt, either. Nothing makes Brant happier than training a new colt at his foster home, Thunder Mountain Ranch—except maybe the colt's sexy new owner, if she wasn't all work and no play.
Aria Danes hopes that once trained, the colt will help her injured brother. But Brant is proving to be a distraction from her responsibilities—she has a wicked urge to strip him from his hat to his boots. Ride 'em, cowboy. Aria and Brant can't get enough of each other. Their craving is insatiable, even if they have nothing in common. Even if some cowboys can never be tied down…
Romance Series | Romance Contemporary | Romance Erotica Sensual [Harlequin Blaze, On Sale: May 24, 2016, Paperback / e-Book, ISBN: 9780373798995 / eISBN: 9781488000201]

Who know cherry pie could be so hot.


Would you stay up all night with a cowboy - and a palomino foal