Outstanding Western romance writer, Vicki Lewis Thompson, offers one lucky US reader a chance to win audio CD sets of CRAZY FOR THE COWBOY and WILD ABOUT THE WRANGLER. Take the drudgery out of everyday chores by listening to these great romances. Enter now!

And don't miss her most recent engrossing story, COWBOY AFTER DARK.
Thunder Mountain Brotherhood #6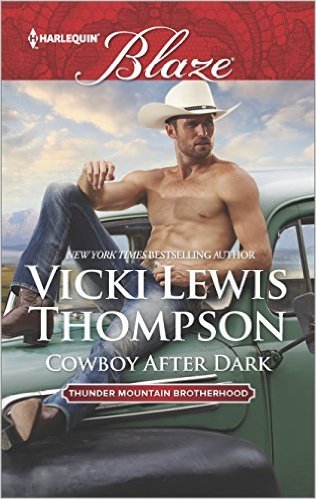 Hotter when the sun goes down
White- water rafting guide Liam Magee is a cowboy at heart—happy to return to his country roots at Thunder Mountain Ranch for his foster brother's wedding. And when Hope Caldwell shows up as a guest…well, the occasion just got more interesting. She's started looking at Liam like he's one ride she couldn't possibly resist, so why is she holding back?
Hope can't keep her eyes (and her sexy thoughts) from the hotness that is Liam. She'll never let herself believe in love and happy endings—she learned that lesson the hard way—but maybe she can have a little fun while she's on vacation. After all, there's only so much trouble one cowboy can cause in a week…especially once the sun sets!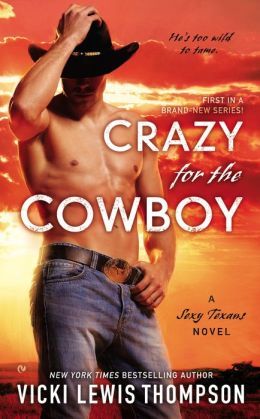 Het's too wild to tame
The New York Times bestselling author of the Wild About You series delivers the first in a brand-new series that takes readers on the wild ride that comes with loving a cowboy. …
When Vince Durant left Bickford, Texas, he was a rowdy cowboy just looking for a good time. He also left unfinished business. He hadn't captured the Ghost, a wild stallion that roams the hills, and he never convinced Georgina Bickford to go out with him. Georgie might be a lost cause, but the Ghost has been calling his name ever since....
When Vince returns to Bickford, he finds his old stomping ground a shell of what it used to be, and Georgie still wants nothing to do with him. To her, he'll always be the womanizing cowboy she knew seven years ago.
And when Vince comes up with a plan that might restore Bickford to its former glory, Georgie wonders if the rough-and-tough cowboy has truly changed. As they get closer, Georgie will have to decide whether to resist Vince's charm or to attempt to tame the wild stallion who's stolen her heart.

A saucy young woman surprisingly corrals her rowdy, sexy cowboy.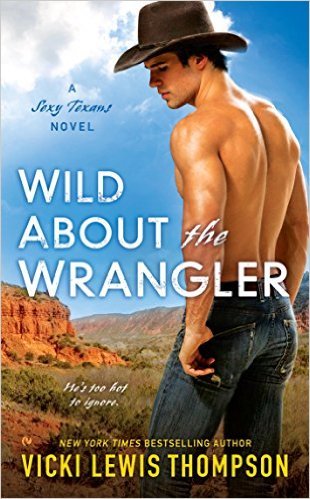 The New York Times bestselling author of Crazy for the Cowboy ropes another sexy Texan in a novel of untamed, passion-filled romance in the Panhandle.…

Expert rider Mac Foster's got it bad for Anastasia Bickford, but he's fighting it. Not only is she a friend—she's his boss's sister, making her the last person he should be lusting after. To make matters worse, she's creating a name for herself as an artist, and it's only a matter of time before the world comes knocking at her door.

Though Anastasia has a growing reputation for her vivid drawings of a legendary wild stallion they call the Ghost, she's never seen him. A secret fear of horses has forced her to rely only on photos. Since no one knows the Ghost better than Mac, he can help her overcome her fear by teaching her to ride. But in order to get closer to the stallion, she'll have to get closer to the man.
Contest ends: September 30, 2016