Now that FIREWALL has ended, Taryn and Grayson have more time to get to know each other. One way to accomplish this is to spend hours talking, and Starbucks is the perfect place to chat. There the two can enjoy their favorite blend without the threat of bad guys interrupting them. I can only imagine the conversation starters. Grayson wants to know what it was like to grow up with brothers. Taryn is curious about his years spent with Joe. Grayson wonders about the process of developing software. Taryn wants to steal a kiss. No matter how you picture Taryn and Grayson growing closer, you'll enjoy their story in FIREWALL, and DiAnn Mills is giving away an official FBI coffee mug and a $25 Starbucks gift card, so you can relax while you get to know this wonderful couple!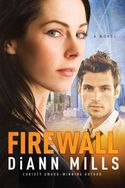 After a whirlwind romance, Taryn Young is preparing to board a plane at Houston International Airport, bound for a dream honeymoon, when a bomb decimates the terminal. Injured but still alive, she awakens to discover her husband is missing and they're both considered prime suspects in the attack. Further, the FBI is convinced her husband isn't who he appears to be.

Agent Grayson Hall's number-one priority is to catch those responsible for the day's act of terror. All evidence is pointing to Taryn and her new husband. But his instinct tells him her pleas of innocence are genuine. Is her naiveté just for show, or could she truly be another victim of a master scheme, possibly linked to the software she recently developed for her company?

With both their lives and reputations on the line, and the media outcry for justice increasing with each passing minute, Taryn and Grayson have no choice but to trust one another . . . and pray they can uncover the truth before they become two more casualties.


Contest ends: September 30, 2014