DiAnn Mills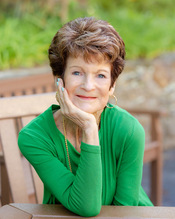 Expect an Adventure
Social Media:
BLOG
GOOGLEPLUS
GOODREADS
YOUTUBE
TWITTER
FACEBOOK

News
August 21, 2015
DiAnn Mills | When Does Commitment Turn to Obsession?
April 17, 2015
DiAnn Mills | Double Cross: Romantic Suspense Musical?

E-mail me when DiAnn Mills releases a new book.
Blogging at Fresh Fiction
DiAnn Mills | When Does Commitment Turn to Obsession?
August 21, 2015
A writer who is serious about embarking upon a publishing career under-stands commitment is critical for success. Adhering to a schedule and making provisions Read More...
DiAnn Mills | Double Cross: Romantic Suspense Musical?
April 17, 2015
I write FBI romantic suspense set in Houston, Texas, but when I sat at my computer to write this blog, a bit of fun crept Read More...
DiAnn Mills | Brainstorming Your Novel
July 9, 2014
Every novelist reaches a plateau in which the perfect story idea isn't coming together. The plot germ is there, but the theme, setting, characters Read More...
DiAnn Mills | FBI Houston Citizens Academy
March 5, 2013
When I received the invitation from the FBI Houston Community Outreach Coordinator to participate in their Citizens Academy, all I could think about was Read More...
DiAnn Mills | Castle Meets Cold Case
March 28, 2012
I'm an avid fan of TV's Read More...
DiAnn Mills | Jalapeños, Scorpions, and Snakes
October 18, 2011
What do jalapeños, horses, scorpions, snakes, and a man and woman under a star-studded sky all have in common? Texas. West Texas. The Read More...
DiAnn Mills | Happily Ever After
June 18, 2011
I can't fathom writing a novel without weaving suspense and romance into the plot. The idea of two people falling in love while sharing Read More...
DiAnn Mills | Historical Romance vs the Princess Stories
January 10, 2011
I have a theory about historical romance. Think about my conclusions to see if you agree. When we were little girls, we loved pretending we Read More...
DIANN MILLS | Expect an Adventure
October 18, 2010
Writing is a tough profession. The competition in today's publishing world makes the strongest writers think twice about their commitment to excellence. But those Read More...
DiAnn Mills | Strong Women, Unlikely Roles
June 25, 2010
Women who accept nontraditional roles and succeed with dynamic outcomes are the heroines in my novels. These are Glock-totin' gals with southern charm who Read More...
Dear Reader
Welcome to book two in the FBI: Houston series. The story is a romantic suspense set in Houston, Texas, and I'm thrilled with its release!
In Double Cross, a female FBI special agent investigates an elderly scam case and discovers key evidence that leads to a known felon, a man she put into prison. To make matters worse, she's placed on a task force with him and a Houston police officer, who's entirely too good looking. While fighting her attraction to the police officer and searching for evidence to not only end the case but also put away the felon for good, danger rages. Where does the case lead? How can she trust the felon when he might be leading her straight into a double cross?
Special Agent Laurel Evertson appears calm and in control, but on the inside she's plagued with the past. Houston Police Officer Daniel Hilton has his own inner demons. His grandparents raised him when he was abandoned, and now they're victims of the elderly scam. My third character is Daniel's grandmother Abby. I love the way she's a fighter - with a bit of humor and eccentricity.
I believe this story will keep you up all night.
Live the suspense.
Bask in the growing attraction between Laurel and Daniel.
Laugh at Abby's unique perspective on life.
Experience the heartache of elderly scam, and watch the felon in action . . . Is he guilty of all Laurel and Daniel suspect?
Who do you think is behind the crimes?
DiAnn
* * *
DiAnn Mills is a bestselling author who believes her readers should expect an adventure. She combines unforgettable characters with unpredictable plots to create action-packed, suspense-filled novels.
Her titles have appeared on the CBA and ECPA bestseller lists; won two Christy Awards; and been finalists for the RITA, Daphne Du Maurier, Inspirational Readers' Choice, and Carol award contests. Library Journal presented her with a Best Books 2014: Genre Fiction award in the Christian Fiction category for Firewall.
DiAnn is a founding board member of the American Christian Fiction Writers; the 2015 president of the Romance Writers of America's Faith, Hope, & Love chapter; a member of Advanced Writers and Speakers Association, and International Thriller Writers. She speaks to various groups and teaches writing workshops around the country. She and her husband live in sunny Houston, Texas.
DiAnn is very active online and would love to connect with readers on any of the social media platforms listed at her website.
Books:
Deadlock, October 2015
FBI: Houston #3
Paperback
Double Cross, April 2015
FBI: Houston #2
Paperback
Firewall, July 2014
FBI: Houston #1
Paperback
The Lighthouse Brides Collection, September 2013
Trade Size
Footsteps, September 2013
e-Book (reprint)
The Farmer's Bride Collection, August 2013
Paperback
The Dance Of Character And Plot, June 2013
Paperback
A Texas Brides Collection, May 2013
Paperback
The Survivor, March 2013
Paperback
The Chase, April 2012
Crime Scene: Houston
Paperback
Attracted to Fire, October 2011
Paperback
Under a Desert Sky, June 2011
Paperback
The Fire In Ember, January 2011
Paperback
Pursuit of Justice, October 2010
Call of Duty #3
Trade Size
A Woman Called Sage, May 2010
Paperback
Sworn To Protect, April 2010
Call Of Duty #2
Paperback
Breach Of Trust, March 2009
Call Of Duty #1
Trade Size
Texas Legacy Omnibus, August 2008
Paperback
Awaken My Heart, February 2008
Paperback
When the Nile Runs Red, September 2007
Paperback
Mackinac Island, April 2006
Paperback

Videos