DiAnn Mills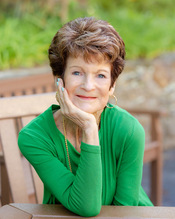 Expect an Adventure
Contests
Enjoy Romance, Suspense, and Spring Games from DiAnn Mills!

Social Media:
DiAnn's Facebook
DiAnn's Twitter

News
December 8, 2014
DiAnn Mills Brings the Best Bread Pudding

E-mail me when DiAnn Mills releases a new book.
Blogging at Fresh Fiction
DiAnn Mills | Brainstorming Your Novel
July 9, 2014
Every novelist reaches a plateau in which the perfect story idea isn't coming together. The plot germ is there, but the theme, setting, characters Read More...
DiAnn Mills | FBI Houston Citizens Academy
March 5, 2013
When I received the invitation from the FBI Houston Community Outreach Coordinator to participate in their Citizens Academy, all I could think about was Read More...
DiAnn Mills | Castle Meets Cold Case
March 28, 2012
I'm an avid fan of TV's Read More...
DiAnn Mills | Jalapeńos, Scorpions, and Snakes
October 18, 2011
What do jalapeńos, horses, scorpions, snakes, and a man and woman under a star-studded sky all have in common? Texas. West Texas. The Read More...
DiAnn Mills | Happily Ever After
June 18, 2011
I can't fathom writing a novel without weaving suspense and romance into the plot. The idea of two people falling in love while sharing Read More...
DiAnn Mills | Historical Romance vs the Princess Stories
January 10, 2011
I have a theory about historical romance. Think about my conclusions to see if you agree. When we were little girls, we loved pretending we Read More...
DIANN MILLS | Expect an Adventure
October 18, 2010
Writing is a tough profession. The competition in today's publishing world makes the strongest writers think twice about their commitment to excellence. But those Read More...
DiAnn Mills | Strong Women, Unlikely Roles
June 25, 2010
Women who accept nontraditional roles and succeed with dynamic outcomes are the heroines in my novels. These are Glock-totin' gals with southern charm who Read More...
Dear Reader
The story idea for Firewall, the first book in the FBI: Houston series, is a July 2014 release. The story sprang from an idea I'd entertained since 2007. What if a young couple waited at a Houston airport for their honeymoon flight and were separated? A bomb explodes. The woman is knocked unconscious. When she wakens, she learns from an FBI agent she's a person of interest. With those parameters, who was this couple? What are their backgrounds? Is she innocent or guilty? I rooted the story in suspense with a firm grip on reality and a thread of romance that widens as the story continues. Taryn Young is my heroine, and Special Agent Grayson Hall is assigned to learn the truth about her and the bombing.
A few years ago I forged a relationship with Houston's FBI. After several discussions, they agreed to answer my questions about protocol. One tidbit is special agents drive only American made vehicles. In 2012 I was invited to attend a seven-week series of workshops as a part of the FBI's Citizens Cadet Academy. Thrilled doesn't begin to describe my enthusiasm. Every week, I sat wide-eyed as special agents shared their experiences and expertise. I learned so much . . . and there's so much more to learn.
I've learned the special agents working in my city—Houston, are involved in many different crimes. You can discover more on their website: www.fbi.gov. Crime categories are listed below.
Terrorism
Counterintelligence
Cyber Crime
Public Corruption
Civil Rights
Organized Crime
White-Collar Crime
Violent Crimes & Major Thefts
I saw many options for my characters' special skills, but choosing a special agent's career didn't mean I understood his/her background, personality, skills, strengths, challenges, or what motivated the character into action. Interviewing special agents helps me to develop my characters. My job as a writer is to keep adding to my arsenal of skills and create the best romantic suspense possible.
The FBI's national security mission is to lead and coordinate intelligence efforts that drive actions to protect the United States. The Bureau's primary work rests within the boundaries of our country. I so respect the brave men and women who keep us safe. I hope you see my admiration in every book of the FBI: Houston series.
Be safe and keep your eyes open!
DiAnn
* * *
DiAnn Mills is a bestselling author who believes her readers should expect an adventure. She currently has more than fifty-five books published.
Her titles have appeared on the CBA and ECPA bestseller lists and have won placements through the American Christian Fiction Writer's Carol Awards and Inspirational Reader's Choice awards. DiAnn won the Christy Award in 2010 and 2011.
DiAnn is a founding board member for American Christian Fiction Writers and a member of Inspirational Writers Alive, Romance Writers of America, Faith, Hope & Love, Advanced Writers and Speakers Association, and International Thriller Writers. She speaks to various groups and teaches writing workshops around the country. DiAnn is also a Craftsman mentor for the Jerry B. Jenkins Christian Writers Guild and is the 2014 president of RWA's Faith, Hope, & Love chapter.
She and her husband live in sunny Houston, Texas.
Books:
Double Cross, April 2015
Paperback
Firewall, July 2014
FBI: Houston #1
Paperback
The Lighthouse Brides Collection, September 2013
Trade Size
Footsteps, September 2013
e-Book (reprint)
The Farmer's Bride Collection, August 2013
Paperback
The Dance Of Character And Plot, June 2013
Paperback
A Texas Brides Collection, May 2013
Paperback
The Survivor, March 2013
Paperback
The Chase, April 2012
Crime Scene: Houston
Paperback
Attracted to Fire, October 2011
Paperback
Under a Desert Sky, June 2011
Paperback
The Fire In Ember, January 2011
Paperback
Pursuit of Justice, October 2010
Call of Duty #3
Trade Size
A Woman Called Sage, May 2010
Paperback
Sworn To Protect, April 2010
Call Of Duty #2
Paperback
Breach Of Trust, March 2009
Call Of Duty #1
Trade Size
Texas Legacy Omnibus, August 2008
Paperback
Awaken My Heart, February 2008
Paperback
When the Nile Runs Red, September 2007
Paperback
Mackinac Island, April 2006
Paperback

Videos