DiAnn Mills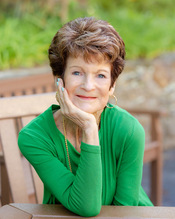 Blogging at Fresh Fiction
DiAnn Mills | FBI Houston Citizens Academy
March 5, 2013
When I received the invitation from the FBI Houston Community Outreach Coordinator to participate in their Citizens Academy, all I could think about was Read More...
DiAnn Mills | Castle Meets Cold Case
March 28, 2012
I'm an avid fan of TV's Read More...
DiAnn Mills | Jalapeños, Scorpions, and Snakes
October 18, 2011
What do jalapeños, horses, scorpions, snakes, and a man and woman under a star-studded sky all have in common? Texas. West Texas. The Read More...
DiAnn Mills | Happily Ever After
June 18, 2011
I can't fathom writing a novel without weaving suspense and romance into the plot. The idea of two people falling in love while sharing Read More...
DiAnn Mills | Historical Romance vs the Princess Stories
January 10, 2011
I have a theory about historical romance. Think about my conclusions to see if you agree. When we were little girls, we loved pretending we Read More...
DIANN MILLS | Expect an Adventure
October 18, 2010
Writing is a tough profession. The competition in today's publishing world makes the strongest writers think twice about their commitment to excellence. But those Read More...
DiAnn Mills | Strong Women, Unlikely Roles
June 25, 2010
Women who accept nontraditional roles and succeed with dynamic outcomes are the heroines in my novels. These are Glock-totin' gals with southern charm who Read More...
I have written since I could hold a pencil and sound out the Words. My first stories were on Big Chief notebooks and always involved adventure and excitement - and cowboys. As the years rolled by, I wrote everything from poetry to books. I kept a diary into my teen years until I discovered my sister read it! When my four sons were little, I even composed a series of junior detective stories just for them, but I didn't take writing seriously until I felt God calling me to write for Him. Through the encouragement of my husband, I began to study the craft through how-to books and those written by my favorite authors.
Books:
A Texas Brides Collection, May 2013
Paperback
The Survivor, March 2013
Paperback
The Chase, April 2012
Crime Scene: Houston
Paperback
Attracted to Fire, October 2011
Paperback
Under a Desert Sky, June 2011
Paperback
The Fire In Ember, January 2011
Paperback
Pursuit of Justice, October 2010
Call of Duty #3
Trade Size
A Woman Called Sage, May 2010
Paperback
Sworn To Protect, April 2010
Call Of Duty #2
Paperback
Breach Of Trust, March 2009
Call Of Duty #1
Trade Size
Texas Legacy Omnibus, August 2008
Paperback
Awaken My Heart, February 2008
Paperback
When the Nile Runs Red, September 2007
Paperback
Mackinac Island, April 2006
Paperback

Videos