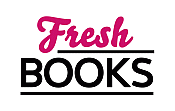 Fall into September books you'll love
Author Reader Match: Jacqueline Friedland

August 17, 2018
Writes: Plot-driven historical fiction chock full of flawed characters yearning to be saved. Picture a complicated, brooding widower, a poverty-stricken teenager, an overly-entitled heiress, and a strong-willed runaway slave. Each is somehow able to bring light into the lives of others in ways that also help them to find their own redemption.
About Me:
Forty-year-old attorney-turned-author seeking readers for historical fiction about a heroic abolitionist in the antebellum South. Characters in this tale attempt to navigate the complicated social hierarchy of Charleston, South Carolina twenty years before the Civil War. When a young woman arrives in Charleston from England, destitute but relieved to be free from the troubles she left behind on the other side of the Atlantic, the reader will be treated to a fresh look at American society. Readers must be in the market for accessible prose and page-turning plot twists, surprising moments of love, deception, caution, and hope. Those uninterested in corsets and old-fashioned Southern balls need not apply.
What I am looking for in my ideal reader Match:
You are, above all, interested in a riveting story that will keep you turning pages.
Your favorite books cross many genres but would include books along the lines of Jane Eyre, Great Expectations, Gone with the Wind, and Twilight (yeah, you heard me).
You seek out characters to whom you can relate and root for despite their flaws.
You always cheer for the good guys (especially when they're girls).
You value a woman who refuses to play the victim.
Your revel in smart, readable fiction (and you've never been a huge fan of memoirs).
It matters to you whether the facts in your historical fiction novels are true to their time period and geographical locations.
You enjoy descriptions of stately plantation homes, stunning period dresses, and handsome heroes.
You value a woman who knows her mind and refuses to bend to contemporary expectations of her behavior.
You hope to learn about a new subject or time period when you read, but never at the expense of the story itself.
You're someone who can predict an ending fairly early on, but you take great pleasure in watching the characters journey toward that end.
You admire brave women and compassionate men.
You are a voracious reader because… books.
What to expect if we are compatible:
A steady flow of new novels, especially historical fiction and contemporary drama.
Love stories that are about the relationship, not the sex. It's all about the slow burn.
Books that will keep you reading late into the night because you can't wait to see how it all turns out.
Characters who use big words and have even bigger emotions.
Feelings of hope and satisfaction when you turn the final page.
An overwhelming urge to share each book with all your book-ish friends.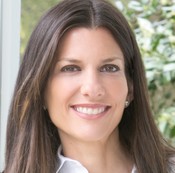 Jacqueline Friedland graduated Magna Cum Laude from both the University of Pennsylvania and NYU Law School. She practiced as a commercial litigator at the New York law firms of Debevoise & Plimpton, LLP and Boies, Schiller & Flexner, LLP. After determining that office life did not suit her, Jacqueline began teaching Legal Writing and Lawyering Skills at the Benjamin Cardozo School of Law in Manhattan and working on her first book in her limited spare time. Finally deciding to embrace her passion and pursue writing full time, Jacqueline returned to school to earn her Masters of Fine Arts from Sarah Lawrence College, graduating from the program in 2016.
When not writing, Jacqueline is an avid reader of all things fiction. She loves to exercise, watch movies with her family, listen to music, make lists, and dream about exotic vacations. She lives in Westchester, New York with her husband, four children and a Cavalier King Charles. Trouble the Water is her first novel.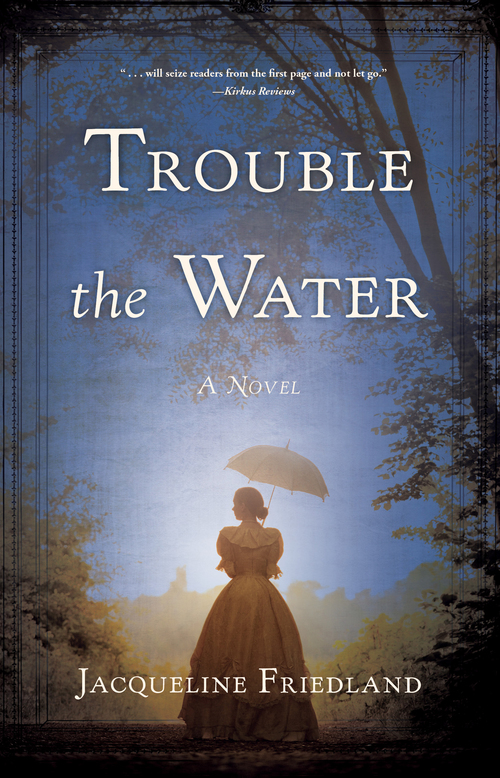 Abigail Milton was born into the British middle class, but her family has landed in unthinkable debt. To ease their burdens, Abby's parents send her to America to live off the charity of their old friend, Douglas Elling. When she arrives in Charleston at the age of seventeen, Abigail discovers that the man her parents raved about is a disagreeable widower who wants little to do with her. To her relief, he relegates her care to a governess, leaving her to settle into his enormous estate with little interference. But just as she begins to grow comfortable in her new life, she overhears her benefactor planning the escape of a local slave—and suddenly, everything she thought she knew about Douglas Elling is turned on its head.
Abby's attempts to learn more about Douglas and his involvement in abolition initiate a circuitous dance of secrets and trust. As Abby and Douglas each attempt to manage their complicated interior lives, readers can't help but hope that their meandering will lead them straight to each other. Set against the vivid backdrop of Charleston twenty years before the Civil War, Trouble the Water is a captivating tale replete with authentic details about Charleston's aristocratic planter class, American slavery, and the Underground Railroad.
Women's Fiction Historical [SparkPress, On Sale: May 8, 2018, Trade Size / e-Book, ISBN: 9781943006540 / eISBN: 9781943006557]
A sweet, romantic tale of second chances in 1840s

Comments
No comments posted.

Registered users may leave comments.
Log in or register now!