Harvard Summer Workshop. Advanced Novel Writing Class. Professor Haviaras raises his bushy eyebrows and surveys his classroom of future authors with a withering stare. He says in his Greek accent, "The most important thing to do before beginning your first novel? To find your voice."
That advice helped me polish my first manuscript, the one I had brought to the workshop. A few months later, MADEMOISELLE VICTORINE was acquired by Random House. It was even translated into many foreign languages I can't speak.
I began writing my latest novel YOU LUCKY DOG, pub date June 6th, by recalling the dictum, "Find your voice." I felt the voice should be in the first person. I mean, first dog.
I got the idea for this book a few years ago when a good friend lamented that she wished she could find a man who loves her as much her dog does. "He's always happy to see me. When I come home from work, he rushes to greet me at the door. And he senses when I have the blues. He lays his head on my lap and looks up at me with those soulful eyes. It's unconditional love. Why can't I find a guy who loves me like that?"
I said to myself, "What if…". A few years ago, best selling author Mary Higgins Clark addressed a conference of the New York chapter of the WNBA - Women's National Book Association. She told us her best ideas are born with, "What if…" In fact, she told us all good stories start with, "What if…"
So, what if… a young man dies and his soul transfers into his wife's dog's body? And he continues his life as a cute little Westie.
The voice was very clear to me. He's a good-looking, Ivy League educated young hedge fund manager, rather self-satisfied but entirely likeable. He has all the material trappings he could hope for, in love with his smart, adorable wife. The guy and the dog experience a terrible car crash together. The proverbial white light surrounds him in the car as he's dying. His DNA is unraveling and reforming. His soul is transferring into the dog's body. He awakes in the (animal) hospital to find he has the brain and speech of his former self, but in a little dog's body.
In my own experience, I always wanted a dog as long as I can remember. Growing up, I'd beg my mom for a dog and she'd always say, "We'll see…" Finally it dawned on me that "We'll see meant no."
As an adult, I eventually got my first dog. You Lucky Dog's dedication page says, "To Frosty." He was a Westie who seemed to have a slightly snarky, witty personality. If he could talk, he would sound like Jake in my book.
There exists such a strong emotional bond between people and their dogs. After all, dogs and humans have evolved side by side for millennia. In fact, doing a bit of research, I learned that National Geographic reported on researchers who have found we even share a percentage of our genome with dogs. The spark was born for my book. "Love me, love my dog," literally, is a pretty good premise for a novel.
YOU LUCKY DOG is a humorous romance about two total strangers, Emma and Jake, who meet in a park thanks to her dog, coincidentally also named Jake. Emma's a romantic who believes that true love never dies while Jake's a little cynical about love, like many young men. They marry and share their life in a leafy suburb of L.A. with the dog that brought them together.
Jake learns that true love does transcend death when he's in a fatal car accident holding Emma's dog close to his chest. His physical body dies but his soul transfers into the dog who survives. His brain and personality haven't changed and he has the capacity to speak. The couple continue their life together with many hilarious incidents.
It's a humorous novel, but I wanted to explore three rather profound ideas. First, the question of our identity. Who are we is a question that has fascinated writers for a pretty long time. Are we our material bodies or is that just a habitation for our souls?
Secondly, the notion that true love never dies. It seems evident that surely love survives death. Not just death of a romantic partner. The love for a parent, sibling, friend or a pet continues in our hearts long after they're gone from our human experience.
Thirdly, that life is actually pretty whacky.
I hope readers of my book smile as they turn the pages and feel satisfied at the conclusion. Speaking of the conclusion, there's even a surprise ending!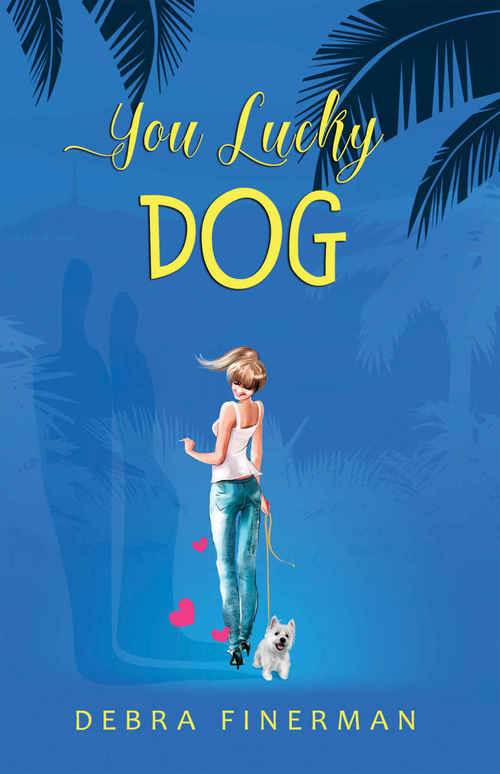 What do you do when you're attending your own funeral but can't tell the love of your life that you're there, perfectly alive? Your wife doesn't recognize you because you look slightly different. Well, more than slightly. You're now a dog.
You Lucky Dog is the unlikely love story of Jake and Emma, a young couple thrown into a very unusual situation.
Jake and Emma appear to have everything going for them. A young married couple, they live with their dog in the leafy suburbs of Los Angeles. But after a horrible accident changes the course of their lives forever, Jake finds himself alive but living outside his body, and in the body of his dog.
What follows is a hilarious and heartwarming tale of misplaced identity. You Lucky Dog explores the mysteries of life and death, and the enduring power of love, in a heartwarming story for animal lovers and all lovers.
Romance Contemporary [Stewart's Grove Press, On Sale: June 6, 2018, Paperback / e-Book, ISBN: 9780999810811 / ]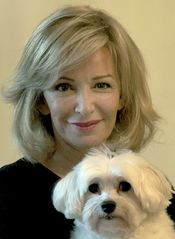 Debra Finerman is an American writer who lives part-time in Paris. She is the author of three novels. YOU LUCKY DOG her latest book, is a humorous novel for dog lovers and human lovers.
SHADOW WAR, her second book, is a WWII novel inspired by plaques seen on walls throughout Paris dedicated to the brave Resistance Fighters who died on the spot, shot by Nazi patrols. During research for this book, she traveled to the Imperial War Museum, London and Resistance Museums in France. She met former members of Resistance groups. Espionage is familiar to her as her uncle was a CIA agent. Her first novel MADEMOISELLE VICTORINE, published by Random House Three Rivers Press, has been translated into six languages worldwide. Debra is a former journalist for Capital Style, The Hollywood Reporter monthly magazine, Beverly Hills Today and Beverly Hills Magazine. Her articles about France are published in the online magazine, My French Life™.
A graduate of UCLA, she earned her academic degree in Art History and Connoisseurship at Christie's, New York. For more information, please visit https://debrafinerman.com
No comments posted.