Writers are like magpies. They gather their own experiences, couple them with tons and tons of research, and come up with a distinctive realm that they hope will draw readers into their stories. How do they do it?
The old adage, "Write What You Know" holds a lot of merit. As an author, I try to follow it whenever I can. For example, I don't set my stories in Paris, because I've never been there. I couldn't do the city, or the people, justice. And as much as I love to read Regencies, I've only been to England once. That doesn't make me an expert on all things British. However, I do know the United States, especially California. Being a native Californian, I've travelled up and down and all around this state. Coincidentally, that's where my latest release, UNDERCOVER WITH THE NANNY, takes place.
The heroine, Kate Munroe, lives in a little beach community near the border of California and Mexico. I haven't been down that way in a long time. When I did my research, I found that the town of Imperial Beach was the closest to the Mexican border. I scoured pictures of it on the internet, and even thought about driving down there for authenticity. And then, I had a brain blast. Why not use a town I have been to, Carlsbad, as my reference? Use that author's device of Creative License. I gave myself a mental high five.
If you've ever been to Carlsbad, you'll know that it's a slow-paced little coastal town. It has a tree-lined main street, with quaint little shops and restaurants that invite you to browse and maybe stop for a bite to eat. In my book, Kate takes our hero, Sawyer Hayes, to a little Mexican restaurant that fronts that jacaranda-lined street, and it's just as he describes it: "It looks like a piñata ready to burst."
Bright, primary hues bombard your eyes when you enter. Family photos adorn the walls. Interspersed between them are folk art and colorful sarapes draping any barren spots. The tables are cozy, and the bar crouches at the back of the restaurant, perhaps the length of a kitchen island at most. Canned Mexican music fills the space.
Sawyer's reaction was what I felt the first time I went inside. It was crowded, noisy, and smelled so good, I could hardly wait to eat. When I wrote this scene, I wanted to convey my feelings through Sawyer's eyes. Readers will have to decide if I did it justice.
Besides the Mexican restaurant, Kate takes Sawyer down the tree-lined street to a candy store on the corner. It also serves ice cream. Now, I'm a candy expert. I know the different types, consistencies, and prices of chocolates. I have to say this little shop has some of the best. I can't speak for the ice cream; once again, I agree with Sawyer. Ice cream at the beach in the evening is sometimes just too cold!
By taking what I've seen in Carlsbad, renaming my town as well as moving it, and illustrating what I know about seaside communities, I was able to create a unique setting that readers could picture in their heads. And I didn't have to drive down the coast to do so!
The same goes for the coaching and ball fields within UNDERCOVER WITH THE NANNY. Any mom of sons knows her way around the games football, soccer, or in my case, baseball. I've spent countless hours on park fields, watching my sons play in Little League games. My boys have had highs and lows during their sports careers. They've felt like Bobby, the young boy in my book, at one time or another. And there has always been at least one coach like Sawyer, who goes above and beyond his volunteer position. I was able to channel my sons' sporting experiences into this book through Bobby, bringing a realism to this imaginary world.
Pulling from real life is what makes a book memorable to readers. Whether it's how team moms organize snack schedules during Little League practices, or the jock dad who shouts criticism from the sidelines, readers will be drawn into a book more deeply if they can relate through shared experiences. It's up to the author to paint a vivid world for the reader to get lost in. And if you have to use a little creative license to do so, more power to you. After all the reader is the winner.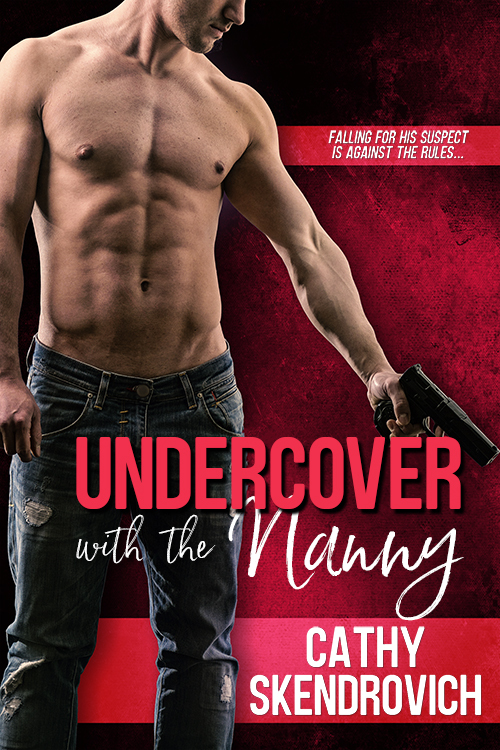 DEA agent Sawyer Hayes came to California in search of a drug cartel leader who slipped through his fingers in El Paso. The link to finding him is Kate Munroe, a nanny for one of his henchmen. The problem? He didn't expect to be so drawn to a possible suspect. How is he supposed to do his job when his growing feelings for her are clouding his judgment?
Interior designer Kate Munroe's life is a train wreck. Her parents' deaths left her with their mounds of debt, she can't get a job designing even a cubicle, and she's bunking in her best friend's spare bedroom. To make ends meet, she's a nanny to a lonely little boy whose rich father works all the time. Romance is not on her radar. But her hot new neighbor could change her mind, with his broad shoulders and Southern charm. Too bad his secrets could destroy her.
Romance Erotica Sensual | Romance Suspense [Entangled Ignite, On Sale: April 23, 2018, e-Book, ISBN: 9781640635548 / eISBN: 9781640635548]
Cathy Skendrovich has always loved a good story, and spent her formative years scribbling what is now called Fan Fiction. The current heartthrob of the time featured heavily in all her stories. Unfortunately, once she went to college, her writing took the form of term papers, written on typewriters instead of computer keyboards.
Upon graduation, Cathy took a job as an English teacher in a middle school. Along the way, she married her husband of now thirty-three years, had two sons, and moved to southern Orange County, California. She chose to work part-time in the school system there.
Now she has returned to writing. Prisoner of Love is her first published novel, followed closely by The Pirate's Bride. The sequel to The Pirate's Bride, The Pirate Bride's Holiday Masquerade, came out Oct. 1, 2017. Her next contemporary romantic suspense, entitled Undercover with the Nanny, is due out on April 23, 2018.
She likes writing romance because she feels it's lacking in today's technological world. While she enjoys writing contemporary stories, creating romance in bygone times fascinates her. She hopes her ability to write in both genres will be the beginning of a long and satisfying writing career.
5 comments posted.