All ladies of the Regency, if they could at all afford one, had a lady's maid, a personal servant who attended her every day. Characteristics of a good lady's maid included "great neatness, skill, and taste, as well as discretion and cleverness." Many such maids "received special training so as to enable them to acquire a certain level of knowledge before entering the unique field of caring for a mistress." Her main duties were to see to her mistress's clothes, help her choose outfits, fix her hair, keep all clothing laundered, shoes cleaned and all items in good repair, know how to sew and mend, and bring her mistress early breakfast in her bedroom if she desired. Her focus was always on her mistress to assure that when she went out into Society, she presented a flawless appearance.
Other important duties of the lady's maid, according to Geri Walton, were "medical tasks, hair brushing, and money matters." She might be called upon to change bandages or apply leeches. In addition to creating her mistresses' coiffures, she was in charge of brushing her hair each night to keep it healthy and in good order. A lady's maid also made sure that bills form tradesmen were paid in good order, but that was the only instance of money matters in which she was involved.
At the top of the servant pyramid, a lady's maid often received compensation beyond her quarterly salary. She would have traveled whenever her mistress did, this being one of the perks of the position, as was her bed and board. The status of the position was an inducement as well. When visiting other households, the lady's maid would take the status of her mistress. At home, she was considered above the other servants, with the highest status save only the butler and the gentleman's gentleman.
French maids were highly prized, as were French dressmakers, for their fashion sense. In HEART OF DELIGHT, Gabriella has been hired by an English countess and traveled back to England with her. She had a very desirable skill set, having been a modiste in France. Therefore, she is able to not only attend to her mistresses' outfits, but is able to create them as well. Of course, Gabriella takes the position of lady's maid for purposes other than employment. She wants to travel to England to seek out the powerful Duke of Rother, for reasons of her own.
Jenna Jaxon is a best-selling, multi-published author of historical romance in periods ranging from medieval to Victorian. She has been reading and writing historical romance since she was a teenager. A romantic herself, she has always loved a dark side to the genre, a twist, suspense, a surprise. She tries to incorporate all of these elements into her own stories. She lives in Virginia with her family and two rambunctious cats, Marmalade and Suger. When not reading or writing, she indulges her passion for the theatre, working with local theatres as a director. She often feels she is directing her characters on their own private stage.
Jenna is a PAN member of Romance Writers of America and is very active in Chesapeake Romance Writers, her local chapter of RWA.
She has equated her writing to an addiction to chocolate because once she starts she just can't stop.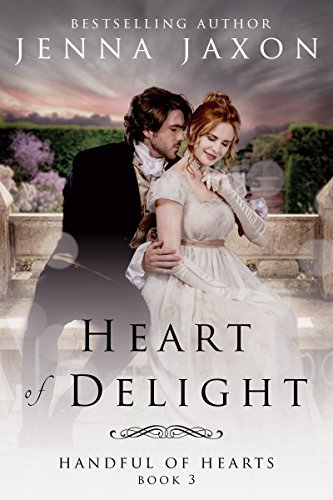 He'll do anything to be her heart's delight—except tell the truth.
Gabriella d'Adventure is on a mission. She has come to England as a lady's maid in pursuit of the Duke of Rother. When she meets Horace Carpenter, valet to a marquess, she is delighted to enlist his aid in gaining her heart's desire: a meeting with the duke. But will her growing feelings for the handsome valet interfere with her plans for the duke?
The eccentric Marquess of Halford, Hal to his friends, is tired of the demands of Society, especially his father's decree that he marry this Season. When a breathtaking young woman intrudes on his solitude, he is captivated and introduces himself as his valet in hopes of learning more about her. Despite his fear about the true motive behind Gabriella's quest to meet the Duke of Rother, Hal agrees to help her gain an audience with him, all the while praying his deception won't ruin his chances of winning her love.
Romance Historical [Author Self-Published, On Sale: September 20, 2016, e-Book, / ]
3 comments posted.
An old adage says that no one will love you until you first love yourself. That can be tricky to do, because you might be unable to see each one of your own amazing qualities. Positive reinforcement can be a strong instrument in improving your self esteem. The simplest way to do that is through self talk exercises.

Self talk is the fact that small voice inside your head that comments on all you are doing. These people feel smart, attractive and worthy. In the event you suffer with low self-esteem, the self talk is crucial as well as demeaning. It could be a constant reminder that you feel subordinate to others.

It is crucial that you understand the crucial, nagging voice isn't right. You already possess everything you have to eventually become a confident individual and lead seo pressor life. The secret is in telling yourself over and over until you realize it is true. This really is really one of the hardest things for people with low self-esteem to believe, but it's accurate. Tell yourself you'll get what you deserve, and you'll get it.

Your personal self-talk can determine how you act toward others and, consequently, how they react to you. If you tell yourself as well as believe that you are actually confident, you'll act in techniques inspire trust in others. Self talk that fuels uncertainty and low self-confidence, on the other hand, causes you to act in manners that creates doubt in others.

It might be hard to handle the small voice in your mind, but you should take action in order to break the vicious cycle. Hear the negative messages, and affilorama others by reinforcing your personal favorable messages. Positive self-talk is the very first & most critical step in improving your own personal self esteem.

If you want additional help, or want to learn more about positive self-talk, there are a number of self improvement books, videos and CDs open to you. Self-improvement groups and seminars can also be great methods for getting the infor
(Lysira Loving 3:47am September 29, 2016)