To me, shifter love is intense, commanding, and all consuming. When you have heightened senses it makes sense to me that everything you do is just that much more intense. So when a shifter falls in love, whether with a human or another shifter, it's all about the passion and connecting.
That is why I love writing about shifters.
While I love any paranormal element in books that I read or write there is just something about a strong alpha male falling in love that draws me in. I enjoy the entire process from when our shifter meets his love interest, the internal struggle of putting his heart out, the moment he realizes he'd be lost without her, to the final confession of being in love. The bigger and badder the shifter the more fun it is to watch him fall. Am I right?
Cole Babcock is the shifter in WOLF PACK, book five in the Shifter Chronicles series, which is my brand new release. Cole is one of those characters that thinks he likes being alone. Only to find out he had no idea what he was missing. He has his new position with the Shifter Coalition, new friends that he'd met through his job, two lovable Labrador retrievers, and a case that needs solving. Of course that's when we met Kendra Brown, who happens to be the female shifter he'd spent a passionate night together with and never saw again.
As Cole tries to remain professional and distance himself from Kendra and her pack he finds himself craving her and the pack that she brings to him. He thought being a lone wolf was just who he was but he actually looks forward to spending time with her in the wolf packs territory. Add in a case of missing rogue wolf shifters, a witness on the run, and practical joke loving friends Cole may never be alone again. And he's oddly okay with that.
You can check out Cole and Kendra's story in WOLF PACK: Shifter Chronicles Book 5.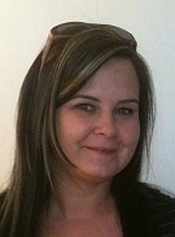 Crissy Smith lives in Texas with her husband, daughter, and three Labrador retrievers. The three dogs love to curl up under her computer desk and nap while she writes. It doesn't leave a lot of room for her but what's a woman to do?
When not writing or reading, she enjoys hunting, camping and shooting. But she has a girly side too and is addicted to pedicures and coffee.
She has been writing since she was a teenager and still loves everything to do with the paranormal. Her stories and characters all have a place in her heart. She loves the alpha male, the dominant werewolf, or the Master vampire which find their way in most of her books.
Learn more about the characters she has created at her website where they have their very own page. It will be updated from time to time to let you know what's going on with them. Also you can find out who will be in the next book.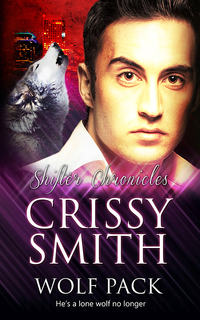 He's a lone wolf no longer.
Wolf Shifter Cole Babcock is now the leader of a unit within the Shifter Coalition. As a lone wolf he's working hard to handle his new duties and working with a team. He doesn't mind working hard and it's not like he has anyone to go home to.
Kendra Brown, a US Marshal, is tracking a missing witness and needs the help of the Coalition. Her first meeting with the team leader reveals that they've met before. In one explosive night of passion.
Things are changing fast for the two shifters. The case that brought them together runs into complication after complication. There are rogues being held hostage, Kendra's witness is in danger, and Cole's been offered a chance of a lifetime. The Alpha of the local wolf pack wants Cole to take over the position from him.
Cole begins to rely on Kendra for everything from closing the case to speaking with the Alpha. As they grow closer, Cole realizes how strong his feelings for Kendra are. He isn't alone anymore.
With their lives in danger, only the love they share will get them through the week.
No comments posted.