My name is Janice, and I'm a travel junkie. It's true! If I had unlimited time and money, I think I would hit the road and not look back for at least six months. I have a sister who yearns for home and hearth and gets homesick if she's away for more than a couple of nights.
Me on the other hand? I love waking up on a trip and having a whole day of brand new adventures ahead. Not that I'm about to sign up for the Amazing Race. I do like my creature comforts. J Still, I rarely get homesick when I'm away, except of course for missing loved ones who aren't with me.
For a lot of years when our girls were growing up, there was neither the time nor the money for exotic vacations. We loved national parks. Road trips were usually punctuated by overnight stays at two-star Day's Inns or a bare-bones Motel Six. Looking back, those are some of our best family memories.
Eventually, we began to have a bit more in the way of savings, and we began planning a very special trip every two or three years. That's how I came to fall in love with Key West and Jackson Hole, Wyoming, and the Alaskan tundra.
By now, I've checked off a good percentage of the U.S. states. I still need to make it to Hawaii and Rhode Island and some of the desert southwest. But I'll get there eventually.
The tough part of any travel-planning now is deciding which spots on the globe I want to add to my bucket list. And there's an even bigger question. Do we want to do blitzkrieg travel where we see fifteen cities in fifteen days? Or would it be more satisfying to rent a villa in the Italian countryside and immerse ourselves in the local culture?
Can you tell I write fiction? The great thing about armchair travel is that dreaming and planning don't cost a cent. I probably won't live long enough to make it to everywhere I want to go. But books can fill in the gaps.
In seventh grade I read my first Harlequin Romance. Via those tales of romance, rocky road and all, I visited Australia and England and New Zealand and a dozen other spots around the world. I saw beautiful vistas and learned local customs. Books took me anywhere and everywhere, whetting my appetite for adventure.
In my latest release, HOT FOR THE SCOT, I truly enjoyed sharing with my readers my love for the Scottish Highlands. I won't claim to know the area intimately. But I've spent enough time there to know I want to go back at the first opportunity.
My three heroines are devoted fans of the Outlander books and TV series. They want to see if men like Jamie Fraser really exist. In the course of their adventures, I hope I've offered up a tantalizing taste of the beauty of Scotland.
What places are on your bucket list? I'd love to hear.
Thanks for having me today. Happy spring and happy reading!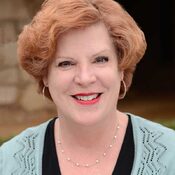 USA Today bestselling author Janice Maynard knew she loved books and writing by the time she was eight years old. But it took multiple rejections and many years of trying before she sold her first three novels. After teaching kindergarten and second grade for a number of years, Janice took a leap of faith and quit her day job. Since then she has written and sold over thirty-five books and novellas.
During a recent trip to Scotland, Janice enjoyed getting to know the "motherland". Her grandfather's parents emigrated from the home of bagpipes, heather, and kilts. Janice lives in east Tennessee with her husband, Charles. They love hiking, traveling, and spending time with family.
Hearing from readers is one of the best perks of the job!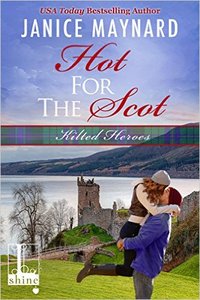 In Janice Maynard's sweet and sexy new series, three childhood friends with a shared passion for the Outlander novels and TV show decide to travel to Scotland looking for adventure—and their very own Highland heroes…
It's a dream come true for schoolteacher Hayley Smith. No homework to grade, no students to corral, no social media, Internet or cell phone…just a month amid the heather and rolling hills around Inverness. A brawny alpha male in a kilt is probably too much to ask for. But Hayley is in heaven ambling around Loch Ness, gazing and then…falling into the icy water, before being rescued by a strong, chivalrous local hero
Retired soccer star Angus Munro, aka Angus the Angler, is a little insulted and a whole lot intrigued when Hayley doesn't recognize him. How long has it been since anyone saw beyond his wealth and fame? And how long before the macho athlete and his modern-day American damsel in distress act on an attraction that could make even the misty Scottish moors sizzle with heat? Long enough, maybe, for both to figure out if this is an affair to remember…or the start of something everlasting
No comments posted.