I love Christmas! Yet, I've always felt a little sad that no one, even in Europe or England really celebrates all twelve days of Christmas. Although, I suppose with our busy modern lives, that would be a bit much. Although in Europe, everything seems to slow to a crawl between Christmas Eve and Three Kings Day in January. However, when my editor asked me to write a Christmas book, I was at a loss. You see, I write Regencies. Now I did live in England for a couple of years, but that told me little to nothing about Christmas during the Regency. So off a researching I went and found that Christmas in England differs greatly from that in Europe and for a reason.
For hundreds of years, the entire advent season was a joyous time. There are a fair number of separate religious holidays leading up to the twelve days of Christmas, then almost two whole weeks of celebrations! The reason for all this was not a derivative of the Christian church, represented in most part by the Church of Rome, but an attempt by the church to convert heathens by incorporating pagan rituals into Christian celebrations. The idea was extremely successful until the middle of the 17th Century when England suffered a civil war. The fight boiled down to two groups, the Loyalists, who supported the monarchy and the Parliamentarians, or Roundheads. The Roundheads were very like the early American Puritans in that they despised ostentatious displays, including extravagant Christmas celebrations. In many way, England never really recovered, at least when compared to Europe. However, some families refused to give up the old traditions. By the time of the Regency, Christmas was celebrated more in the country side than in cities such as London where scant attention was paid to the holiday.
Still, even where Christmas was celebrated in the 'old way' it was still nothing compared to what we in the US do today. Generally, one selected one present for a person. Can you imagine having to pick one present for your child, parent, husband, or wife? Think of the importance that one gift could take on. What if you had just met someone, found out they were giving you a gift and there was no twenty-four hour store to run out to? That is one of the many problems Miss Meg Featherton runs into in MISS FEATHERTON'S CHRISTMAS PRINCE.
What would you do, or how long would it take you to decide on the perfect present for Christmas?
Bestselling author Ella Quinn's studies and other jobs have always been on the serious side. Reading historical romances, especially Regencies, were her escape. Eventually her love of historical novels led her to start writing them. She has just finished her first series, The Marriage Game, and her new series will start in April 2016.
She is married to her wonderful husband of over thirty years. They have a son and granddaughter, one cat and a dog. After living in the South Pacific, Central America, North Africa, England and Europe, she and her husband decided to make their dreams come true and are now living on a sailboat cruising the Caribbean and North America. She loves having readers connect with her.
Website | Facebook | Twitter | Blog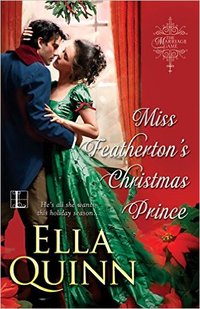 Ella Quinn's wealthy, titled bachelors think they're immune to romantic notions. Yet no matter how they try to evade it, love somehow finds a way...
In the two seasons since her triumphant debut, Meg Featherton's heart has been tested to its limits. Her first suitor: a criminal. The second, a cur. For her third act, Meg vows to leave love completely out of the marriage equation. She has set her sights on a newly made viscount whom she could take or leave. However, now she must avoid his handsome, roguish, irresistible best friend like the plague. It's no easy feat, as they are all attending the same house party…
Damon, Marquis of Hawksworth, cannot imagine why Miss Featherton seems so damn disinterested— or why he cares so terribly much. Certainly Meg is a fine wifely prospect for a man in his position, but more than that, he finds he longs for her as he has never done for another woman. She may be determined to protect her heart, but Damon is equally set on winning her over, one delicious kiss at a time...
1 comment posted.