Hello, Fresh Fiction folks! Thank you so much for inviting me to join you today and helping me celebrate the release of the fifth book in my Southern Charm series. FOLLOWING THE LAW tells the story of Sheriff Robin Burke and IT geek Beau Courtenay.
As with all of my books, there's always mentions of food. Everyone has to eat, right? Robin is hopeless in the kitchen. He blows up any type of frozen meal. Beau has a wee addiction to sugary cereals – Froot Loops, Lucky Charms and Coco Puffs, but knows how to cook. After Robin helps him deal with a certain pest at his home, Beau offers to whip together a simple lo mein dish (with the addition of bacon – because all boys love their bacon).
Beau's Bacon n' Chicken Lo Mein Recipe
What you'll need:

- 1/2 pound thick sliced bacon, diced
- 1/2 pound skinless chicken strips, cut into thin strips
- 2 tablespoons canola oil, divided
- 1 medium carrot, cut into thin 2-inch strips
- 1 small onion, sliced thin
- 1 cup sliced fresh mushrooms
- 1 teaspoon minced fresh gingerroot
- 1 cup snow peas, sliced
- 4 scallions, sliced, white and green separated
- 1 can (8 ounces) sliced water chestnuts, drained
- 2 garlic cloves, minced
- 1/4 cup soy sauce
- 3 tablespoons cornstarch
- 3/4 cup cold water
- 1/2 pound lo mein noodles or thin spaghetti, cooked and drained

How to pull it together:

1. In a large skillet, cook bacon until crisp; remove to paper towels to drain. Discard drippings. In the same skillet, stir-fry chicken in 1 tablespoon oil until no longer pink, about 2 minutes. Remove chicken and pan juices; keep warm.

2. In the same skillet, saute the carrot, onion and ginger in remaining oil for 3 minutes. Add the snow peas, white parts of scallions, mushrooms, water chestnuts and garlic; cook and stir 2 minutes longer.

3. Stir in soy sauce and chicken with pan juices. Combine cornstarch and cold water until smooth; add to the pan. Bring to a boil; cook and stir for 1-2 minutes or until thickened. Stir in bacon and noodles/spaghetti.
And that's it! A simple lo mein dish done in 30 minutes, unless you have a sexy novice like Robin trying to help the chef. Depends on his version of helping too. I hope you enjoy!

Hugs and best wishes from Shore Breeze!
Nicole Dennis
A quiet one, Nicole Dennis curled up with the latest book of a favorite author. Since the beginning, there were these characters in her head, worlds wanting to be built on paper, and stories wanting to be told. She began writing during class and continues to this day. Now she can let others into her imagination and worlds that always celebrate the love between two or more people within LGBT, paranormal, and fantasy.
During the day, she works in a quiet office in Central Florida, where she also makes her home, and enjoys the down time to slip into her imagination. She is owned by a semi-demonic tortie calico, affectionately known as Fat Cat.
Website | Facebook | Twitter | Google+ | Pinterest | Blog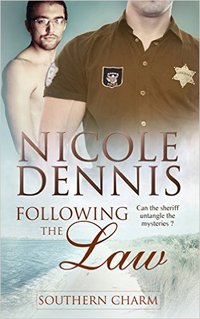 Can a sheriff untangle the mysteries invading his town and those which surround the local IT geek who's captured his attention?
Sheriff Robin Burke is pissed off. His quiet seaside town is troubled with all kinds of problems. Looking for the man who tried to poison Samuel Ashford is high on his priority list, but there is more in store. When someone he crushes on returns, he hopes to ignite his non-existent love life.
Returning from London, Beau Courtenay discovers his home has been invaded by his troubled half-brother. Dealing with the chaos, he is busy with a massive backlog of work and renovating the entire Southern Charm system. He finds another troubling detail in the form of random USB interfaces around Shore Breeze that don't belong there. And there's also the allure of the sheriff distracting him and threatening to reveal his darkest secret.
What will happen when Robin connects his suspect to the handsome IT geek with the delicious British accent and tight ass? Can Beau help the sheriff follow the law to prosecute anyone who dares to attack their beloved town?
No comments posted.