Or maybe I should call it a bat cave, because that's what it looks like these days. Stacks of paper everywhere. Boxes of books. Kind of dim because an overhead light burned out and I've been too dang busy to fix it.
Glamorous, huh? Before I became a full time author, I always figured my office would have a fabulous old-world feel to it. You know what I'm talking about – oak paneling, leather- bound books, a roaring fireplace.
Hah! Right now I'm lucky if I can stumble from my desk to my printer. In fact, I can't get there right now because my two Shar-Pei dogs are sprawled out on the floor, snoring their heads off.
There's also a half dozen paintings leaning up against the wall – we ran out of wall space in the living room – and a plastic box filled with Christmas decorations. (That's a real problem.)
If this is all sounds crazy, that's because it is. But here's the weird part – my wacky little office keeps me humble, too. I also manage to write three books a year in this cluttered little environment. Would I get that much work accomplished in my fancy dream office. Somehow I don't think so.
And write I do, pounding out ten, twelve, sometimes fifteen pages a day in my humble office. And it all works quite well because there's only me. No assistants, no burning sage, no feng-shui guru, no fancy schmancy anything. Just a heartfelt desire to write the best books I can, make them exciting, and always (always!) entertain my reader (yes, that's you!)
Whenever I start a new book, I always have the title, the opening chapter, and the final chapter fixed in my brain. From then on, it's a crapshoot. I run several "what if" scenarios through my head and slowly, slowly, the germ of a plot forms. When I have a general idea of how the story should progress and unfold, I develop a sort of timeline. This is done on a huge sheet of paper, with action scenes noted and ever character color coded. (The color coding is so nobody just pops up in the end without giving my reader some tasty clues or red herrings.)
From there I transfer my outline to my computer and fluff it into a good fifty pages. When that feels right, I just start writing. I know a lot of authors start with piles of research, but I do my research along the way.
For example, in PARCHMENT AND OLD LACE, I bring in elements of antique lace. So when I got to that part in the story, I quickly researched Victorian and Edwardian mourning clothes and added it to the story. Ditto for caskets. As well as some of the crafts my main character, Carmela, whips up in the book.
Carmela, bless her crafty soul, is a scrapbook maven who conjures up scrapbooks, journals, memory boxes, stamped pillows, invitations, note cards, and even charm bracelets at the drop of a hat. She's also a smart, savvy entrepreneur with a nose for murder and an uncanny knack for scoping out clues. So if you like mystery, murder, and a fast-paced story set in New Orleans, this book just might be for you! (Even though it was conceived in a messy office)
Thank you and blessings to all.
Laura Childs is the New York Times bestselling author of the Tea Shop Mysteries, Scrapbook Mysteries, and Cackleberry Club Mysteries. In 10 years of writing she has produced 24 mysteries and has many more in the pipeline. Her Tea Shop Mysteries are under consideration for a television series and Childs is currrently executive producer for 2 reality TV shows.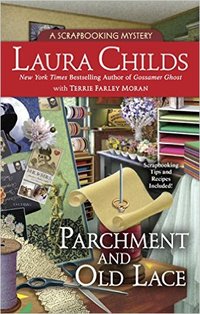 The New York Times bestselling author of Gossamer Ghost returns to the Big Easy and the historic Garden District, where scrapbook shop owner Carmela Bertrand discovers a bride-to-be murdered in the legendary Lafayette Cemetery…
Carmela couldn't imagine a finer evening than dinner at Commander's Palace with her beau, Detective Edgar Babcock. The food and the company are equally divine—with the exception of Isabelle Black stopping by to brag about her upcoming wedding. Resuming the romance with a walk in the evening air, the couple is interrupted once again—this time by a terrifying scream from inside the cemetery.
Having just seen Isabelle, Carmela and Edgar now find her lying across an aboveground tomb, strangled to death with a piece of vintage lace. Carmela would rather leave the investigating to Edgar, but she can't say no to Isabelle's sister Ellie, the tarot card reader at Juju Voodoo, when she asks her to help. As she untangles the enemies of Isabelle's past, Carmela hopes she can draw out the killer before someone else gets cold feet.
INCLUDES SCRAPBOOKING TIPS
No comments posted.