~ By Viki Ferrell
We have certain traditions at our home at Christmastime that we consider so important it is just not Christmas without them: Grandma's Molasses Sugar Cookies, my infamous Egg and Sausage Breakfast Casserole and attending Candlelight Communion as a family, just to mention a few. And for me, it just wouldn't be Christmas without another romantic tale from Susan Mallery, set of course, in the magical town of Fool's Gold. The town of Fool's Gold was founded in 1849 by 18-year-old, Ciara O'Farrell and Captain Ronan McGee. Fleeing an arranged marriage to a wealthy older man, Ciara bought the prospecting rights to a path of land in the foothills of the Sierra Nevada. Captain Ronan McGee pursued Ciara with the intent of returning her to her fiancé, but folly and fiance's can't stand in the way of true love. Together they struck gold and established the city of Fool's Gold.
The Fool's Gold website features a map, festival schedule and timeline of the town's history. You can also get info on all the characters, past and present . . . even with vital stats, right down to the length of their hair! Ms. Mallery shares "freebies" associated with Fool's Gold stories as well as news and events that are happening in the characters' lives.
MARRY ME AT CHRISTMAS is the twenty-first book in the Fool's Gold series, and Ms. Mallery brings us another great story I'll love to revisit.
California's longest serving mayor, Mayor Marsha Tilson, is at it again, when she arrives at Paper Moon, the local bridal boutique partially owned and managed by Madeline Krug, with the local event planner, Dellina Ridge. Mayor Marsha asks Madeline to plan a small wedding for the sister of a new resident in Fool's Gold. Dellina is booked solid for the holidays and just cannot add a wedding to her list of events. The new resident happens to be Jonny Blaze, a popular movie star that Madeline has a mad crush on. Jonny purchased a farm outside of town, away from the paparazzi, for some peace and quiet between movies. He's looking for a little more "normal" in his life. Saying no to Mayor Marsha is never an option, so Madeline takes on the task.
Madeline loves her job selling wedding gowns and a few bridal accessories, but she doesn't know much about planning a wedding. Dellina promises to help by giving her all the details and info she needs, but can Madeline actually pull this off? And in only seven weeks! When Jonny comes to visit her at her shop later that afternoon, she isn't even sure she can breathe being so close to him, much less string a coherent sentence together. But she finds Jonny very easy to talk to. Maybe she can do this after all.
As they work together to make his sister's wedding a reality, Madeline realizes more and more that Jonny is just an ordinary person. She also sees a soft side to him that doesn't come out in his movie roles. He usually plays a hard- hitting, bad-ass. This soft side has Madeline totally falling for Jonny, but is she too ordinary for him? As they get to know each other better, Madeline discovers why Jonny has commitment issues. But can she keep her heart from falling in love with him anyway?
Fool's Gold, California is a magical town any time of the year with all its festivals and community outreaches. But at Christmastime, the place takes on a personality of its own. Susan Mallary paints a beautiful picture with words of this postcard worthy sanctuary. MARRY ME AT CHRISTMAS is a story about loss and not being afraid to put your heart out there again. It's a story about being able to tell those you love that you love them, instead of spending money to show your love. Of course, there are community service projects incorporated into the storyline and other community events that have all the residents gathering together are Christmastime.
If you love Fool's Gold, you'll want to check out her new Mischief Bay series, and explore the town. The first book is THE GIRLS OF MISCHIEF BAY. This series promises to be just as exciting as Fool's Gold!
Susan Mallery is the #1 New York Times bestselling author of novels about the relationships that define women's lives—romance, friendship, family. With compassion and humor, Susan keenly observes how people think and feel, in stories that take readers on an emotional journey. Sometimes heartbreaking, often funny, and always uplifting, Susan's books have spent more than 200 weeks on the USA Today bestsellers list, thanks to her ever growing legions of fans.
Susan lives in Seattle with her husband, two ragdoll cats, and a tattletale toy poodle. Animals play a big role in her books, as well, as she believes they're an integral component to a happy life. Visit her online at www.SusanMallery.com.
Website | Facebook | Twitter | Pinterest | Instagram | Goodreads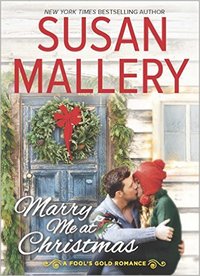 Wish upon a Christmas star with New York Times bestselling author Susan Mallery's sparkling Fool's Gold romance!
To bridal boutique owner Madeline Krug, organizing a Christmas wedding sounds like a joy—until she finds out she'll be working closely with the gorgeous brother of the bride, movie star Jonny Blaze. How will a small-town girl like her keep from falling for the world's sexiest guy? Especially with mistletoe lurking around every corner!
Jonny came to Fool's Gold looking for normal, not for love. Happily-ever- after only happens in the movies. Still, nothing about this quirky town is quite what he expected, and "ordinary" Madeline is the most extraordinary woman he's ever met. Refreshingly honest, disarmingly sweet. Achingly beautiful.
Planning the perfect wedding leads to candlelit dinners and strolls through snow- covered streets. And Madeline finds Jonny in real life even more captivating than her celebrity crush. But will the action star be brave enough to risk his heart and step into the role of a lifetime?
1 comment posted.