Having grown up in the South, I spent my childhood vacations camping in the North Georgia and Tennessee mountains which are rich with thick pockets of trees, wildlife, sharp ridges and switchbacks, hiking trails, waterfalls – and folk legends.
While those mountains are beautiful and picturesque, that beauty is contrasted by dark caves, sharp ridges, steep drop offs, isolated areas, and dangerous animals.
There are also many areas so far off the grid that they make great places for a killer to hide.
When I first thought of my series title Graveyard Falls, I knew this little town nestled deep in the mountains had to be named for a falls in the area. I researched height and sizes of waterfalls as I wanted this one to be spectacular – and dangerous.
But that wasn't enough –since I was writing a romantic suspense story, the town had to have a creepy folk legend surrounding it. That folk legend needed to add atmosphere and character to the story, enhance the plot of the book, and it had to be based on some crime that happened in the area.
So the legend of Graveyard Falls was born!
Years ago, a series of murders occurred – murders where three girls were pushed to their deaths from the top of the falls.
Although the residents of Graveyard Falls believe the killer, who the press dubbed The Thorn Ripper, was caught, the town remains haunted by the horrific crimes. Locals claim that at night you can hear the terrified cries of the girls echoing through the hills. And at times when the sun glints off the ridges, the girls' tears turn a crimson color and look like blood flowing down the mountain.
The town and its name became the perfect backdrop for ALL THE BEAUTIFUL BRIDES, the first installment in my new romantic thriller series!
On the yearly anniversary of the memorial for the murdered girls, the body of another young woman is found. The MO bears an eerie similarity to the Thorn Ripper murders; the victim is left with a rose stem jammed down her throat.
Only this time, the killer strangles his victims with a garter and dumps her near the falls dressed in a wedding dress. Could it possibly be the same killer? Or is there a copycat in town?
And why a wedding dress?
With the town in a panic, Special Agent Cal Coulter is called in to investigate.
Even more disturbing, Cal's best friend's widow, Mona Monroe, a woman Cal was once in love with, is being contacted by the killer. Forced to work with her and to protect her, passion simmers between them.
But the body count is rising.
As Cal closes in on the killer, he sets his sights on Mona. She will make the perfect wife.
But Cal can't lose Mona again.
Although even if he saves her, will old secrets, lies, and the past tear them apart forever?
I hope you enjoy this series as much as I enjoyed writing it!
Award-winning author Rita Herron fell in love with books at the ripe age of eight when she read her first Trixie Belden mystery. Although she wanted to be a writer then and actually scrawled her first novel at age twelve, she didn't think real people grew up to be writers, so she became a kindergarten teacher instead. Ten years ago, she traded her classroom storytelling and puppets for a computer and now writes so she doesn't have to get a real job.
Having sold over fifty books to date, she enjoys spinning spine-tingling romantic suspense tales filled with murder, mayhem, and spicy romance as well as sexy romantic comedies. Rita Herron currently writes romantic suspense for Harlequin Intrigue and she's writing dark, gritty romantic suspense thrillers for Amazon Montlake.
Website | Facebook | Twitter | Blog | Goodreads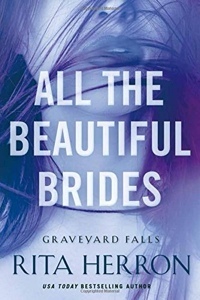 A young woman lies dead at the bottom of a waterfall, dressed in a wedding gown with a rose stem jammed down her throat. And in the small town of Graveyard Falls, the horrifying vision stirs a long-ago nightmare back to life.
FBI Special Agent Cal Coulter gets called in to investigate the murder, which bears a terrifying resemblance to a series of killings committed thirty years ago: three teenage girls were found dead at the waterfall's base, all bearing rose stems in their throats. The high school football star was convicted and imprisoned for those murders, so now Cal suspects that the real killer is still out there.
Now, the body count is rising again. The monster's sights are set on counselor Mona Monroe, Cal's best friend's widow…and the woman he's always loved. Can Cal stop the killer before Mona becomes the next victim?
1 comment posted.