The doorbell rings, and standing on the step is a visitor, one who wants a cuppa or two and a chat. I can't tell them to go away because my boys in my latest book need to finish what I made them start. No, that will sound odd and make them ask all sorts of questions—plus, it will have me itching to get back to the book and complete the scene. I do that anyway, itch to get back to a scene when in company. It's a good job people can't read my mind, really, as being the kind of person who lives inside my head the majority of the time, I can only focus on "life things" for a short while then my mind switches off and I'm back in the worlds I create.
The cookies come out after the coffee is poured, and I resign myself to the fact that my boys are going to have to wait a little longer. I imagine them mid- sentence, staring around the pages of my manuscript in shock, muttering, "What? You're LEAVING us like this?"
Yes, they're that real to me, my characters. "And yes," I whisper, like some deranged, mourning waif, "I left you and I'm so sorry…"
"What was that?" my guest asks.
"What was what?" I slap on a puzzled expression and reach for a cookie. I don't want the cookie. Or, if I'm honest, I do, but at my desk, where crumbs will fall in between the keys and I don't care because I'm too busy reading what I've written.
"You said something, didn't you?" My guest frowns. Oh, how my guest frowns.
"What, me? Good Lord, no. I didn't say a thing." I'm a wicked person for telling a white lie, but under no circumstances can my guest know that I regularly talk to the people inside my head. Or that I even have people inside my head. My second profession is a secret.
"Oh." An extra hard frown now from the person perched on my couch. "Right." The frown disappears and the eyebrows go up.
"Okay. Anyway, as I was saying…"
I feel awful, but it's rather like white noise. I hear what my guest is saying, and I answer in all the right places, and I know I'm terribly rude for not giving my full attention, but my boys… They're calling me, and I can see them in my head, waiting, looking at one another and not being able to do anything but remain where they are. They can't do anything until I'm back at my desk.
Sandwiches are made, the visit extending to lunch, and I'm worried it will stretch on into mid-afternoon, where hours have been lost and my boys are still there, getting impatient, wishing I'd chivvy the guest along. Along to the door, where they'll leave and I'll rush back into my office and save the day.
More conversation. More character mutterings. More coffee.
Time drifts by.
"Well, it's been lovely to see you, but I must get going," my guest says.
I can hardly shout hooray and run around the room whooping, but that's what I want to do. "Oh, righty ho."
The guest has gone, the door is closed. I run so fast to my office that I'm out of breath by the time I flop into my chair.
"Oh, thank God you're back," my characters say. "Honestly, did you have to leave it this long?"
I stare at them, my beautiful men, and widen my eyes, realizing exactly how compromising a position I left them in. "Is that a banana in your pocket or are you pleased to see me?"
My characters scowl.
"Well, I thought it was a funny joke," I say, blushing a bit.
"We didn't. Now please, please place your fingers on the keyboard and put us out of our misery."
"Gladly."
And I do.
Sydney has always enjoyed writing. "There's something about losing yourself in another world, where the real one ceases to exist and all your dreams and wishes can be placed on the page—dreams for a better planet where love isn't questioned but accepted by all."
When Sydney isn't writing, there's plenty of reading to be done. "I can't imagine not reading every day. It would be weird not to have a book to hand because I've always had one nearby. Life without reading isn't something I'd like to contemplate. The thought brings me out in hives."
Sydney lives in a peaceful area where the hustle and bustle of the city doesn't figure. "I left city life years ago. Too stressful for me. I prefer listening to the swish of leaves on the trees instead of tyres on tarmac. The twittering of birds instead of the chatter of people. Alone time to reflect and ponder is a must. A small portion of every day spent by myself is vital to my sanity and soul."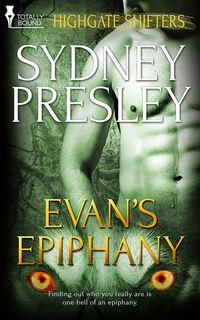 Finding out who you really are is one hell of an epiphany.
Evan is trying to come to terms with who and what he is. After arriving at Highgate, primed to kill, Evan is left pondering many questions. He has no idea where he came from—or whether he's a wolf or lion. All he knows is he has animal inside him and the urge to shift. Unfortunately, shifting hasn't been an option. He just can't manage to do it.
Until he meets Christian—a man Evan is drawn to but doesn't understand why. Christian is his mate, and has been for a long time. Ever since Evan went missing, Christian has been searching for him, and once he's found him, he isn't prepared to walk away, even after learning what Evan has been doing while they've been apart.
With Christian's arrival comes Evan's epiphany—his realization that his animal will no longer be caged inside him and that he is loved beyond measure. He shifts and finds out which beast he really is. Along with new emotions and some of his memory coming back, Evan also has something else to deal with. Someone who he'd thought of as a friend, isn't a friend at all. This person is a threat to the Highgate pack, Dillon in particular, and Evan will do anything to stop his mentor being put at risk…
No comments posted.