Secret Agent Man! Secret Agent Man! The odds are, you won't live to see tomorrow...
Every time I hear those Johnny Rivers lyrics, I think about my Black Knights Inc. series. Because behind the tricked-out facade of the Black Knights' custom motorcycle shop is a group of men and women who take on the jobs too hot for conventional government forces to handle. I like to say the Black Knights are 'grease-monkey motorcycle mechanics by day and Uncle Sam's last resort by night!'
And if that mash-up of awesomeness doesn't convince you to run out and pick up TOO HARD TO HANDLE, the latest in my Black Knights Inc. series featuring Dan "The Man" Currington, a former Navy SEAL, and Penni DePaul, a former secret service agent, as they battle the wilds of Peru to find a CIA turncoat, then maybe this top five list of "Why Secret Agent Men Are Sexy!" will:
Without further ado:
1. They are men of mystery. And is there anything more compelling, more intriguing than a man who must keep secrets or risk the safety and security of his nation? I think not!
2. They really know how to use their weapons. Armed and dangerous. Those two words perfectly describe a secret agent man. And if that kind of guy doesn't get your blood pumping then, baby, nothing will!
3. They are adventurous and world-travelled. And that pretty much means you'll never be bored with a secret agent man. He'll always have wonderful tales to tell. That is... if those tales don't fall under the banner of Classified Under National Security.
4. They are good with their hands. Whether you need a bomb built with bubble gum, a paper clip, and some C4, or help slipping into something more comfortable, a secret agent man has you covered.
5. They are serving a higher purpose. They are not in the game because it's glamorous or financially lucrative. They take on the tough jobs, the deadly jobs, because they believe in courage, patriotism, duty, honor, and loyalty. And I'm here to tell you, ladies and gents, there isn't anything sexier than a man with those traits. Hubba, hubba!
Now, go grab your own secret agent man! And barring that, grab a copy of TOO HARD TO HANDLE!
Julie Ann Walker is the New York Times and USA Today Bestselling Author of the Black Knights Inc. romantic suspense series. She is prone to spouting movie quotes and song lyrics. She'll never say no to sharing a glass of wine or going for a long walk. She prefers impromptu travel over the scheduled kind, and she takes her coffee with milk. You can find her on her bicycle along the lake shore in Chicago or blasting away at her keyboard, trying to wrangle her capricious imagination into submission. For more information, please visit her website or follow her on Facebook and/or Twitter @JAWalkerAuthor.
Website | Twitter | Facebook | Goodreads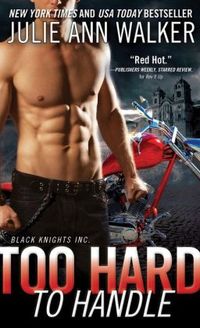 New York Times and USA Today bestselling author Julie Ann Walker continues her red-hot Black Knights Inc. series in rough-and-tumble Peru
"The Man" is back Dan "The Man" Currington is back in fighting form with a mission that takes him four thousand miles south of BKI headquarters, high in the Andes Mountains of Peru. He's hot on the trail of a rogue CIA agent selling classified government secrets to the highest bidder, when Penni DePaul arrives on the scene. Suddenly the stakes are higher, and keeping Penni safe becomes Dan's number one priority.
And this time she's ready A lot has changed since former Secret Service Agent Penni DePaul last saw Dan. Now a civilian, she's excited about what the future might hold. But before she can grab onto that future with both hands, she has to tie up some loose ends-namely, Dan Currington, the man she just can't forget. And a secret that's going to change both their lives-if they can stay alive, that is.
1 comment posted.