Are you a series purist? Do you hate picking up series in the middle and always make sure you're beginning a series from book one? Or do you just dive in wherever you happen to find yourself? Are you the kind of reader who hates to wait on cliff-hangers and will therefore only read series when all of the books are complete?
Me, I love ongoing series. Especially the anticipation of hearing an author is finally putting out a book about the two characters I've been longing to see get together. Like Siena and Hawk in Nalini Singh's Psi- Changeling series or Penelope and Colin in Julia Quinn's Bridgertons. And don't even get me started on Kresley Cole's Immortals After Dark or I'll begin chanting Nix, Nix, Nix and I won't be able to stop.
But whenever I read a long-anticipated book about characters I feel I know already, I find myself wondering if I would have such crazy love for them if my affection hadn't been building book by book. If I had tripped into the Psi- Changeling in the middle, would the emotional highs be as high and the lows be as low?
My favorite Jasper Fforde book is the second of his Nursery Crimes series. I wasn't 100% in love with the first of that series, but the second one felt like it was written just for me and perhaps I needed the background of the first book to love it so completely. (THE FOURTH BEAR, sooooo good.)
Or would I possibly have loved the entire series even more because I started strong with that second book masterpiece? Could jumping into the middle be best? Like Doctor Who. I met the Doctor when he was David Tennett and only after I was hooked did I go back to the beginning and meet his other incarnations. (And I maintain to this day that Blink is the best episode to start with to get someone addicted.) I loved the Doctor in every episode – from the morose to the bizarre – but would I have loved him if I hadn't already had that foundation of loving the other Doctor? I'm not sure I would have.
I discovered Scandal in the middle and went back to the beginning. Buffy, too. I'm almost never the first one to catch onto the next big hit show or next engrossing series. But even if I start in the middle I want to go back to see how it all began, and I love re-watching (or re- reading) that first show (or book) that got me hooked when I finally understand all the histories and references.
My new book, TANGLING WITH THE TIGER, is the fifth in a series, but I like to think it stands on its own. (Maybe it could even be my Blink, a calling-card book to suck people into the world of Lone Pine Pride.) Readers of the series have been telling me they're itching to see Dominec and Grace, so hopefully whether you've never heard of Lone Pine Pride or you're a long-time LPP-shifter addict, you can fall in love with these two.
What are some of your favorite on-going series? Do you like to start from the beginning or just jump in wherever? What's your series strategy?
And now we join this series already in progress…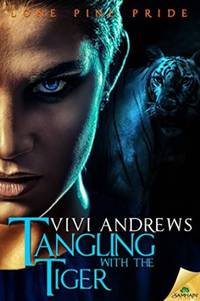 It might be love. If they don't kill each other first.
Siberian tiger-shifter Dominec Giroux doesn't play well with others. Horribly scarred by the Organization scientists who killed his family and tried to turn him into their pet assassin, his sanity has been hanging by a thread ever since his escape.
His one reason for living-revenge. But when he snaps during one of the shifters' strikes against the Organization and goes on a killing spree, it doesn't go over so well with his pride mates. As the only female lieutenant in Lone Pine Pride history, Grace Calaveras has a lot to prove, and a lot on her plate. The last thing she needs to deal with is Dominec's brand of crazy, but until she can get him under control, she's his babysitter.
It would take a miracle for these two to find common ground, but when they're sent on a mission that could impact the future of every shifter in the world, lioness and tiger form an uneasy alliance and unleash an attraction that could be their salvation. If it doesn't destroy them both.
Warning: This book contains a scarred, brooding tiger with an unconventional approach to romance, a feisty, flirty lioness who doesn't know how to quit, love triangles, secret missions, and rooftop kisses hot enough to melt the Montana snow.
Award-winning paranormal romance author Vivi Andrews was born and raised in Alaska, though she currently lives in Manhattan when she isn't indulging her travel addiction. After graduating from Northwestern University, Vivi tried out a variety of careers—from the movie industry to accounting—but kept coming back to her first two loves, writing and travel. She lived in nine cities (on two continents and one tropical island) while pursuing her dream of writing romance professionally.
In 2009, Vivi won the Romance Writers of America® Golden Heart Award, quit her last day job, and her first two paranormal romance novellas were released by Samhain Publishing, launching the Karmic Consultants and Serengeti Shifter series respectively. In the years since she has written and released over twenty paranormal romance novels and novellas. Her books have been selected as Top Picks by Romantic Times Bookreviews and nominated for their Reviewer's Choice Awards, as well as other awards.
When she isn't writing, Vivi enjoys reading, hiking, skiing, and watching every movie ever released, though she is most often found traveling or planning her next trip. Whether at home or on the road, she is always hard at work on her next happily-ever-after.
No comments posted.