Peter Robinson, author of the Inspector Banks novels, chats with Fresh Fiction Reviewer Clare O'Beara about what's in store for Inspector Banks.
Clare: Welcome to Fresh Fiction! Crime readers have been looking forward to the release of your next Inspector Banks book, IN THE DARK PLACES. Yorkshire and occasionally London are the main settings for your books. You've also taken Banks to Estonia in Eastern Europe, keeping up with international crime. However you live in Canada; do you have any plans to set a Banks novel in Canada?
Peter: Not at the moment, no. Though I have set a number of short stories there, and I sent Banks over in The Hanging Valley, the Great Canadian Novel always seems to defeat me. Many years ago I set a private eye novel in Toronto, but nobody wanted to publish it.
Clare: Landscape and weather are core features of your Yorkshire stories, from drystone walls to cavern systems or lambing time in the cold. How often do you revisit the scenes of your fictional crimes, or what other methods do you use to preserve this marvellous authentic atmosphere?
Peter: I live in Yorkshire part of the time, so it's not any problem keeping up with things. I spend my time in Richmond, which is a small town on the edge of Swaledale, so I have access to the landscapes, the people and the weather (unfortunately!) whenever I'm over here.
Clare: Banks is starting to feel his age in the twenty-second book, and we meet a retired policeman who did his thirty years and got out. Do you have plans for retirement for your principal character, and would he make occasional reappearances or would the stories keep following him?
Peter: I have no plans to retire him as yet, but whenever I think about it, I think the best way would to have him marry Annie and get promoted to Chief Constable. Then there wouldn't be much left to write about. But that's not going to happen!
Clare: I enjoy your constant updating of the setting, with the farm life becoming tougher and tourism increasing. The variety of people is also a good reflection of Britain today. Was there an inspiration for the marvellous character of DS Winsome Jackman, and the excellent Jassminder, the crime scene analyst, or did you just feel you needed to spread the cultural base?
Peter: When I was on holiday in Jamaica a few years ago, one of the women who worked at the hotel was called Winsome, and had her name written on a badge pinned to her jacket. I think I was so struck by what an interesting name it was that I just had to invent a character called Winsome. I'm glad that Winsome plays a greater role in IN THE DARK PLACES than in the previous books. I always knew there was a lot more to her. Though I never met anyone with the name, Jazz Singh was a name thing, too, though I'm told that not many women have Singh for a surname. I suppose I was thinking of "jazz singer" or something. Anyway, the character followed the name.
Clare:How do you keep up to date on policing methods and crime scene analysis which are constantly being improved?
Peter: That's the bane of my life. I do my best, but I'm afraid to a large extent I just run with what I've got these days. There are people I can ask, and sometimes I do, but I put less emphasis on procedure and more on chracater and relationships. It's not hard to do research, but sometimes it can sink a story. So can NOT doing it! One of the main problems is knowing what's out there, and that you forget about DNA, mobile phones, laptops and closed circuit television at your peril. Luckily, people have no problem believing a mobile can't get a signal in the Dales, and there's very little CCTV out here.
Clare: As a writer is there any new ground you would like to explore?
Peter: I'd like to write another historical novel, or a novel with a strong historical background, like BEFORE THE POISON. I wouldn't mind having a go at a screenplay, either.
Clare:Thank you for speaking with us at Fresh Fiction and I wish you well for your future books.
Peter: My pleasure.
Peter Robinson was born in Yorkshire. After getting his BA Honours Degree in English Literature at the University of Leeds, he came to Canada and took his MA in English and Creative Writing at the University of Windsor, with Joyce Carol Oates as his tutor, then a PhD in English at York University. He has taught at a number of Toronto community colleges and universities and served as Writer-in-Residence at the University of Windsor.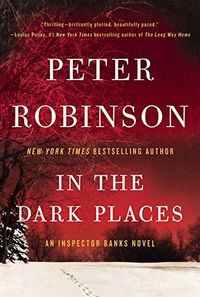 Louise Penny calls IN THE DARK PLACES "brilliant." Tess Gerritsen says it's "thrilling." And Michael Connelly describes Peter Robinson as "amazing." One of the world's greatest suspense writers returns with this sensational new novel featuring Inspector Alan Banks, hailed by Michael Connelly as "a man for all seasons."
It's a double mystery: Two young men have vanished, and the investigation leads to two troubling clues in two different locations.
As Banks and his team scramble for answers, the inquiry takes an even darker turn when a truck careens off an icy road in a freak hailstorm. In the wreckage, rescuers find the driver, who was killed on impact, as well as another body—a body that was dead well before the crash.
Snow falls. The body count rises. And Banks, perceptive and curious as ever, feels himself being drawn deeper into a web of crime, and at its center something—or someone—dark and dangerous lying in wait.
Vibrating with tension, ingeniously plotted, and filled with soul and poignancy, IN THE DARK PLACES is a remarkable achievement from this masterful talent.
No comments posted.