Angela Knight, author of the WITHOUT RESTRAINT sits down with Fresh Fiction to talk about romance and her new Southern Shields!
Jen: Hi, Angela. Thank you for joining us at Fresh Fiction! You're also an artist and have worked as a comic book writer. You have several pieces on your site. Do you create pieces for every book your write and how does it inspire your writing?
Angela: Not necessarily all books, but I do find creating art helps me to visualize the clothing, people and settings more clearly.
Jen: WITHOUT RESTRAINT is the first in your new Southern Shields series. You've shifted away from paranormal and into contemporary. Did the transition from paranormal romance to romance suspense cause you any difficulties or worries?
Angela:I've always used romantic suspense elements in my books, even with the paranormal aspects. Several of my books have been about cops who found themselves butting heads with the paranormal. So it wasn't that big a stretch to leave the wooo-woo out of WITHOUT RESTRAINT.
Jen: You write deliciously sexy erotic romances. The excerpt on your website for WITHOUT RESTRAINT is spine-tingling, but there are always moments of sweetness in your romances. It's a perfect combination for HEA. Can you tell us why you feel those moments of sweetness are essential to your stories?
Angela: Thanks for the beautiful compliment about my work. I think when you're doing stories that deal with dark elements—the cop-killing sniper in WITHOUT RESTRAINT, for example—you really need moments of sweetness and humor to balance that darkness. Otherwise the story becomes too depressing to both write and read. Besides, I love writing sweet moments.
Jen: What is the last book you read that you loved?
Angela: At the moment I'm reading Ilona Andrews's MAGIC BREAKS. I love Andrews's work—Kate Daniels is a fabulous heroine, and her series is both wonderful adventure and funny as heck. Great stuff!
Jen: Can you tell us what you're working on? Will we see more from the Southern Shields series or will you be going back to your wonderful paranormal series?
Angela: Again, thaks for the compliment. I am planning to self- publish some Mageverse novellas, but I also plan to write the next Southern Shields novel, which is tentatively called WITHOUT MERCY, for Berkley Sensation. WITHOUT MERCY stars Detective Ben Tracy and reporter Cassie York, both of whom butt heads in WITHOUT RESTRAINT. I'm really looking forward to writing their story!
Jen: Thank you so much for joining us at Fresh Fiction!
Angela:Thank you so much for the opportunity to speak to your readers.
Angela Knight lives with her family on the East Coast. She's been writing for a few years and enjoys the outlet it provides. She's been a comic book writer, a newspaper reporter and now a novelist.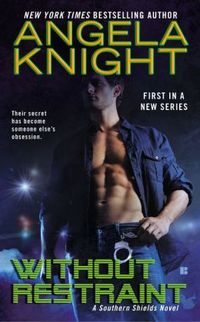 The first novel in the explosive new Southern Shield series from New York Times bestselling author Angela Knight explores the intoxicating games between a female cop and a Navy SEAL—and the killer instincts of a secret enemy watching every move they make.
Atlanta deputy Alexis Rogers and Navy SEAL Frank Murphy know all about power and restraint, necessary force, and pushing their limits. When they meet in the darkness of a BDSM club, their skills are put to use. With each successive night comes a new adrenaline rush, and while they're falling into something perilously close to love, their games are still too private, too extreme, and too daring ever to be exposed.
But their intimate lives are upended when a fellow deputy of Alex's is killed. It's not a tragic hazard of the job. It's cold-blooded murder. And he's not the last to be taken out. Now Alex and Frank have found themselves more vulnerable than ever—and exposed to a killer with a twisted vendetta who turns desire into the most dangerous sensation of all.
No comments posted.