Since it's release week for PROTECTOR FOR HIRE, there are a few things I'd like to get off my chest (and maybe a few things I wouldn't mind having on my chest, but I suppose that's a post for another day).
In no particular order, here are my true confessions about my new romantic comedy, PROTECTOR FOR HIRE:
- I've never split firewood
Nearly every PROTECTOR FOR HIRE review has mentioned the scene in which Schwartz finds himself inadvertently talking dirty to Janelle as he's teaching her to split firewood. It's funny, it's sexy, and it's completely made up.
Well, I shouldn't say that. Though I've never wielded an ax myself, I had a hunch the practice of splitting firewood would be rife with the sort of dirty innuendo I love as a romantic comedy author. I had no idea how right I was until I started researching. Holy cow, you guys! How can anyone not snicker amid all that talk of "blunt heads" and "hard wood?"
- I blatantly stole Schwartz's Pop-Tart obsession The surly, reclusive, 6'5" former soldier who serves as the hero in my latest romantic comedy has a special vice he shares with Janelle at their first meal together. Schwartz Patton is obsessed with Pop-Tarts (an obsession that eventually leads to one of the most interesting food-fueled sex scenes I've ever written, but I'm getting ahead of myself).
Schwartz's Pop-Tart passion might lead you to suspect the author shares the same love of toaster pastries. On the contrary, I'm actually not terribly fond of Pop-Tarts at all. But my longtime literary agent, Michelle Wolfson of Wolfson Literary, absolutely adores them. When I first started mulling small to show an unexpected soft side to the book's curmudgeonly hero, I threw in the Pop-Tarts as a hat tip to my agent.
- I might have a slight hand fetish
I've never actually checked this, but I would hazard a guess that out of a dozen books I've published in the last four years, every single one of them has a hero with large, beautiful hands.
That's no accident. Well okay, it's kind of an accident in that I didn't actually set out to reveal my own personal fetish to the masses, but it goes without saying that big, sexy hands are my own personal weakness.
And while I've written plenty of big-handed heroes over the years, Schwartz Patton takes the prize thus far as my hero with the most giant mitts. They may or may not have been modeled after my husband's hands (hi, honey!)
-Don't tell anyone, but...Okay, you know how romance authors are supposed to tell you that each hero they've written is special and unique in his own right, and that they're all the author's favorite in one way or another?
That's mostly true, but I have to confess something: Schwartz Patton is my favorite. Not just my favorite hero in the Front and Center series, but my favorite out of all the books I've published so far.
It's true. I'm a sucker for gruff guys with a dry sense of humor and a soft, gooey center they don't reveal to many people, and that's Schwartz to a tee.
Incidentally, I'm not sure what to make of the fact that my agent once pointed out that my heroine in FIANCÉE FOR HIRE (the second book in the series) bears a striking resemblance to me. Kinda makes you wonder how all these couples would fare if they had a massive partner swap.
But that's definitely a blog post for another time.
Tawna Fenske is a romantic comedy author who writes humorous fiction, risqué romance, and heartwarming love stories with a quirky twist. Her offbeat brand of romance has been praised by Booklist as "A tame Carl Hiaasen on cupid juice," and RT Book Reviews nominated her debut novel for contemporary romance of the year. Tawna is a fourth generation Oregonian who can peel a banana with her toes and who loses an average of 20 pairs of eyeglasses per year. She lives in Bend, Oregon with her husband, step kids, and a menagerie of ill-behaved pets.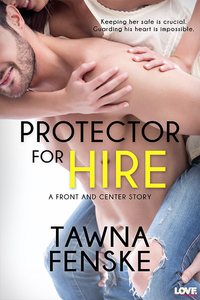 Haunted by his time in Iraq, former soldier Schwartz Patton goes off the grid, retreating deep into Montana's untamed wilderness. Now, ten years into his self-imposed solitude, his brother tracks him down and asks for a favor. A woman is in danger, and she needs help...and Schwartz is the only one who can protect her.
Designer-loving city girls like Janelle Keebler don't belong in the wilderness. Unless, of course, they're witnesses to a murder by their psycho drug-trafficking ex-husbands. Still, Janelle can't help the immediate physical response she has to her sexy-as-sin protector that leaves her wanting more than she could have ever imagined. Even if he does make terrible coffee...
Every word, every touch, every kiss ignites a need Schwartz thought he'd lost forever. He can't stop the desperate attraction simmering between him and Janelle, even if he wanted to. Even if it means it could get them both killed.
2 comments posted.