When we came up with the idea to write the Backstage Pass series, I knew right off the bat I wanted to write a diverse character. I'd previously written diverse secondary characters, but had never had a diverse main character. Sometimes the thought of writing outside what you know, is kind of scary. You want to make sure that you represent that culture properly and not stereotypically. But I wanted to do this. So, Trevin Jacobs, who's Korean American and the oldest band member of Seconds to Juliet, was born.
I have to admit, part of my inspiration for writing him came from my love of KPOP music, which my daughter and niece introduced me to a few years ago. My kids and niece are all big into anime, manga, KPOP music, so I knew this was really the route I wanted to go in.
I made a list of my favorite KPOP bands and watched their videos and then from there, started doing some research on Korean Heritage (trying to get an idea of family dynamics, types of food that were common or popular within the culture etc).
It was fun talking about some of the KPOP music with the other authors in this series and I know Suze had me email her about some of the bands I liked. All I can say is some of these KPOP bands are seriously the epitome of what boy bands are. The dance moves, the catchy songs (even if I didn't always understand the lyrics), and the hot guys *fans self*.
I'd definitely LOVE to encourage everyone to check out some of these groups:
- Super Junior
- SHINee
- Beast
- B.A.P.
- U-Kiss
- Big Bang
- Teen Top
- NU'EST
- Block B
Watch a music video by U-Kiss for Tick Tack
And here's a video of Super Junior for Sorry, Sorry
I was born and raised in Michigan (just look for the giant mitten on the map--it'll likely throw a snowball at you). I spent most of my time in Michigan, but while in the army got to call KS, SC, MO, and CA home for awhile as well.
As a kid my family moved around a lot. Try spending both your freshman and senior years at new schools (yeah, loads of fun). I could've changed my name to "new girl".
I love writing for teens because those are the years I remember falling in love with most of my favorite books. Some of the authors I couldn't put down were L.J. Smith, Christopher Pike, R.L. Stine, Richie Tankersley Cusick, Joan Lowery Nixon, Lois Duncan, amongst several others.
My husband and I have a large family. There are six kids total! So we have LOTS of fun on vacations (although hours on the road, cooped up in the Expedition is kind of stressful--although we pass the time with MAD LIBS and hoping no one gets carsick).
Some fun facts about me:
My first real crush was on Luke Skywalker (LOL--hey, I was like 8 years old and it came out before I was born).
I'm obsessed with several TV shows/Movies: The Vampire Diaries, Lord of the Rings, Star Wars, Sean of the Dead, The Sing Off, Ghost Hunters, Destination Truth, True Blood, Being Human, Fact or Fake, Haven and all the cake designing ones! Oh and all the spoof movies!
I still own all the books I bought as a kid/teen.
I have a hankering for chocolate (like all the time, seriously. If my arm was made of it I'd chew it off).
Celebrity crushes: Johnny Depp (woohoo), Taylor Lautner (okay, I know he's kind of young for me), Ian Somerhalder (ooh, he's just right. We're the same age). Wow, this was like a Goldie Locks and the Three Bears moment. Johnny Depp too old, Taylor Lautner too young, Ian Somerhalder--JUST RIGHT.
In my spare time I like to write (obviously), read, sing, hang out with my kids, play with my animals, camp, play soccer, check my email (hehehe), watch football (go LIONS). I also love hanging out with my sister and hubby!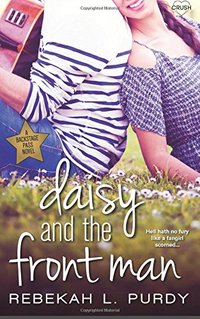 Hell hath no fury like a fangirl scorned...
When Daisy Morris finds out she's spending the summer with her dad, bodyguard for Seconds to Juliet - the hottest boy band around - she knows it couldn't be more perfect. But not because she's a fan. Oh, no. Because ever since front man Trevin Jacobs completely humiliated her by standing her up for homecoming, Daisy is out for a little revenge. Yup, Trevin Jacobs is goin' down...
When one of his bandmates bets Trevin he can't make Daisy - the gorgeous but surprisingly ice-cold daughter of their bodyguard - fall in love with him, it's a bet he can't resist. Sure, Daisy won't give him the time of day for reasons he can't understand, and her dad's hell-bent against his little girl spending time with a superstar. But the terms are set, and Trevin is determined to make Daisy fall...hard.
But every front man should know never to trust a girl with a pretty face...
This Entangled Teen Crush book contains adult language, sexual situations, and seriously hot boys. It may cause swoony daydreams involving a certain super- cute front man.
No comments posted.