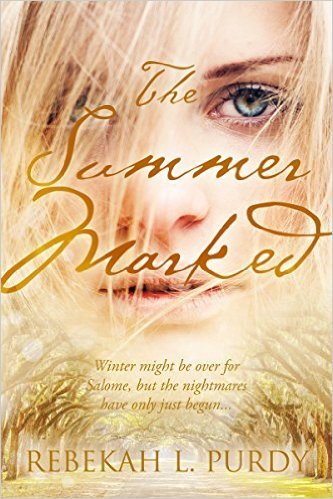 Purchase
The Winter People #2
Entangled Teen
October 2015
On Sale: September 22, 2015
Featuring: Gareth; Kadie; Salome
373 pages
ISBN: 1633750094
EAN: 9781633750098
Kindle: B00R6DRYU8
Hardcover / e-Book
Add to Wish List

Fresh off a break-up with her boyfriend, Kadie's glad to be home from college for Thanksgiving. All she needs is a rebound guy, a box of chocolates, and some girl time with her best friend, Salome. Problem is, Salome isn't returning her calls, and her family won't say where she is. Feeling sorry for herself, Kadie ends up at Club Blade, a place filled with pumping music, dangerous guys, and promises of a good time. However, when midnight strikes, Kadie's fun turns into a nightmare as she's ripped from the human world into Faerie by a vengeful Winter Prince named Etienne. For the first time in her life, she realizes the monsters Salome always spoke of are real, and they'll stop at nothing to destroy her friend.
Salome thought the winter curse was behind her. But winter has left its mark. Not just on her, but on the whole summer court. The Kingdom of Summer is falling apart, and Nevin is hanging onto his throne by a thread. With war on his doorstep, he has no choice but to send Gareth into enemy territory, which means Salome will be left alone-- vulnerable in a world she doesn't understand. A place where beauty is deadly and humans are pawns in the macabre games the Fae play. Both Kadie and Salome will have to call on all their strength to survive in a world where humans aren't meant to be. With death and enemies all around them, it'll be a miracle if they can survive.
Winter People
Comments
4 comments posted.
I am glad to know someone else reads the ending or checks
several chapters ahead also. I sometimes check to see of
someone has not died for example. I do finish the book and
it does not ruin it for me. I re-watch movies and re-read
books. I sent the author a book review I did and thanked her
for not killing off a character. She did reply to me. He
was not a main character but I thought important.
(Leona Olson 9:13am September 24, 2015)
I've never had the temptation to skip ahead in a book. I
figure if I did, I might miss out on a crucial element along
the way, and it would spoil the story. It's also not fair to
the Author, and a waste of money to skip pages in between!! I
must admit that I have never read a book from your genre
before, but found the synopsis from your latest book so
fascinating, that I'm actually going to give your book a try!!
I've got it on my TBR list, and it's going to make a great Fall
read!! I think part of it could be the Michigan connection.
:-) Congratulations on your latest book, and I'm sure it's
going to do well!!
(Peggy Roberson 9:13am September 24, 2015)
Oh I'm definitely an end-peeker! I even read the end of the
Harry Potter series as I had to know who made it and who
didn't.
(Debbie Wiley 3:56pm September 24, 2015)
LOL--YAY, I'm glad I'm not the only one who does this! Even though
I skip ahead, I still read through the rest of it (I just take a
peek to make sure all is good). Thanks for the comments! Rebekah
Purdy
(Rebekah Purdy 5:06pm September 24, 2015)
Registered users may leave comments.
Log in or register now!