Hi, Linda.
Thank you so much for stopping by Fresh Fiction and answering a few questions for all your fans here! Our reviewers love The Brides of Bliss County series, and with the final book, THE MARRIAGE SEASON, released on May 26, we're all hoping this won't be the last we see of Hadleigh, Melody, and Bex.
Will you be returning to Bliss County in the future or are you developing another western county we can fall in love with and dream of moving to?
I'm writing about new people in a new place, although there will be a Christmas story, CHRISTMAS IN MUSTANG CREEK, released as a gift hardcover in October, featuring many of the Bliss County characters.
Close female friendships like that between Hadleigh, Melody, and Bex, are my favorite to read about in romance. Friendship, or sisterhood some might say, is especially important for a lifetime of happiness. Did Hadleigh, Melody, and Bex's friendship evolve in unexpected ways during the writing of the Brides of Bliss County?
One of the things I love best about writing is the way characters grow and evolve as I work with them. Often, I'm as surprised by their antics as anybody, and I really enjoy that. So, yes, I believe the friendships grew and changed, just as they do in real life.
I love that Hadleigh, Melody, and Bex make a marriage pact! Where did the inspiration for this marriage pact come from?
I had been thinking about the power of intention, and I decided to have my characters perform an intention experiment. Since the stories are romances, it made sense that they all wanted to find husbands—but not just any husbands, of course, because Hadleigh, Melody and Bex are all sharp, successful women.
I see a lot of myself in Melody (Oh, a man in a uniform…sigh). Which character do you most identify with?
That's a hard question to answer; the truth is, I identify with every major character I work with, because I have to get inside their heads and their hearts to understand them. Does that even make sense? I actually develop relationships with my story people.
But let's not forget the men of Bliss County. Tripp, Spence, and Tate definitely bring their own appeal to the series. Asking a nearly impossible question, but which guy is your favorite? I know I couldn't choose!
I couldn't choose, either. I loved Tripp's proactive spirit, actually carrying Hadleigh out of a church in the middle of her wedding to Mr. Wrong, but Spence, being a police officer, made my heart beat a little faster, too, and I super-enjoyed Tate's wonderful interactions with his children, as well as with Bex.
- We at Fresh Fiction are thrilled you could join us today! Thank you so much for answering our questions and for writing amazing stories that bring readers joy and love.
Thank YOU for inviting me to contribute!
Each morning shortly after the sun rises over Spokane, Washington, New York Times bestselling author Linda Lael Miller pulls on her cowboy boots and heads for the stables for a few quiet moments with her horses before she settles in to write her pages for the day.
As the daughter of a town marshal, Linda has come home to the western lifestyle that gave birth to one of today's most successful authors. The self-confessed barn goddess left Washington years ago and pursued her wanderlust, living in Arizona and London and traveling the world. Now the author of more than 100 novels, the "First Lady of the West" is glad to be back home, writing contemporary and historical stories that have earned her awards and placements on all the national bestsellers lists.
Linda traces the birth of her writing career to the day when a Northport teacher told her that the stories she was writing were good, that she just might have a future in writing. Later, when she decided to write novels, she endured her share of rejection before she sold FLETCHER'S WOMAN in 1983 to Pocket Books. Since then, Linda has successfully published historicals, contemporaries, paranormals, and thrillers before coming home, in a literal sense, and concentrating on novels with a Western flavor. For her devotion to her craft, the Romance Writers of America awarded her their prestigious Nora Roberts Lifetime Achievement Award in 2007.
Linda's 2011 contemporary Creed Cowboy trilogy—A CREED IN STONE CREEK, CREED'S HONOR and THE CREED LEGACY, released in March, June and July, respectively—each debuted in the number one position on the New York Times bestseller list.
LindaLaelMiller.com | Facebook | Twitter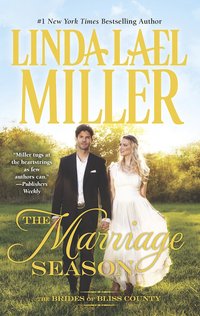 Will the marriage pact be fulfilled? Return to Mustang Creek, Wyoming, with #1 New York Times bestselling author Linda Lael Miller for more Brides of Bliss County!
Since Hadleigh, Melody and Bex—the best of best friends— entered into a marriage pact, two of them have found (and married) the men of their hearts. But Bex doesn't think she'll be as fortunate as the others. Her own first love died years ago in a faraway war, and Bex has lost hope for a happy marriage of her own. She concentrates on her business, a successful chain of fitness clubs, instead.
Then, when single father Tate Calder comes to Mustang Creek with his two sons in tow, who befriend Bex's eight- year-old nephew, she and the handsome, aloof newcomer are constantly thrown together. But is the marriage season over? Or can a man with doubts about love be the right husband for a woman who wants it all?
1 comment posted.