1--What is the title of your latest release?
HALLO-WAIIAN MURDER MYSTERY, #20 of the Aloha Lagoon Mysteries.
2--What's the "elevator pitch" for your new book?
It's Halloween in Aloha Lagoon, and dive tour leader Kiki Hepburn is hot on the trail of a killer – a trail which takes her to gardens of flowering poisonous plants, an animal shelter, and a zombie themed "Hallo-wedding", with something stalking her every move…
3--How did you decide where your book was going to take place?
It is part of the Aloha Lagoon series, so it is set at the Aloha Lagoon resort. I decided to make it at Halloween so I could have even more fun writing it!
4--Would you hang out with your protagonist in real life?
Yes, I would definitely go diving with Kiki!
5--What are three words that describe your protagonist?
Smart, resourceful, and underestimated.
6--What's something you learned while writing this book?
Poisonous plants. I was shocked to see how many plants I grew up playing with in my mom's garden are actually poisonous!
7--Do you edit as you draft or wait until you are totally done?
I do a little as I write, but usually try to just get the story out. After I'm satisfied, I send it to my beta readers and let it "rest," then go through a paper copy before I get my beta feedback, then again, comparing my notes and theirs. Then back to the computer!
8--What's your favorite foodie indulgence?
I was sent Oregon Chai by a reader and friend. It literally makes me stop working to just sit and savor it!
9--Describe your writing space/office!
I have a room with French doors that I can close if need be. It's got a bookcase (naturally), a nice big squishy chair, a TV, and my desk. I tend to have history or baking shows streaming in the background as I work.
10--Who is an author you admire?
There are so many! Authors who excel at clever promotion, authors with long-running series, authors with excellent, clever prose. As a writer, there are many for me to aspire to. I can't pick just one.
11--Is there a book that changed your life?
I would have to say the Harry Potter series. I was an adult when they came out, and I was flabbergasted at the level of detail in the world- and lore-building.
12--Tell us about when you got "the call." (when you found out your book was going to be published)/Or, for indie authors, when you decided to self-publish.
When I got the call for my first Aloha Lagoon book, it was snowing! I remember this clearly because it's barely snowed since – but also because it snowed on the day I heard my other series, the Hometown Mysteries, was picked up. So fingers crossed for lots of snow in my future!
13--What's your favorite genre to read?
Cozy mysteries, of course! But I also like historical fiction and magical realism.
14--What's your favorite movie?
I don't really have a favorite, but if I see a Harry Potter movie on TV, I'm definitely stopping to watch.
15--What is your favorite season?
Definitely Fall! Especially here in Maryland, where the summers are long, hot, and very humid. (It is a swamp, after all!) Those first instances of cool air are celebrated.
16--How do you like to celebrate your birthday?
Just a nice dinner with my family.
17--What's a recent tv show/movie/book/podcast you highly recommend?
I recently discovered a mix of my two favorite types of TV shows – crime shows and baking shows: Crime Scene Kitchen. It's fun!
18--What's your favorite type of cuisine?
I'm a huge fan of Italian, but also love Indian and Thai.
19--What do you do when you have free time?
I enjoy reading, cross stitching, word puzzles, and watching Discovery+ shows – History Channel, HGTV, Food...
20--What can readers expect from you next?
Next month, the third in my Hometown Mysteries, MURDER COMES HOME, is released. Gemma Halliday Publishing is donating a portion of their pre- and first week sales to the DAV, Disabled American Veterans.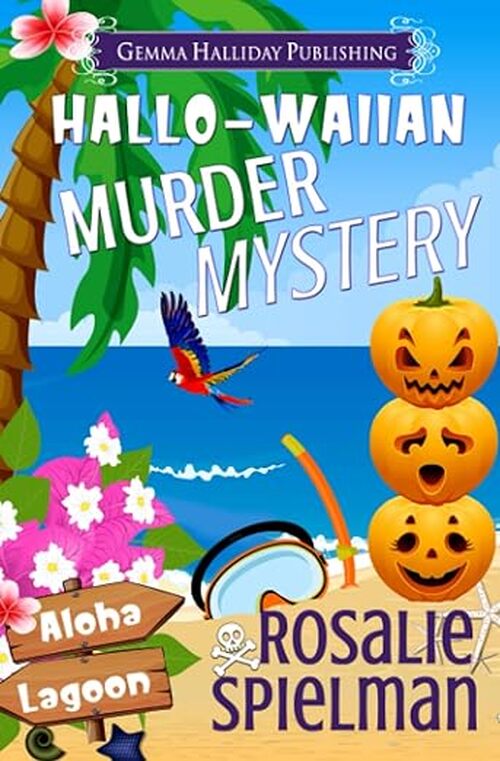 From author Rosalie Spielman comes a Halloween homicide in paradise...
It's Kiki Hepburn's first Halloween in Aloha Lagoon, and she doesn't know exactly what to expect. Between working at the busy Aloha Lagoon Dive Shop and living with the eccentric Auntie Akamai, life is always unpredictable. But one thing Kiki definitely didn't expect to find is the dead body of Auntie Akamai's life-long friend, Celine Suzuki! And when the island's Homicide Detective Ray shows up, Kiki knows the death is not an accident—it's murder.
Now Auntie Akamai's friends are all suspects in the death. Was it Oliana Harris, the Pineapple Princess, and heiress to a pineapple fortune? Margaux La Roux, a transplant from New Orleans? Or Stella Keawe, Akamai's gossipy goose of a neighbor? They're all acting suspiciously. And each is hiding something. But is what they're hiding worth killing over?
To complicate matters even more, Kiki's parents want her to bring her hot diver boyfriend Dex home for the holidays, and Kiki's not sure how she feels about the whole situation—let alone how Dex feels. Instead of enjoying her first Hawaiian Autumn under the waves, Kiki's investigation takes her to gardens of flowering poisonous plants, an over-the-top animal shelter, a prickly pineapple plantation, and a zombie theme "Hallo-wedding." With time running out and "something" stalking her every move, will Kiki live to see her Halloween treats? Or will this year end in a "trick" Kiki won't come back from?
Mystery Cozy [Gemma Halliday Publishing, On Sale: October 3, 2023, Paperback / e-Book, ISBN: 9798862110265 / eISBN: 9798215386897]
A Hawaiian Halloween sees Mahjong lead to murder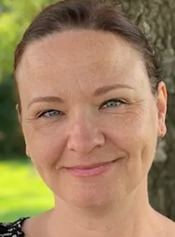 Rosalie Spielman is a mother, veteran, and retired military spouse. She was thrilled to discover that she could make other people laugh with her writing and finds joy in giving people a humorous escape from the real world. She writes cozy mysteries for the multi-author Aloha Lagoon mystery series and her own Hometown Mystery series, both with Gemma Halliday Publishing.
She currently lives in Maryland with her husband in a rapidly emptying nest. For more information on her books or to subscribe to her newsletter, go to her website, follow her Facebook page (Rosalie Spielman author), or join her Facebook group. Rosalie strives to provide you a cozy escape...one page at a time.
No comments posted.