1--What is the title of your latest release?
CHAOS TERMINAL - Midsolar Murders 2
2--What's the "elevator pitch" for your new book?
"Murder She Wrote" Meets "Babylon 5" - an amateur sleuth is tired of people dying around her all the time and decides to appeal to a space station to live there, hoping that living among aliens will stop the deaths. It does, until more humans show up. Now, in Chaos Terminal, Mallory must investigate a murder on behalf of an old friend as an insidious force threatens the station and everyone aboard.
3--How did you decide where your book was going to take place?
I wanted a place like Babylon 5, a diplomatic hub, but this time hesitant to let humans aboard. The aliens are peaceful, but don't quite know what to do with this new, strange race they've discovered. Station Eternity is a sentient station, an alien herself, with her own personality and agency.
4--Would you hang out with your protagonist in real life?
Probably not; murders happen around her all the time. It would be dangerous.
5--What are three words that describe your protagonist?
Driven, frustrated, connected
6--What's something you learned while writing this book?
I learned a lot about wasps and hornets, but telling anything more would be spoiling!
7--Do you edit as you draft or wait until you are totally done?
I wait till I'm done. I'm a discovery writer and prefer to let the book go in the direction it wants, and clean it up on edits.
8--What's your favorite foodie indulgence?
There are so many! I guess I would say a good creme brulee is my favorite.
9--Describe your writing space/office!
Messy, messy, pictures of my kid, poppet tarot sculptures by Lisa Snellings, fountain pens, fountain pen ink, writing references, and blank notebooks.
10--Who is an author you admire?
Martha Wells, who has created amazing stories for years but recently had a hit with the amazing Murderbot stories.
11--Is there a book that changed your life?
There was a progression of books in my teens that drove me to be a writer, starting with women writing about women and girls (Dragonriders of Pern series and A Wrinkle in Time series), and then books exploring very strange humor (the works of Douglas Adams and then Good Omens)
12--Tell us about when you got "the call." (when you found out your book was going to be published)/Or, for indie authors, when you decided to self-publish.
I had run into an editor at the Reno Worldcon in August, 2011 and talked to her about my book. I had sent it to another editor who worked with her, and she berated me for sending it to the wrong editor. The person I sent it to left the publisher and passed my manuscript on to the woman I met at WorldCon, who called me in December with an offer. I was taking my kid to a holiday concert and got the call while we were having dinner at the mall.
13--What's your favorite genre to read?
I love almost every genre that can make me laugh.
14--What's your favorite movie?
So hard to say, but Mad Max Fury Road and the Spiderverse movies have had the biggest emotional impact on me in the last few years.
15--What is your favorite season?
Fall. I love cider and cloves and cinnamon and cold nights and Halloween and the buildup to Christmas.
16--How do you like to celebrate your birthday?
In the pre-pandemic times, I would throw a party. I've always been a birthday fan, and haven't had a year I didn't want to celebrate. This year I turned 50 and my family took me to DisneyLand.
17--What's a recent tv show/movie/book/podcast you highly recommend?
I love Roll to Meddle, the Brindlewood Bay RPG actual play podcast. I love the game and the podcast is very well produced.
18--What's your favorite type of cuisine?
Japanese. Give me sushi or ramen any day.
19--What do you do when you have free time?
Computer or board games. Currently I'm playing Baldurs Gate 3, and my gaming group is playing "Bureau of Investigation" with our gaming group.
20--What can readers expect from you next?
I just turned in the first draft of book 3 in the Midsolar Murders: Infinite Archive. Tentative release fall 2024.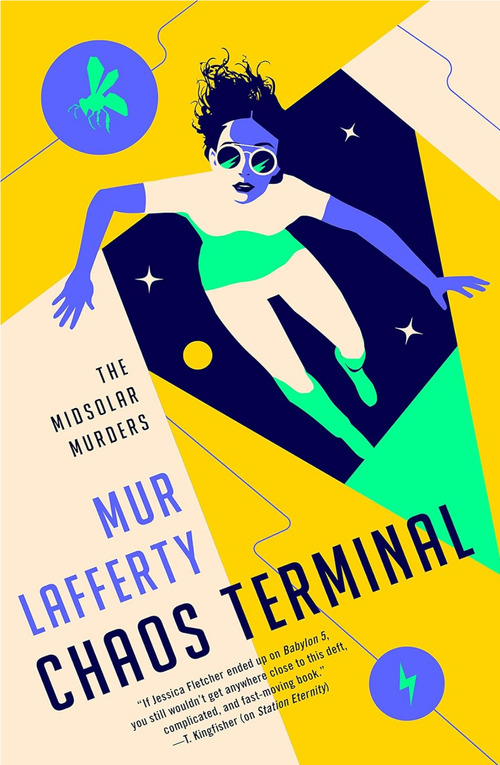 Mallory Viridian would rather not be an amateur detective, and fled to outer space to avoid it…but when one of the new human arrivals on a space shuttle is murdered, she's back in the game.
Mallory Viridian would rather not be an amateur detective, thank you very much. But no matter what she does, people persist in dying around her—and only she seems to be able to solve the crime. After fleeing to an alien space station in hopes that the lack of humans would stop the murders, a serial killer had the nerve to follow her to Station Eternity. (Mallory deduced who the true culprit was that time, too.)
Now the law enforcement agent who hounded Mallory on Earth has come to Station Eternity, along with her teenage crush and his sister, Mallory's best friend from high school. Mallory doesn't believe in coincidences, and so she's not at all surprised when someone in the latest shuttle from Earth is murdered. It's the story of her life, after all.
Only this time she has more than a killer to deal with. Between her fugitive friends, a new threat arising from the Sundry hivemind, and the alarmingly peculiar behavior of the sentient space station they all call home, even Mallory's deductive abilities are strained. If she can't find out what's going on (and fast), a disaster of intergalactic proportions may occur.…
Mystery | Science Fiction Space Opera [Ace, On Sale: November 7, 2023, Trade Paperback / e-Book, ISBN: 9780593098134 / eISBN: 9780593098141]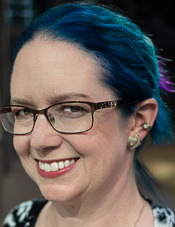 Mur Lafferty is a podcaster and writer from Durham, NC. She made her name with podcasting (I Should Be Writing, The Angry Robot Podcast, and Escape Pod, the premier SF podcast magazine) and has written for magazines, roleplaying games, and audio and video podcasts.
She's the author of I Should Be Writing, Six Wakes, The Shambling Guides, and part of the team that writes Bookburners.
No comments posted.