PART ONE: SUMMER IN THE CITY – CHAPTER 2
Still in the middle of enjoying our punch-drunk Wall Street intern gallows humor, we both turned as someone suddenly appeared before our booth.
The men who lined Stella's famous zinc bar usually ran older, fifty- or sixtysomething Hollywood or European types, their wrinkles smoothed away with plastic surgery, fake tans, and impeccable clothes.
But with his tousled strawberry blond hair and beard, the cute twentysomething guy standing by our booth looked more like an aging frat boy than a millionaire.
When I noticed he was very thin, I thought maybe he was a model. Though he wasn't really tall enough. Everybody was someone at Stella's. It was an ironclad rule. Well, except for snuck-in stowaways like me, of course.
"May I?" he said, sitting down next me.
As I reluctantly scooted over, I turned to see that Priscilla's face was as puzzled as my own.
"And you are?" Priscilla said.
I was taking in the guy's vacant expression and glassy eyes when I noticed that the sleeve of the suit jacket he was wearing was opened up from the wrist to the elbow. Then I caught a whiff of body odor and inched away like you do when a homeless person sits down next to you on the subway.
"I'll have one, too, please," our strange new visitor said to Tommy as he arrived with our fresh drinks.
"You again?" Tommy said, peering daggers at him. "Didn't I tell you not to come back in here?"
"Oh, my goodness. Gareth?" Priscilla suddenly said wide-eyed.
"In the flesh," the guy said, rolling his eyes. "Wow. Finally, Prissy. Took you long enough."
Priscilla squealed as she leapt up and hugged him.
"You know this guy?" Tommy said.
It was my question, too.
"Yes, of course, Tommy. He's with me," Priscilla said, shooing Tommy away as they both sat again.
"Gareth, when did you start with that beard? You almost completely fooled me. Gareth, this is Faye, my work buddy. Faye, meet Gareth. You know how Jamaica has Usain Bolt? Well, Park Avenue has Gareth Haynes. I'm not even kidding. How many school track records did you set?"
"Four but who's counting?" Gareth said with a laugh.
"He came in first in states in the thirty-two hundred," Priscilla said. "What was your time again?"
"Eight forty-one dot forty-two," he said. "It was the high school state record until last year."
"Thirty-two hundred?" I said.
"It's the two-miler," Priscilla said. "I'll never forget that race. It was neck and neck until the last half mile then he dusted them."
"Those were the days, Prissy, huh?" Gareth said. "Remember coming back from that meet on Randall's Island when we plotted with Mr. Ken to take us to Florida for spring break?"
"Mr. Ken!" Priscilla laughed. "World's best school bus driver! He would have taken us, too. And the other time, when he squeezed the bus through the McDonald's drive-through on the West Side? The look on the woman's face! If Mr. Ken wasn't the best thing about that stuffy institution, I don't know what was."
"Well, you still look terrific," Gareth said. "As always."
"So do you," Priscilla said. "Last time we met was what? Two years ago? Thanksgiving weekend at that place in the meatpacking district. You were at… UCLA film school, I think."
He passed a hand through his prep school hair and kind of gave it a flip as he laughed again.
"That didn't last long. Went to Tulane Law after that and that lasted even less time. I did some surfing. I was in Morocco for a while. You ever been?"
"No," Priscilla said, putting her lovely chin in her hand. "But I took a day trip to Algiers the last time we went to Ibiza. What wonderful people and the food was amazing. It must have been beautiful. The Mediterranean is so serene."
He nodded.
"Then I was back out in LA, and now I'm back here. I'm not sure if you heard. My dad's not doing too hot."
"I did hear. Scarlet told me. I'm so sorry," Priscilla said.
"Yeah, me, too," Gareth said, suddenly standing.
"Wait. Can't you stay?" Priscilla said.
"Ah, I won't torture you anymore," he said. "I was just walking by, and when I saw you through the window, I knew I had to pop in and say hi, Prissy. You were always so…nice. Those Mr. Ken days really were such good ones, weren't they?"
"The best," Priscilla said. "But where are you going? You have to stay for a drink."
He looked at his phone.
"Can't now, Pris. But I'll be around. We'll catch up next time, okay? I promise."
"You better," Priscilla said, smiling.
But he didn't go. Not right away. He stood there for a moment, looking at her. There was an expression on his face, a kind of sadness. I noticed the same sad wistful look on Priscilla's face, too.
They'd been in love, I suddenly realized.
"Nice meeting you," he said quickly, turning to me.
"You, too," I said as I watched Priscilla watch him leave.
He laughed as Tommy stopped him by the door. Then his laugh turned into a wince as Tommy seemed to seize and squeeze his wrist. He almost knocked over the Wait to Be Seated sign as he broke free, stumbling out onto the sidewalk.
"Now that sucks," Priscilla said after knocking back half her new drink.
"About his dad?" I said.
"No, about Gareth," she said, twirling her straw. "His parents threw him out. The whole family has basically disowned him. He's a…well… He's a drug addict."
"No way," I said. "That's terrible."
"Terrible is the word," she said. "Been in and out of rehab a bunch of times. I'm surprised he's still alive. I heard they even cut his trust fund down to hardly anything in a last-ditch effort to convince him to get clean again. I'm still close with his little sister, Scarlet, who was in my year at school."
"Wow," I said quietly.
She tapped at the rim of her glass as she shook her head.
"He invited me to the prom. I would have gone, too, except someone else had asked me the day before. He was so funny and talented. One of the best athletes in the school's history. Not just track either. You had to see him play basketball. Even without all of his family's money, he would have had the world at his feet."
"His family?" I said.
"The Hayneses. Real estate," Priscilla said. "They own Smith & Haynes, the biggest luxury real estate service company in Manhattan. Their agents sell and manage almost all of the luxury apartment buildings on the Upper East Side and half of the office buildings in Midtown. S&H are also the go-to brokers in Greenwich, the Hamptons, and Palm, of course. The family is actually a huge private client at our bank. Imagine? All that property and Gareth probably sleeps on the street. Drugs can be so destructive."
As she went to take another sip of her drink, Priscilla looked over at me and seemed to sit up a little, to catch herself as she suddenly wondered if talking out of turn to an outsider was wise.
Then it was her turn to check her phone.
"Well, I must be going, too, Faye," she said as she lifted her Louis Vuitton clutch. "Cheers to you. Thanks again for the save. By the way, how the heck did you even notice my mistake? You looked over my shoulder at my screen for like a second."
"I remembered the number," I said truthfully.
"The client's routing number that I got wrong?" she said, raising a perfectly arched eyebrow.
"I sent money to that same Cayman account the first week. That's why I knew it wasn't the Westland one."
"You remember routing numbers? No! Really? Come on. What do you do? Like memorize them? How?"
"Piece of cake," I said with a wink as I lifted my glass.
Excerpted from THE GIRL IN THE VAULT. Copyright © 2023 by Michael Ledwidge. Published by Hanover Square Press, an imprint of HarperCollins.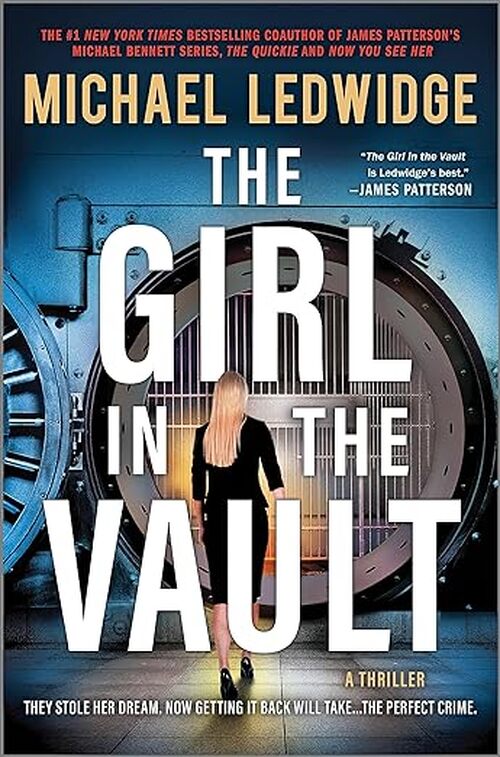 A bold new stand-alone thriller from the longtime James Patterson coauthor.
It's summer in New York City and Faye Walker has it all. She's not only scored one of the most highly coveted internships in all of Wall Street, she's also just met the head-over-heels love of her life. With her natural-born gift for numbers and a work ethic that knows no bounds, Faye is a shoo-in for a full-time position at the illustrious merchant bank, Greene Brothers Hale. Then, just as she awaits her offer and her signing bonus, a treacherous betrayal arrives to shatter Faye's plans and her young life.
But what her high finance masters-of-the-universe bosses don't know is that Faye isn't like any of the other interns. Having made her way past her humble small-town beginnings, for Faye, going back is not an option. That's why Faye now has a new plan. One that involves Swiss watch timing, nerves of steel and ten million dollars in cold hard Wall Street cash.
Thriller Crime [Hanover Square Press, On Sale: November 7, 2023, Hardcover / e-Book, ISBN: 9781335455086 / eISBN: 9780369736253]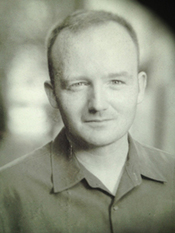 Michael Ledwidge is the son of Irish parents and was born and raised in the Bronx. A graduate of Manhattan College, he is married and has two children. As the co-author of a series of some of James Patterson's most profitable books to date, Ledwidge has risen from an admired but, it's fair to say, mostly unread author, to co-writing some of the most widely read books in the world. He's made real money doing it, too, enough to change his life completely.
No comments posted.