Kate Carlisle is the New York Times bestselling author of two ongoing series: the Bibliophile Mysteries featuring San Francisco bookbinder Brooklyn Wainwright, whose rare book restoration skills uncover old secrets, treachery and murder; and the Fixer-Upper Mysteries (as seen on Hallmark Movies & Mysteries), featuring Shannon Hammer, a home contractor who discovers not only skeletons in her neighbors' closets, but murder victims, too. Her latest Bibliophile Mystery is THE TWELVE BOOKS OF CHRISTMAS.
There are a lot of fabulous Christmas mystery books on the shelves. One of the things we love about Christmas books of any genre is the familiarity of the traditions. Reading about a familiar tradition is like hearing a beloved song—it immerses us immediately in the feeling of a happy memory.
When I sat down to write THE TWELVE BOOKS OF CHRISTMAS, I made sure to include lots of the cozy holiday traditions that readers expect and want. I mean, just look at the cover! This scene comes straight from the book and is wonderfully drenched in all things Christmas.
But the readers who pick up my books also crave knowledge—they want to be entertained, yes, but they also want to learn something. And they're voracious. (I love that about them!)
So I challenged myself to create a story that would introduce my readers to a holiday tradition they may have never heard of before—first footing, a very important aspect of the Scottish celebration of New Year, Hogmanay. THE TWELVE BOOKS OF CHRISTMAS is a celebration of my own Scottish heritage. Bookbinder Brooklyn Wainwright and her husband fly to Scotland to witness the wedding of dear friends, in a castle on the shores of Loch Ness. While there, Brooklyn is determined to track down twelve rare books missing from the castle library, but her search uncovers secrets that lead to murder.
What is first footing?
The first person to cross the threshold after midnight on New Year's Day is the first footer. The first footer brings luck through the door—good or bad. Homeowners traditionally must welcome the first footer with food, drink, and entertainment, and allow the first footer to stay as long as he or she would like.
That last bit isn't generally observed these days but plays a significant role in THE TWELVE BOOKS OF CHRISTMAS when the first footer is not exactly a welcome or well-behaved guest. Still, the Laird of Castle MacKinnon is determined to observe the old ways.
Loch Ness, Scotland
Exclusive excerpt from THE TWELVE BOOKS OF CHRISTMAS:
Suddenly there was a loud hammering at the front door.
"Now what?" Dad said.
Gwyneth's shoulders sagged. "We certainly didn't need any more excitement tonight."
"It's barely half past midnight," Cameron said, giving her a quick hug. "Early for Hogmanay."
"Hogmanay," I whispered to Derek. "Do you think this is part of that First Footing thing?"
"No doubt," he said.
"Perhaps some of the mischief makers from the bonfire have decided to stop by to wish us well."
"Or," Dad said. "They're coming to storm the castle."
Cameron chuckled at that. "They wouldn't be the first." He walked to the door and was about to open it when, all of a sudden, the door banged open so hard that it crashed against the back wall.
I hope you'll love THE TWELVE BOOKS OF CHRISTMAS! Follow me on Facebook and Instagram, where I'll be giving away ornaments featuring the gorgeous cover of THE TWELVE BOOKS OF CHRISTMAS all season long.
How do holiday-themed books make your season more merry and bright?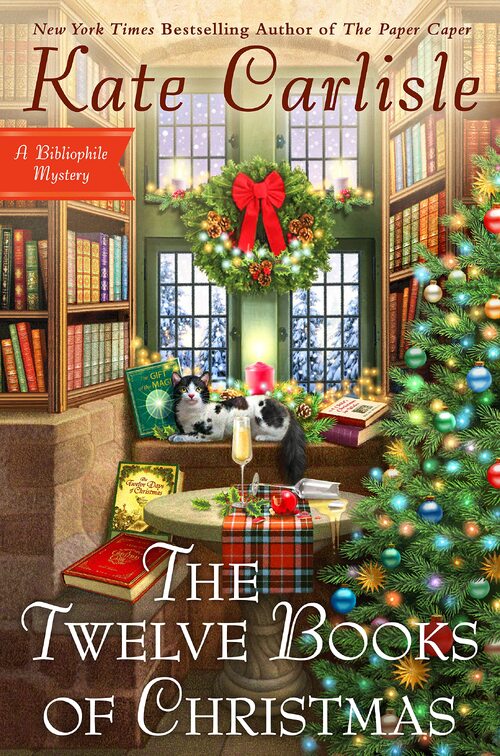 The first ever Christmas mystery in the beloved New York Times bestselling Bibliophile Mystery series!
San Francisco book-restoration expert Brooklyn Wainwright and her hunky security-expert husband, Derek Stone, face a locked-room murder mystery during the holidays in Scotland.
In the middle of a wonderful Christmas holiday in Dharma, Brooklyn and Derek receive a frantic phone call from their dear friend Claire in Loch Ness, Scotland. The laird of the castle, Cameron MacKinnon, has just proposed to her! They plan to be married on New Year's Day, and they want Derek and Brooklyn to be their witnesses. And while they're visiting, Claire hopes that Brooklyn will be able to solve a little mystery that's occurred in the castle library—twelve very rare, very important books have gone missing.
Once in Scotland, Brooklyn starts working on the mystery of the missing books but is soon distracted by all of the thumping and bumping noises she's been hearing in the middle of the night. You'd think the Ghost of Christmas Past had taken up residence. But when one of the guests is poisoned and another is killed by an arrow through the heart, Brooklyn and Derek know this is not the work of any ghost. Now they must race to find a killer and a book thief before another murder occurs and their friends' bright and happy future turns dark and deadly.
Mystery Cozy | Mystery Book Lover | Holiday [Berkley, On Sale: October 24, 2023, Hardcover / e-Book, ISBN: 9780593637685 / eISBN: 9780593637692]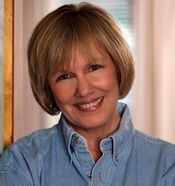 Golden Heart and Daphne du Maurier Award winning author Kate Carlisle spent over twenty years working in television production as an Associate Director for game and variety shows, including The Midnight Special, Solid Gold and The Gong Show. She traveled the world as a Dating Game chaperone and performed strange acts of silliness on The Gong Show. She also studied acting and singing, toiled in vineyards, collected books, joined a commune, sold fried chicken, modeled spring fashions and worked for a cruise ship line, but it was the year she spent in law school that finally drove her to begin writing fiction. It seemed the safest way to kill off her professors. Those professors are breathing easier now that Kate spends most of her time writing near the beach in Southern California where she lives with her perfect husband. A lifelong love of old books and an appreciation of the art of bookbinding led Kate to create the Bibliophile Mysteries, featuring rare book expert Brooklyn Wainwright, whose bookbinding and restoration skills invariably uncover old secrets, treachery and murder. Kate is a member of Sisters in Crime, Mystery Writers of America, International Thriller Writers and Romance Writers of America. She loves to drink good wine and watch other people cook.
No comments posted.