Chapter Four
Jessica needed to pee. And then she needed to go home and sleep for about a thousand years. Last night, she'd had a dream about waking up with white hair and a frail body, surrounded by the loving family that it was now questionable she would ever have.
Now that she was single and firmly in her late thirties, she was more likely to end up in a Golden Girls–type living situation. Instead of waking up to loving grandchildren reminiscing about baking cookies or crocheted blankets, she'd be waking up to her best friend Kelly roasting Barbie about what a slut she was being in and around the retirement community.
As she made her way through the almost-empty bar, her gaze snagged on a man sitting alone, staring into a glass of amber liquid. He was slumped over the bar, holding the side of his head with one hand. There were two empty glasses in front of him, and the bartender cleaned glasses while giving him a pitying look. She stopped short, which was weird because her bladder was seconds from bursting.
She walked past him, toward the bathroom, but she noticed his big hands as she went by. He didn't raise his head or look at her, just continued staring into his drink as though it held some sort of answer. She caught his scent, and it made her think that she knew him from somewhere.
The man was still there when she left the washroom to make her way toward the restaurant's entrance. She went on her tiptoes and saw that her friends were no longer standing outside the restaurant. Their Ubers must have shown up. They'd offered to share a car, but Barbie lived in West Hollywood, and Kelly lived downtown. It had been a long, strange forty-eight hours—the first in a series of what were sure to be long, strange days—and she needed to get on with her plan of sleeping for a thousand years.
As she passed the man at the bar again, she realized where she recognized him from and that it would probably be rude not to at least say hello. She stopped next to him and said, "Galvin?"
It took him a second to react. When he looked at her, she remembered why almost every girl she knew in college tried to sleep with him and only spoke his name in a breathy whisper. Not her—she'd taken one look at Galvin Baker and known he was more trouble than her heart could take—but he sure was pretty to look at.
His eyes were the color of a vintage Coke bottle, and his hair still had a tousled, fluffy thing going on that made it look as though he'd just rolled out of a bed at the Four Seasons with a couple of supermodels. His sharp jaw contrasted with his extravagant mouth, and his lips turned sinful when the corners turned up.
His gaze flicked over her body, appraising. She stepped closer to him without meaning to. Still, he didn't say anything.
She shifted on her heels, feeling awkward as he took her in. She was extremely conscious of the fact that she was wearing a short, tight dress in that moment. It felt even shorter as he looked at her, and had it suddenly gotten hotter in the bar?
The silence between them became awkward, and she said, "I figured that I should say hello." That probably sounded stupid, but Jessica had little experience talking to new men outside of new therapy clients. There was sort of a script for that. Out in the wild, she was usually at a loss.
For his part, Galvin said nothing, which made Jessica even more flustered. "I recognized you, and I saw you sitting alone when I went into the bathroom." Jessica really needed to stop talking, but she couldn't seem to turn her mouth off. "You looked kind of sad . . . uh . . . lonely maybe. And you're probably on a date. Of course you're on a date." Her skin was so hot, she could probably grill meat on it at this point. "I'm just going to go."
As she turned to leave, he grabbed her arm and she stopped short. He really did have big hands, and she liked the feel of his hands on her. Finally, when she turned around, he spoke. "You recognized me?"
"Yeah, I mean . . . there was a time you were pretty much everywhere." Jessica wouldn't have said they were friends in college, but they were in the same general crowd. And she would have remembered him even if they'd never hung out, because Luke had always hated Galvin. It had been striking because Luke was a pretty easygoing guy who didn't hate anyone. That was one of the things she'd loved most about him. There was never any drama with Luke, not in their relationship, not in his life. Until yesterday. But he'd hated Galvin and taken potshots at him every time they were in the same room.
He dropped her arm, and she missed the contact immediately. "Oh, God," Galvin said, looking sheepish. "You saw it."
"Saw what?" They were definitely talking about two different things, and Jessica realized that Galvin did not recognize her. "I saw you sitting here, but I didn't see anything else. Is there something to see?"
She was rambling and elected to stop speaking.
"The video."
Her mind immediately went to "sex tape," and she definitely hadn't seen a sex tape with Galvin Baker. That would be memorable. Her entire body heated thinking about what he would look like now without his clothes on. She'd only seen him shirtless once, on spring break their senior year, and the image was tucked in a corner of her mind. He'd been long and lean and tan back then. Now, it certainly looked like he'd filled out. His physical presence was overwhelming—especially given the fact that Jessica had tried to train herself not to notice that kind of thing. She wasn't shallow, like her mother.
She'd always looked beyond appearances, and that had yielded a long, stable relationship that she'd been so proud of. Maybe she was noticing and appreciating Galvin Baker's fine physical attributes as some sort of reaction to her breakup. That was the only explanation she could think of for feeling an overwhelming attraction to a lonely-looking fuckboy and probable amateur pornographer.
Regardless, she needed to end this conversation that she never should have started in the first place. "Saw what video?"
He sighed heavily, and Jessica felt guilty for asking. Whatever this video contained, it was a sore subject for him. She had enough of her own emotional turmoil to deal with. She didn't need to delve into Galvin's world. It probably contained debauchery that would make Mick Jagger circa 1975 blush. But, before she could tell him that she didn't need to know about the video, he said, "My ex-girlfriend defamed me and my dick on her Instagram Stories."
Jessica changed her mind about what she wanted to know or not know about Galvin's situation immediately. Galvin and his dick—well, really more his mouth if college campus legend was accurate—had been legendary. He'd probably built a lot of his self-image on being a proficient, if not steadfast, lover. Having someone publicly malign his prowess would probably be a blow to his ego. It seemed like he needed a friendly ear—and Kelly and Barbie would never forgive her if she didn't get the scoop. They'd both probably seen the video, and they would expect her to grab the opportunity to get context.
Instead of making her apologies and calling an Uber, she sat down next to him. He seemed relieved, and Jessica was glad that she didn't just run off into the night.
"I didn't see the video, but we knew each other in college." When his gaze didn't light with recognition right away, she added, "I lived with Kelly, Barbie, Mia, and Tara."
That string of names seemed to ring a bell, probably because he'd hooked up with three out of four. "Jessica?"
She pressed the tip of her finger to the side of her nose and winked at him. It was kind of flirty, but she was allowed to flirt now and then. There was absolutely nothing wrong with flirting now that she was single. And if it lifted his mood around the defamation of his dick, all the better.
"You're not going to tell anyone about this, are you?" he asked. Jessica felt a pang of guilt about her earlier intention of gossiping about Galvin with her friends. He wasn't a client, but people came to her with problems all the time outside of a therapeutic relationship. Although she'd used some heavily anonymized anecdotes in her book, she would never reveal someone's private business if they didn't want her to.
"I can keep a secret—unless your dick murdered someone or intends to cause someone imminent harm." Jessica chuckled when he looked puzzled. "I'm a therapist. Mandatory reporter." When he still looked befuddled by the words coming out of her mouth, she said, "Never mind."
Excerpted from Unrealistic Expectations by Andie J. Christopher Copyright © 2023 by Andie J. Christopher. Excerpted by permission of Berkley. All rights reserved.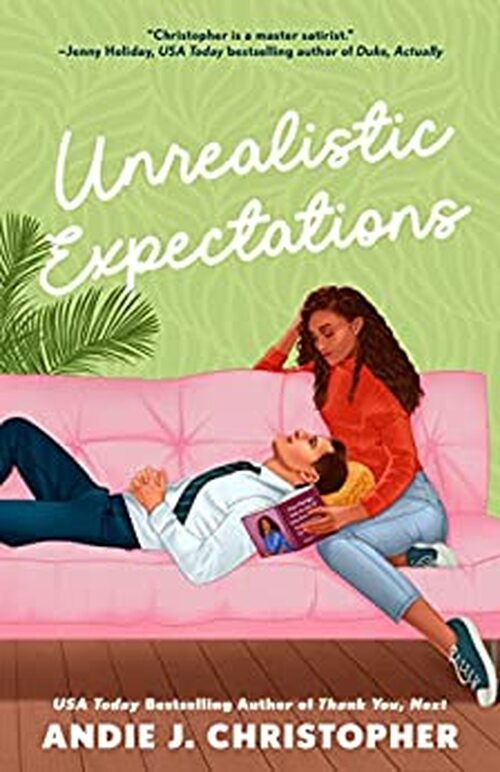 When a relationship therapist gets dumped right before her new dating handbook hits shelves, she fake dates to save face in this spicy romantic comedy.
There are a lot of things that can go wrong on an author's publication day, but breaking up with her long-term boyfriend might just be at the top of Jessica Gallagher's list. She also didn't expect to run into her old crush, Galvin Baker, the very next day. When Jessica goes into crisis mode about the PR nightmare, she proposes the first solution that comes to mind: fake dating. Luckily, Galvin seems game.
Galvin Baker is used to being a constant disappointment, which is why he can't—and won't—commit to a relationship. Unfortunately for him, his last girlfriend used her vast social media power to make sure everyone knows how much Galvin "underperforms." Fake dating for Jessica's book promotion seems like the perfect cover—and maybe she can teach him something along the way.
Hookups "for science" and some seriously sweet gestures later, Jessica and Galvin's fake dates are feeling more authentic than any of their previous relationships did. Have they replaced unrealistic expectations with unexpected realness?
Romance Comedy [Berkley, On Sale: September 26, 2023, Trade Paperback / e-Book, ISBN: 9780593200087 / eISBN: 9780593200094]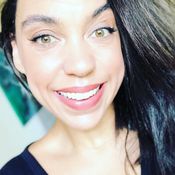 USA Today Bestselling author Andie J. Christopher writes edgy, funny, sexy contemporary romance. She grew up in a family of voracious readers, and picked up her first Harlequin Romance novel at age twelve when she'd finished reading everything else in her grandmother's house. It was love at first read. It wasn't too long before she started writing her own stories — her first heroine drank Campari and wore a lot of Esprit. Although, she set aside writing fiction for a while, her love of romance novels stayed with her through college, law school, and multiple cross-country moves. During one long East Coast winter, she decided writing a book would be a good excuse to avoid braving the elements. It was love at first write. Her heroes are dirty-talking alphas, and her heroines traded Esprit for Free People. (None of them would turn down a Campari, though.)
No comments posted.