1--What is the title of your latest release?
2--What's the "elevator pitch" for your new book?
A twist on a fairytale about a grumpy Villain's office causing mayhem and the slow burn romance between him and his sunshine assistant.
3--How did you decide where your book was going to take place?
I grew up on so many quirky fantasy movies. Like Ella Enchanted, Stardust, The Princess Bride, Ever After (I could go on and on and on) In a way the setting was a love letter to all my favorite comfort movies. I wanted it to be fresh, but familiar. A safe place for our characters to lead our story. A dark wood, a magical kingdom, and every amazing thing in between.
4--Would you hang out with your protagonist in real life?
Absolutely. Evie is so familiar to me in many ways, but she's also such a mystery. She's constantly surprising me on the page. I found Evie when I was going through a tough time in life, she felt like the friend I needed to pull me through it. Optimistic and kind, but good-humored. She made so many of my days easier during the writing process and for that at the very least, I'd love to buy her a drink sometime!
5--What are three words that describe your protagonist?
Kind, Good-humored, Loyal
6--What's something you learned while writing this book?
Your characters do not always listen to you! There were several scenes where I was like "Go here, do this." And they simply said "No!" As a writer I learned that sometimes the story feels like instead of writing it yourself, you're watching it unfold and following the cues. It was a new level of creativity and I had so much fun following the flow of the story.
7--Do you edit as you draft or wait until you are totally done?
I have this philosophy that was imparted to me by one of my best friends and a fellow author, Stacey McEwan. In our many amazing conversations she told me that whenever she gets stuck on something she wants to fix she says, "That's a problem for future Stacey!" It blew my mind. Now anytime I go into draft, and I get stuck somewhere I simply move on, because I know I can go back and tweak it later! It helps me get into a better flow while drafting for sure.
8--What's your favorite foodie indulgence?
French Fries. They are my obsession; they sustain my life force. One week I ate them every day for dinner. Best week ever.
9--Describe your writing space/office!
I migrate so much I never have a specific area. The goal one day is to have a super fancy office space, but right now I'm content to prop my laptop up on some pillows and sit on the recliner in the living room. (Probably not great for my wrists or back, but I digress) I need some sort of noise in the background as well, but not music, at least while I write. Something about it makes me start daydreaming and then oops I've completely lost track of what I was doing! Instead, I usually have a mindless sitcom on in the background, I grew up in a big family and got used to people talking around me while I did focused tasks. Now I can't focus without talking!
10--Who is an author you admire?
The list is long and there are so many! Anyone that sits down to write a book is a superhero in my opinion. But I do have a special admiration for every author I've had the privilege to befriend in the past few years. Every single one of them is kind, smart, creative, and ENCOURAGING. They all make me better in every aspect of my life, not just writing.
11--Is there a book that changed your life?
The Percy Jackson and the Olympian Series by Rick Riordan was the first time I fell in love with reading, I had never become so immersed in anything before. I read that book and saw pictures in my mind! It expanded my imagination forever and for that it will always be special to me.
12--Tell us about when you got "the call." (when you found out your book was going to be published)/Or, for indie authors, when you decided to self-publish.
It was not a Hollywood moment that's for sure! One evening I was sitting on the couch at home and my agent called while I was in the middle of shoving popcorn down my throat like it was trying to escape me. Needless to say, I nearly choked on a kernel and then cried into the bowl when I got the good news!
13--What's your favorite genre to read?
Fantasy Romance is almost always my preference, but I love to break it up with something lighter, lower stakes. Historical Romance is one of my absolute favorites and there's so many amazing authors in the genre. Anytime I'm having a bad day, I pick up one of my favorites and it cures all my woes.
14--What's your favorite movie?
I am terrible at picking favorites because I have too many! But a comfort watch I always come back to is Pride and Prejudice from 2005.
15--What is your favorite season?
Summer! I have seasonal affective disorder, especially during the winter months. As soon as the sun starts shining my mood improves! I do find things to love in all the seasons though!
16--How do you like to celebrate your birthday?
I like low key gatherings with my family. I have a big family unit so any "small" gatherings are actually fairly large, and these are the people I'm most comfortable with in the world. Comfy clothes, good food and hanging out with them is usually what I like to do. Oh, and cake, a big cake.
17--What's a recent tv show/movie/book/podcast you highly recommend?
The Barbie movie. Everyone should see it; I thought it was fantastically done. My mom and I left the theater in hysterics at how beautifully it captures the experience of womanhood.
18--What's your favorite type of cuisine?
I'm half Syrian so I grew up on middle eastern food. It is my absolute favorite always, especially grape leaves!
19--What do you do when you have free time?
I love to read when I can and spend time with my family!
20--What can readers expect from you next?
The next installment of Assistant to the Villain!
LIMITED FIRST PRINT RUN—featuring spray-painted edges, while supplies last.
Once Upon a Time meets The Office in Hannah Maehrer's laugh-out-loud viral TikTok series turned novel, about the sunshine assistant to an Evil Villain…and their unexpected romance.
ASSISTANT WANTED: Notorious, high-ranking villain seeks loyal, levelheaded assistant for unspecified office duties, supporting staff for random mayhem and terror, and other Dark Things In General. Discretion a must. Excellent benefits.
With ailing family to support, Evie Sage's employment status isn't just important, it's vital. So when a mishap with Rennedawn's most infamous Villain results in a job offer—naturally, she says yes. No job is perfect, of course, but even less so when you develop a teeny crush on your terrifying, temperamental, and undeniably hot boss. Don't find evil so attractive, Evie.
But just when she's getting used to severed heads suspended from the ceiling and the odd squish of an errant eyeball beneath her heel, Evie suspects this dungeon has a huge rat…and not just the literal kind. Because something rotten is growing in the kingdom of Rennedawn, and someone wants to take the Villain—and his entire nefarious empire—out.
Now Evie must not only resist drooling over her boss but also figure out exactly who is sabotaging his work…and ensure he makes them pay.
After all, a good job is hard to find.
Fantasy | Humor [Entangled: Red Tower Books, On Sale: August 29, 2023, Trade Paperback / e-Book, ISBN: 9781649375803 / eISBN: 9781649375520]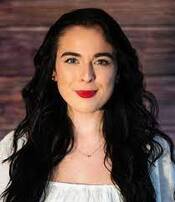 Hannah Nicole Maehrer—or as TikTok knows her, @hannahnicolemae—is a fantasy romance author and BookToker with a propensity for villains. She grew up in Eastern Pennsylvania, watching Disney movies in her favorite rocking chair, where she spent hours imagining her own stories, creating entire worlds among the green walls of her living room. She kept her big dreams close as she went on to graduate with a bachelor's in psychology from Pennsylvania State University. Until one day her aspirations carried her to a small app on her phone that made those big dreams a reality. After developing the viral Assistant to the Villain TikTok series into a book, Hannah watched that world she always dreamed of take form.
No comments posted.