1--What is the title of your latest release?
2--What's the "elevator pitch" for your new book?
Vampire Diaries meets Buffy the Vampire Slayer in this fast-paced, modern paranormal romance. Raven is just your average high school student until the day she's attacked by rogue vampires. Now not only is she a reluctant vampire hunter for the Slayer Society, but she's walking a thin line between love and hate for the powers surging inside of her and the one guy she thought she could trust...the same one who brought her to the society in the first place.
3--How did you decide where your book was going to take place?
I love Atlanta and I've been living here for twenty years. For me, it just made sense to elevate the city I adore.
4--Would you hang out with your protagonist in real life?
Absolutely, especially teenage Sharina. She's a loyal friend who will put her friend's needs above her own.
5--What are three words that describe your protagonist?
Sarcastic, kick-ass, impulsive.
6--What's something you learned while writing this book?
My vampire slayers use alchemy to fight vampires, so I learned a lot about Alchemy in terms of history, theory, and famous Alchemists.
7--Do you edit as you draft or wait until you are totally done?
I wait until I'm done with the first draft. I like to get all my thoughts out and then go back and edit – editing is where the magic happens, and it goes from a hot mess to fully fleshed story.
8--What's your favorite foodie indulgence?
Pork belly tacos
9--Describe your writing space/office!
I have a curved monitor that's 49 inches (my husband's castaway from gaming. A really nice keyboard that lights up with different colors (again a castaway from my gamer husband). I have two laptops for personal & day joy, all sitting on an L-shape desk. I probably have 4-5 candles spread out on my desk. Behind me is a bistro table and a blush pink chair I use for interviews. On my walls are books I published. My husband gifted them for Mother's Day. A bookshelf with all my favorite books by my author friends. And then nestled in the corner is my vision board and my plotting boards.
10--Who is an author you admire?
Don't make me choose! Okay, let me give you three. Nalini Singh, Kristan Higgins and Alyssa Cole. They are all talented and nice!
11--Is there a book that changed your life?
I have fallen in love with books over and over, so it's hard to say. But if I must… reading Brenda Jackson's Eternally Yours really made me want to be a writer before I was willing to admit it. I just wanted to write romance novels with strong Black characters who had amazing careers. Things I saw everyday but didn't necessarily see all the time in tv, books and movies.
12--Tell us about when you got "the call." (when you found out your book was going to be published)/Or, for indie authors, when you decided to self-publish.
I got the call initially from Tara Gelsomino who was at the time an editor at Crimson Romance, and she is now my agent (Life is funny like that!) Anway, I was on my way to work and let me tell you, I tried to hard to sound calm and cool, but I nearly ran off the road. My heart leapt out of my chest with joy.
13--What's your favorite genre to read?
Romance and then fantasy.
14--What's your favorite movie?
Forest Gump, Blade, and Friday.
15--What is your favorite season?
Summer
16--How do you like to celebrate your birthday?
With good friends, good food and an exceptional cocktail.
17--What's a recent tv show/movie/book/podcast you highly recommend?
They Cloned Tyrone was a funny, quirky Sci-Fi film on Netflix which is right up my alley. John Boyega is becoming one of my favorite actors.
18--What's your favorite type of cuisine?
Mexican, Japanese, and Jamaican. I know favorite means one, but again, I can't choose.
19--What do you do when you have free time?
I read, binge watch K-dramas or re-watch my favorite shows like Insecure.
20--What can readers expect from you next?
Book #2 for my vampire Slayer series! High action, extremely campy and high drama.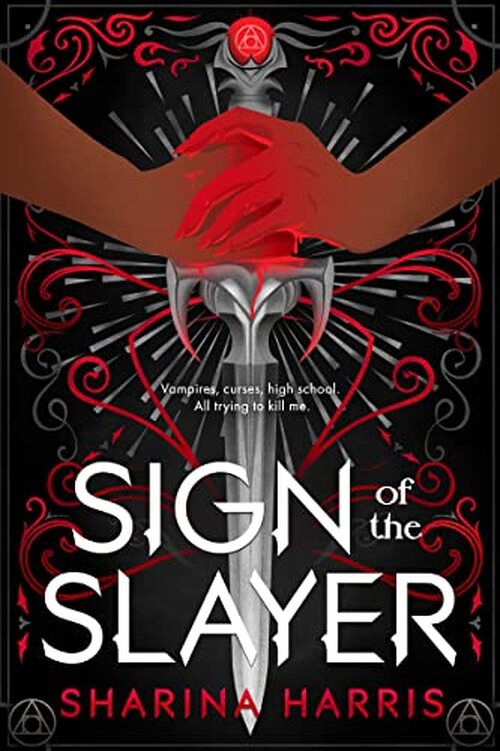 Full Metal Alchemist meets Vampire Diaries in this fun and clever dark academia series…
High school is supposed to be about studying, socializing, and marching-band practice. Not fighting vampires. Then one night flipped my world inside out—now, my life sucks. But it isn't all bad. I'm at a slayer academy, learning things like the real origin of vamps and how to make serious weapons out of thin air.
Every last one of them will pay for what they did. I'm doing great.
Until I come face-to-face with the actual vampire prince…and I'm not sure of anything anymore. Vampires are supposed to be soul-sucking demons. But Khamari is…something else. He's intelligent and reasonable—and he seems to know things about me that could change everything.
He's also hiding something big, even from his own kind. And when a threat from an ancient evil is so extreme that a vampire will team up with a slayer to take it down, it isn't just my need for revenge that's at stake anymore.
It's the whole damn world.
Fantasy | Young Adult | Paranormal [Entangled: Teen, On Sale: August 29, 2023, Hardcover / e-Book, ISBN: 9781649373311 / eISBN: 9781649373380]
Sharina Harris earned her Bachelor of Arts degree from Georgia State University. After college, she pursued a career in digital marketing and public relations. Although her profession required writing, she decided to pursue a career in writing in 2012.
When Sharina's not writing, she can be found with her head stuck in a book, rooting for her favorite NBA teams, and spending time with friends and family.
No comments posted.