Jennifer Vido: You're back with another fabulous beach read! What inspired your new release, THE COMEBACK SUMMER?
Ali Brady: We each have a younger sister (coincidentally, both are named Elizabeth!) and one day, we were discussing how in a family, you seem to get slated into a specific role during childhood and it can be difficult to break out of those roles as adults. We wanted to write about the beautiful, complex, and challenging relationship of sisterhood—and how those roles we play in childhood shape us for the rest of our lives. From there, we created the characters of Hannah and Libby, two sisters who are best friends, roommates, and business partners. They love each other, but they're perhaps a little too codependent and enmeshed in their roles, and in THE COMEBACK SUMMER, they learn to break out of those roles and follow their own paths.
Jen: What's happening in the sisters' lives, throwing them into a tailspin?
Ali: Hannah and Libby are running their late grandmother's PR agency, which has been losing clients since she passed away. As the story opens, they've just lost their last big client, and are worried that they might have to close the business. This is especially emotional for the sisters because this isn't just their livelihood—it's their grandmother's legacy, and they wanted nothing more than to make her proud. So they desperately begin to brainstorm ways to attract new clients and save the company.
Jen: How do the sisters complement each other at work?
Ali: Libby, the older sister, who is creative and outgoing, takes more of a leadership role, coming up with most of the ideas and communicating with clients. Hannah, on the other hand, is more analytical and introverted; she manages the financial aspect of the business and tends to stay behind the scenes.
Jen: When a self-guru waltzes into the office needing PR, the tide turns in the sisters' business—or does it?
Ali: Lou (short for Louise, not Loser) has built a self-help empire out of her patented "Crush Your Comfort Zone" challenge. She's looking for a PR company to promote her next product when it launches, and she thinks the sisters could be perfect. But there's a catch: anyone who represents Lou's brand must understand her methods—including completing one of Lou's twelve-week challenges to crush their own comfort zones. The sisters reluctantly agree, because they know Lou's business could save their company.
Jen: What's Hannah and Libby's initial reaction to the "Crush Your Comfort Zone" proposition?
Ali: They're both terrified! Lou's program requires them to take a detailed questionnaire that identifies their strengths and weakness, and Lou assigns them a twelve-week challenge designed to force them out of their comfort zones.
Hannah is challenged to go on twelve dates with twelve men in twelve weeks—and making small talk with strangers is her literal worst nightmare. Libby, who claims to be "allergic" to exercise, is challenged to train for and compete in a public sporting event—the Down & Dirty, an obstacle course race similar to a Tough Mudder. The sisters are terrified, but they agree to help each other: Libby offers to take the lead on setting up Hannah's profile on the dating app, swiping and chatting with matches to set up the dates; Hannah offers to create a training plan for Libby and do it with her.
Once they decide to work together, the sisters feel more confident about beginning. Unfortunately, things get complicated when Hannah's first love comes back to town and tries to win her back, and Libby falls for a guy she's supposed to be setting up with her sister.
Jen: What do you hope readers take away from this heartfelt story?
Ali: A major theme of THE COMEBACK SUMMER is finding your own path in life. Sometimes we need to take a step out of our comfort zones and be vulnerable in order to reach our full potential. In this novel, both sisters have a romantic subplot, and their love stories also help them learn more about themselves and discover who they truly are. We hope that readers will feel inspired by Hannah and Libby's journeys to find themselves and find love.
Jen: What books are on your TBR stack?
Ali: Alison is excited to read Ali Hazelwood's latest book, Love Theoretically, and Kristy Woodson Harvey's, The Summer of Songbirds. Bradeigh is looking forward to Annabel Monaghan's new release, Same Time Next Summer, as well as Steven Rowley's The Celebrants.
Jen: Which do you like most—ebooks, audiobooks, or books—and why?
Ali: Alison prefers audiobooks because she likes to listen while doing other things; it's a great way to maximize time when you have a busy schedule. Bradeigh prefers curling up with a physical book and finding a few minutes to escape from the real world.
Jen: Are you currently working on a new book for 2024?
Ali: We're finalizing a draft of our summer 2024 release, which is called CAMP PEOPLE. As you might guess from the title, it's about people who go to camp—specifically, two former best friends who grew up attending summer camp together but have drifted apart as adults, and now reunite at the site of their beloved childhood camp for an adults-only camp experience. It's full of nostalgia and friendship and, of course, romance!
Jen: What's the best part of being a writing team?
Ali: Writing can be a lonely process, but it's so much more fun when you get to write with a partner. We always say that two heads are exponentially better than one—bouncing ideas off each other, editing each other's chapters, and being a support in hard times and good times.
Jen: How can readers stay connected with you?
Ali: We're most active on Instagram, and we have an exclusive Facebook group for our readers called The Ali Brady Bunch. All our information can be found on our website, where readers can also subscribe to our newsletter.
Jen: Thank you for stopping by to chat about The Comeback Summer. I hope you have a relaxing summer with family and friends!
Ali: Thank you so much for having us!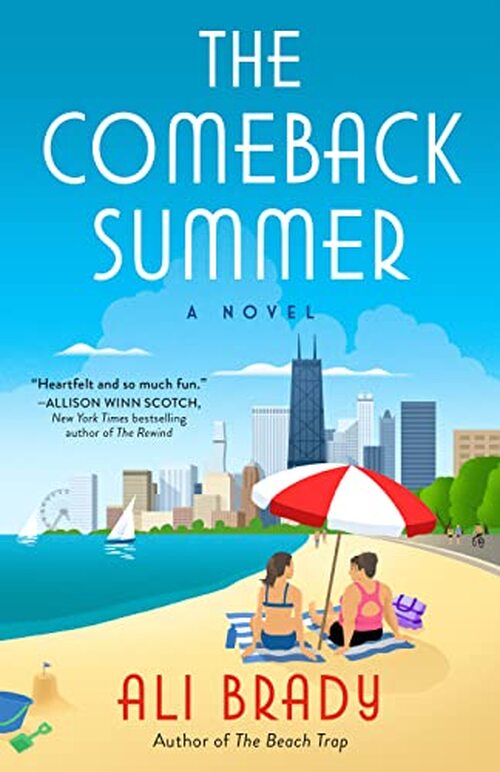 Two sisters have one summer to crush their comfort zones and save their grandmother's legacy in this sweet, sexy, and heartfelt novel by Ali Brady, author of The Beach Trap.
Hannah and Libby need a miracle. The PR agency they inherited from their grandmother is losing clients left and right, and the sisters are devastated at the thought of closing. The situation seems hopeless—until in walks Lou, an eccentric self-help guru who is looking for a new PR agency. Her business could solve all their problems—but there's a catch. Whoever works with Lou must complete a twelve-week challenge as part of her "Crush Your Comfort Zone" program.
Hannah, whose worst nightmare is making small talk with strangers, is challenged to go on twelve first dates. Libby, who once claimed to have period cramps for four weeks straight to get out of gym class, is challenged to compete in an obstacle course race. The challenges begin with Hannah helping Libby train and Libby managing the dating app on her sister's behalf. They're both making good progress—until Hannah's first love rolls into town, and Libby accidentally falls for a guy she's supposed to be setting up with her sister.
Things get even more complicated when secrets come to light, making the sisters question the one relationship they've always counted on: each other. With their company's future on the line, they can't afford to fail. But in trying to make a comeback to honor their grandmother, are they pushing themselves down the wrong path?
Romance | Women's Fiction [Berkley, On Sale: May 9, 2023, Trade Paperback / e-Book, ISBN: 9780593440179 / eISBN: 9780593440186]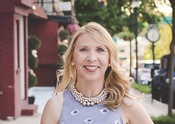 Jennifer Vido writes sweet romances set in the Lowcountry filled with southern charm and hospitality. In between chapters, she interviews authors for her bi-weekly Jen's Jewels column on FreshFiction.com. Most mornings, she teaches an arthritis-friendly water exercise class for seniors before heading to the office to serve as the executive director of a legal non-profit. A New Jersey native, she currently lives in Maryland with her husband and two rescue dogs and is the proud parent of two sons who miss her home-cooked meals. To learn more, please visit her website.
No comments posted.