1--What is the title of your latest release?
2--What's the "elevator pitch" for your new book?
Camille, Dowager Duchess of Hereford, and Jacob Thorne, London rogue, come to a scandalous arrangement where he teaches her to enjoy sex and she pretends to be his fiancee.
3--How did you decide where your book was going to take place?
The Duchess Takes a Husband is the fourth book in my Gilded Age Heiresses series. Camille was forced by her family to marry a much older duke in an arranged marriage that happened in the first book of the series. Spoiler alert - He died, but not after leaving her emotionally scarred. Now she's out to discover if love is for her and finally get her happily ever after. Readers kept reaching out to me asking for her story, so I'm very happy to finally be able to give it to them.
4--Would you hang out with your heroine in real life?
Yes, definitely. Camille is a reformed sweet and dutiful daughter. She found out the hard way that living for others, when they don't have your best interest at heart, is not going to work out well. Now she's ready to live life on her own terms and get into trouble. She'd be a lot of fun to explore London with.
5--What are three words that describe your hero?
Charming, perceptive, and witty
6--What's something you learned while writing this book?
I learned about a drink named Vin Mariani which was coca beans soaked in red wine, so basically wine laced with cocaine. It became hugely popular and was endorsed by popes and famous people from Ulysses S. Grant to Thomas Edison. Many claim this is the recipe that inspired Coca-Cola.
7--Do you edit as you draft or wait until you are totally done?
I edit as I draft. Usually, I write in chunks of a few scenes and then I have to stop and mull over what I want to come next. For some reason, I can't move forward until I've cleaned up those few chapters. Once I have edited them, the next few chapters usually become clearer, and I can make a little more progress.
8--What's your favorite foodie indulgence?
My biggest weakness is chili cheese fries.
9--Describe your writing space/office!
I have a desk in the guest room, but I can't stay in one place to write. So I keep a lap desk and move around the house with my laptop. Throughout the course of the week, I'll write at my dining room table, the couch in my living room, the kitchen table, and maybe even outside.
10--Who is an author you admire?
There are so many! I guess I'll have to say LaVyrle Spencer, since I write about how her book changed my life in the next question.
11--Is there a book that changed your life?
Morning Glory by LaVyrle Spencer. I read this book back in junior high or high school and I knew then that I wanted to be a writer. She writes with such emotion and depth that I was completely in awe. I wanted to be able to take readers on an emotional journey like that.
12--Tell us about when you got "the call." (when you found out your book was going to be published)/Or, for indie authors, when you decided to self-publish.
I got the call for this series from my agent after being on submission with it for almost a year. I was completely gobsmacked that a publisher had offered for it after being on submission for so long. I'd already started planning a new series, so I was thrilled and remember nothing of the conversation. I don't even know if I was coherent. lol
13--What's your favorite genre to read?
It's so hard to choose just one because I am such a mood reader. I go back and forth between historical romance, historical fiction, and thrillers.
14--What's your favorite movie?
I love to watch comedies. My Big Fat Greek Wedding is one that I keep going back to over and over again.
15--What is your favorite season?
Spring because I love flowers.
16--How do you like to celebrate your birthday?
With cake and dinner out with my family. I prefer a small celebration to something big.
17--What's a recent tv show/movie/book/podcast you highly recommend?
Poker Face. The writing and acting are very well done.
18--What's your favorite type of cuisine?
I'm not sure I can pick just one. Italian and Chinese are the two that first come to mind.
19--What do you do when you have free time?
Read, of course!
20--What can readers expect from you next?
I have a new series with Berkley coming in 2024 called the Doves of New York. It's set in the Gilded Age and is about three illegitimate sisters from New York who set off to find aristocratic husbands in order to claim their inheritances. The first book is The Stranger I Wed.
The Gilded Age Heiresses #4
A scandalous arrangement between a London rogue and an American duchess leads to lavish stakes—perfect for fans of Bridgerton!
Despite her illustrious title, Camille, Duchess of Hereford, remains what she has always been—a pariah. Though her title means she's technically accepted by London Society, the rebellious widow with her burgeoning interest in the suffrage movement and her American ways isn't exactly high on every hostess's guest list. But Camille starts to wonder if being an outcast is not without its perks when the tantalizing answer to her secret fear appears in the shape of Jacob Thorne, the illegitimate son of an earl and co-owner of London's infamous Montague Club.
Jacob is used to making deals with his club members—he's just not accustomed to them being beautiful women. Nor have the terms ever been so sweetly seductive as Camille's shocking proposition. To finally buy his own club and gain the crucial backing of investors, Camille offers Jacob the respectability of a fake engagement with a duchess. In return, the tempting widow has one condition: she wants Jacob to show her if it's possible for her to experience pleasure in bed.
The lure of such a bargain proves too delicious to resist, drawing the enterprising rogue and the wallflower duchess into a scandalous game and an even more dangerous gamble of the heart.
Romance Historical [Berkley, On Sale: May 23, 2023, Mass Market Paperback / e-Book, ISBN: 9780593440988 / eISBN: 9780593440995]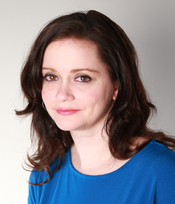 Harper St. George was raised in rural Alabama and along the tranquil coast of northwest Florida. It was a setting filled with stories of the old days that instilled in her a love of history, romance, and adventure. By high school, she had discovered the romance novel which combined all of those elements into one perfect package. She lives in Atlanta, GA with her husband and two young children.
No comments posted.