1--What is the title of your latest release?
2--What's the "elevator pitch" for your new book?
A woman on a mission to deliver three tablespoons of her elderly best friend's remains to the woman she fell in love with during World War II is forced to road trip to Florida with her ex's (grumpy, hot) grad school nemesis, and hijinks ensue.
3--How did you decide where your book was going to take place?
I started writing this book in Winter 2020-2021. A road trip seemed like a delightful way to get out of my house without actually getting out of my house, and a destination of Key West, Florida made sense for both story reasons and I-want-to-pretend-I'm-somewhere-warm-and-sunny reasons.
4--Would you hang out with your heroine in real life?
Absolutely! Millie is delightful and would be super fun to spend time with.
5--What are three words that describe your hero?
Grumpy, practical, bespectacled.
6--What's something you learned while writing this book?
That I'm bisexual! Not that I didn't sort of know already, but it wasn't until I wrote the character of Mrs. Nash and was certain that she was bisexual that I realized oh, hm, this also applies to me. I also learned a lot about pigeoneering.
7--Do you edit as you draft or wait until you are totally done?
I tend to do line edits as I draft and bigger picture stuff after I finish.
8--What's your favorite foodie indulgence?
In my hometown in Pennsylvania, we have a local pizza place that makes the best cheesesteak hoagie. I'm also a huge fan of baked goods and frequently indulge in trips to local bakeries to celebrate good publishing news (or sometimes just, like, Thursdays).
9--Describe your writing space/office!
I have a small office in my house. One wall is painted mustard yellow, which is my favorite color. There are three bookcases, a big mauve velvet chair, and an antique secretary desk that acts as my homebase. I also have lots of art prints and whatnot that I've been meaning to hang up for the last three years—maybe I'll finally get around to it this weekend!
10--Who is an author you admire?
Jennifer Crusie. Her writing has stood the test of time, and is just so funny, so warm, so sexy. I feel like I learn something new from her books with each reread.
11--Is there a book that changed your life?
Sarah Hogle's You Deserve Each Other was hugely influential for me. Until then I'd been trying to force myself to be more serious, more literary in my writing. And then Sarah's debut came out, which is voicey and soft and downright hilarious and just very her. I was like, oh! Maybe I should see what happens if I let my writing reflect the real me instead of the version I think people might want. Things really snowballed from there (in a good way), and I have YDEO to thank.
12--Tell us about when you got "the call." (when you found out your book was going to be published)
I was fortunate to have several very exciting calls, thanks to selling at auction. But the first came when I was out to dinner with my family. Since I'd just heard from my agent via email an hour before, I figured it must be important and stepped outside to take it even though our food had just arrived. So the moment I learned that my book was going to be published, I was standing on a noisy street corner in front of a burger restaurant.
13--What's your favorite genre to read?
Definitely romance, although I actually prefer historical versus contemporary when reading for fun.
14--What's your favorite movie?
Three-way tie — Roxanne, Better Off Dead, Real Genius.
15--What is your favorite season?
Baseball.
16--How do you like to celebrate your birthday?
I usually like to keep it simple. Dinner with family, some sort of tasty dessert. I also tend to buy myself whatever I want and call it a birthday gift to myself for several weeks leading up to and several weeks following the actual day.
17--What's a recent tv show/movie/book/podcast you highly recommend?
I'm a big fan of a lot of the programming on Dropout, especially Game Changer, Make Some Noise, and Dimension 20.
18--What's your favorite type of cuisine?
Fondue. A pot of molten cheese or chocolate and a plate of bite-sized foods is the way to my heart.
19--What do you do when you have free time?
Mostly I read. But I also go for walks, crochet, sing and play the ukulele poorly, and take naps.
20--What can readers expect from you next?
An enemies-to-lovers story featuring a fake spirit medium, a goat farmer, and a ghost. It's scheduled for publication in spring 2024, and I can't wait to tell everyone all about it soon!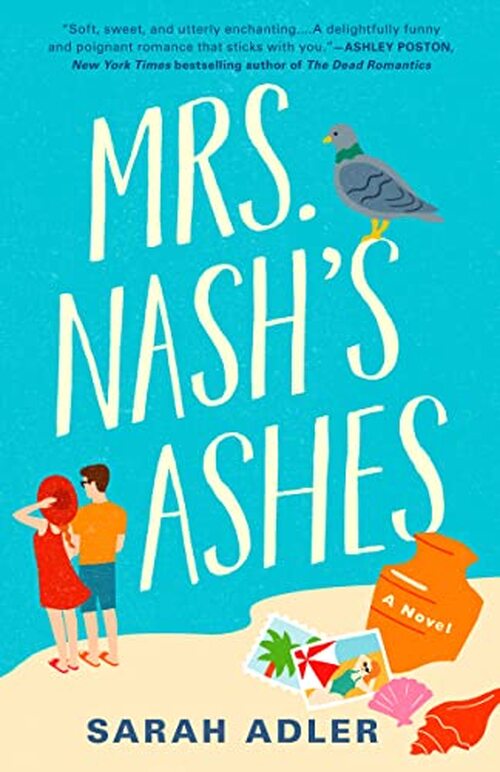 A starry-eyed romantic, a cynical writer, and (the ashes of) an elderly woman take the road trip of a lifetime that just might upend everything they believe about true love.
Millicent Watts-Cohen is on a mission. When she promised her elderly best friend that she'd reunite her with the woman she fell in love with nearly eighty years ago, she never imagined that would mean traveling from D.C. to Key West with three tablespoons of Mrs. Nash's remains in her backpack. But Millie's determined to give her friend a symbolic happily-ever-after, before it's (really) too late—and hopefully reassure herself of love's lasting power in the process.
She just didn't expect to have a living travel companion.
After a computer glitch grounds flights, Millie is forced to catch a ride with Hollis Hollenbeck, an also-stranded acquaintance from her ex's MFA program. Hollis certainly does not believe in happily-ever-afters—symbolic or otherwise—and makes it quite clear that he can't fathom Millie's plan ending well for anyone.
But as they contend with peculiar bed-and-breakfasts, unusual small-town festivals, and deer with a death wish, Millie begins to suspect that her reluctant travel partner might enjoy her company more than he lets on. Because for someone who supposedly doesn't share her views on romance, Hollis sure is becoming invested in the success of their journey. And the closer they get to their destination, the more Millie has to admit that maybe this trip isn't just about Mrs. Nash's love story after all—maybe it's also about her own.
Romance Contemporary [Berkley, On Sale: May 23, 2023, Trade Paperback / e-Book, ISBN: 9780593547793 / eISBN: 9780593547809]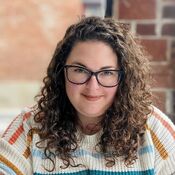 Sarah Adler writes romantic comedies about lovable weirdos finding their happily ever afters. She lives in Maryland with her husband and daughter and spends an inordinate amount of her time yelling at her mischievous cat to stop opening the kitchen cabinets.
No comments posted.