Every author has people tied to the roots of their writing career. Melissa Bourbon Ramirez is one of those people for me - and how lucky can one be! Not only was she in my first critique group, she introduced me to Fresh Fiction and the Cozy Corner! She also happens to be an incredible author who has a new release June 1st - every mystery lovers lucky day. So I asked her to join us to give us the latest scoop!
Kym: Hi Melissa, welcome back to the Cozy Corner!
Melissa: Thank you! It's always fun to be back and talking about cozies.
Kym: I'm so excited about your return to Bliss, Texas with your 7th Harlow Cassidy Magical Dressmaking Mystery! Can you tell us a little bit about your June release?
Melissa: I am SO excited to be back in Bliss, too. It's been a while, and I really love Harlow Cassidy. She's so fun to write, and I love her community. If you're new to the series, Harlow is a custom dressmaker who leaves New York to return to Bliss, Texas after her great-grandmother, Loretta Mae, dies. Only Meemaw isn't actually gone. Her ghostly ways help Harlow solve the murder of one of the students in her fabric painting class.
Kym: You have a special release planned for Bodice of Evidence. Can you tell us about it?
Melissa: Yes! Bodice of Evidence is actually part of a huge Supernatural Cozy promotion with Prolific Works. It releases on June 1st, but…and it's a big but (that sounds so wrong)…it's going to be free, FREE for an entire year. Along with about thirty other supernatural cozies. It's a very cool event. What is better than a ton of free paranormal mystery books?!
Link to my book: https://claims.prolificworks.com/gg/FeECQF0uS1TnpYZGXQXm
Link to main page: https://claims.prolificworks.com/gg/FeECQF0uS1TnpYZGXQXm
Kym: That is so awesome, I love when great authors offer readers a gift.
While teaching a fabric painting class, Harlow reminisces about her first fabric painting experience on the back of a jean jacket when she was young. Did you have any heartthrobs painted on the back of your jean jacket? If not, what was your first fabric painting project?
Melissa: Haha. That was a ripped from my life moment. My first concert was when I was 18 and I was a little nutty for Jon Bon Jovi. So I painted his likeness on the back of a jean jacket. I wish wish wish I still had it! It was actually quite good, although it's also a little cringy to think back on it now.
Kym: I knew it!! I wish you had it too, or at least a picture. Will we see any of your/Harlow's art on Instagram?
Melissa: Yes! I do art journaling, so I do share that already. I have a painted a few bricks with book covers, which was very fun. I really love doing that and am going to create a little walkway with them when I have enough.
Now that you've planted the seed, I'm definitely going to share some of my fabric painting. Thanks for the idea!
Links:
https://www.instagram.com/reel/CkXREzmDYnS/?next=%2F
https://www.instagram.com/reel/CkEywhwDyYt/?next=%2F
Kym: What a great way to commemorate your writing journey but a path through your garden! I know a few authors who may copy that idea—that's not considered plagiarism is it?
Harlow's class is painting their favorite flowers on t-shirts. What is your favorite flower, or did you have to leave it behind when you left Texas?
Melissa: My favorite has changed over the years. When I got married, 32 years ago, it was Alstroemeria. I loved Plumbago, which we had growing when we lived in the South Bay in California. Also Fuchsia. I still love all of those, but now I really love daisies. They are such happy flowers! Hence the focus of daisies in this book (and a character named Daisy in my Book Magic series).
Kym: In Bodice of Evidence, you talk about mineral rights. I know how foreign this may sound to people who don't deal with it, but when we moved to Texas, we bought a house that the previous owner maintains the mineral rights to. I'm not going to lie, that scared me and still makes me uncomfortable. Yet it's commonplace in Texas and other states where drilling/mining occurs. We also ran across a house for sale that the previous owner not only sold the mineral rights, but the surface rights to the property as well. We immediately walked away from the sale. Buyers beware because it is possible. Have you had experience with mineral rights being sold?
Melissa: It was so foreign to me, too, so we were also initiated when we moved to Texas. We did sell the mineral rights to a drilling company when we lived in a small town there. We didn't make much since they didn't produce, but it was helpful at the time.
Kym: Secrets have a way of snowballing, especially family secrets, as you show in Bodice of Evidence. Yet some secrets should go to the grave. Will the Cassidy family take their secret with them, or will they be exposed in an upcoming release?
Melissa: You'll have to wait to see! The next book, BOBBIN FOR ANSWERS comes out in the fall. You can pre-order that one now. The cover reveal will be happening next month. The series will continue, so there is the possibility that their secret will come out.
Kym: I can't wait! I love your scenes when justice is delivered by the invisible ghostly hand of Harlow's great grandmother, Meemaw, even if it's just a slamming door or clanking of the pipes and the best, most inopportune moments. Will we 'see' more of Meemaw in future books—like maybe in Bobbin for Answers this fall?
Melissa: Definitely! I love Meemaw. And it's getting more fun to write her as she becomes more comfortable with her ghostliness. At the beginning of the series, she is only able to make the clanking sounds and make herself known in very invisible ways. As the series progresses, she's trying to take a corporeal form. She's getting a little better at it, but still isn't actually good at it.
Kym: I love the bits and pieces of her revealed. You like to wield your mighty pen for justice to make up for it when it's not met in real life. I'm not going to lie, I've seen a few of those people meet their timely deaths, or jail cells as well. But sometimes, I like to have reoccurring characters readers love to hate. Have you branded any people with that role?
Melissa: I have a few characters who are, perhaps, not as nice as others, but no reoccurring character who is someone readers love to hate. Hmmm. You've planted another seed.
Kym: Nice to know I can return the favor! You offer editing services and classes to writers at all stages in their writing careers. Is this how you have evolved with your own teaching career and made your two careers work together?
Melissa: Yes, exactly. I used to teach middle and high school English/Language Arts. I was glad to be able to write full-time, but I missed teaching. I carved out a way to teach adults creative writing. I started with Southern Methodist University's adult ed program, and it grew from there. I founded WriterSpark Academy a little more than a year ago. There is a website, online courses (Ready, Set, WRITE!, which is all the nuts and bolts of writing, Field Guide to Writing a Cozy Mystery, and How to Write a Memoir).
Site: https://writersparkacademy.com/
Courses: https://writersparkwritingacademy.teachable.com/
WriterSpark lets me teach, which I love to do, and live in my writing world, which is my passion.
Kym: What are you working on now and what's in store for you next?
Melissa: Oh my gosh, so many things! I have recently rereleased the Lola Cruz Mystery series, which I am thrilled about. I LOVE Lola Cruz! I'm working on the 6th book in that series, Lola Baby, and, of course, Bobbin for Apples.
And I have another exciting project my agent is currently shopping with agents. It's called Sky Girls, and I'm crazy about it. Hopefully I'll have good news about that very soon!
Lola Cruz books: https://www.amazon.com/dp/B0C1V5NC9C?binding=kindle_edition&searchxofy=true&ref_=dbs_s_aps_series_rwt_tkin&qid=1684543681&sr=8-3
And, of course, I'm busy with WriterSpark, producing new content for the website, the YouTube channel, and the Instagram feed.
I also do some copywriting and freelance editing. I just wrapped up a development edit/ghostwriting project for a couple. The woman has a traumatic brain injury from a car accident and it's her story. I love working on such interesting projects.
Kym: As always, I loved your latest release, Bodice of Evidence and having you here at the Cozy Corner was a true treat. Thanks for reuniting with us on Fresh Fiction!
Melissa: Thank you so much for always welcoming me here and supporting my books. I appreciate it so much!
Until next month, get cozy and read on!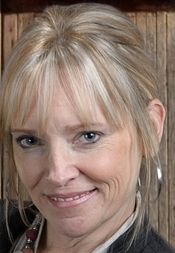 Melissa Bourbon is the national bestselling author of nineteen mystery books, including the brand new Book Magic Mysteries, a collaborative series with author Wendy Lyn Watson, the Lola Cruz Mysteries, A Magical Dressmaking Mystery series, and the Bread Shop Mysteries, written as Winnie Archer. She is a former middle school English teacher who gave up the classroom in order to live in her imagination full time. Melissa, a California native who has lived in Texas and Colorado, now calls the southeast home. She hikes, practices yoga, cooks, and is slowly but surely discovering all the great restaurants in the Carolinas. Since four of her five amazing kids are living their lives, scattered throughout the country, her dogs, Bean, the pug, Dobby, the chug, and Jasper, a cattle dog/lab keep her company while she writes. Melissa lives in North Carolina with her educator husband, Carlos, and their youngest son. She is beyond fortunate to be living the life of her dreams.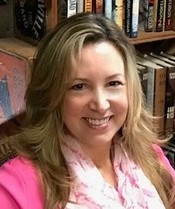 Kym Roberts writes by day and is a pro-surfer in her dreams by night. Her humor is often raunchy, her jokes are often bad, but her hunger for a story keeps the adventures coming fast. Experience the thrill & catch the wave of passion, mystery, and suspense with her at kymroberts.com, on Facebook @KymRobertsAuthor911, and on Twitter @kymroberts911.
No comments posted.