Book Title: VALKYRIE, The Avian Clone Chronicles – Book 1
Character Name: Valkyrie
How would you describe your family or your childhood?
My early childhood was reasonably happy. I was brought up on Orpheseus Prime by the human female who gave birth to me. Things went seriously downhill after I was separated from her. You see, I am not a normal human man. I am a genetically manipulated avian clone. I have wings and can fly, and I also have extraordinarily keen hearing and eyesight. My memory could be described as photographic. I do not forget anything, the good experiences or the bad.
What was your greatest talent?
I can hack into all but the most highly encrypted databases and computer systems.
Significant other?
That would hopefully be the outcome of this story, would it not? Zia, a lovely Mordrial woman who was once a resident of the Palace Orphanage and is now one of the caregivers there, has come to me for help in solving her sister's murder. I find myself strongly attracted to Zia, who affects me in a way that no female ever has.
Biggest challenge in relationships?
Trust, which is possibly the most significant challenge in any relationship.
Where do you live?
I live in Damenk, the largest city on the planet Rhylos. I have lived there ever since being freed from the compound of my creator, Ilya Zolo.
Do you have any enemies?
Possibly. Many criminals are unhappy because of the information my computer hacking skills have allowed me to uncover.
How do you feel about the place where you are now? Is there something you are particularly attached to, or particularly repelled by, in this place?
Damenk is a very beautiful city as long as you avoid the commerce and casino districts with their constant bombardment of subliminal advertising—as well as the brothel districts where the air is laden with sex pheromones. When the mental noise becomes unbearable, I fly to the mountains. There, I can find peace and, at least temporarily, escape the memories of my past.
Do you have children, pets, both, or neither?
Neither
What do you do for a living?
I am a computer hacker for hire. However, if you hire me and I find that you are guilty of criminal activity, I have no qualms about sharing that information with the authorities.
Greatest disappointment?
That I was not born into a loving family as a normal human being.
Greatest source of joy?
Flying with the orphans who live in the Palace Orphanage, which is run by a Zetithian couple, Onca and Kim Shrovenach.
What do you do to entertain yourself or have fun?
Fun is a foreign concept to me, but I suppose flying with the orphans comes the closest.
What is your greatest personal failing, in your view?
My inability to engage in close personal relationships. I have no desire to burden another person with the horrific nature of my past.
What keeps you awake at night?
My past experiences growing up on Orpheseus Prime under the complete control of my creator, Ilya Zolo, who some would describe as an evil genius. Zolo had no love for his creations and seemed determined to make us hate him—a goal he achieved with no difficulty whatsoever.
What is the most pressing problem you have at the moment?
Solving the murder of Zia's sister, Letsa. The police have been unable to find the killer, so Zia has come to me for help.
Is there something that you need or want that you don't have? For yourself or for someone important to you?
I want to help bring Letsa's killer to justice in the hope that it will give Zia some sense of closure following the death of her sister. I also hope that my feelings toward her will be returned.
Why don't you have it? What is in the way?
The killer left behind no clues to their identity or their motive, so the case will be nearly impossible to solve. Plus, with the pain of her sister's death still raw, Zia is in no position to fall in love with anyone, especially not a freak like me.
The Avian Clone Chronicles #1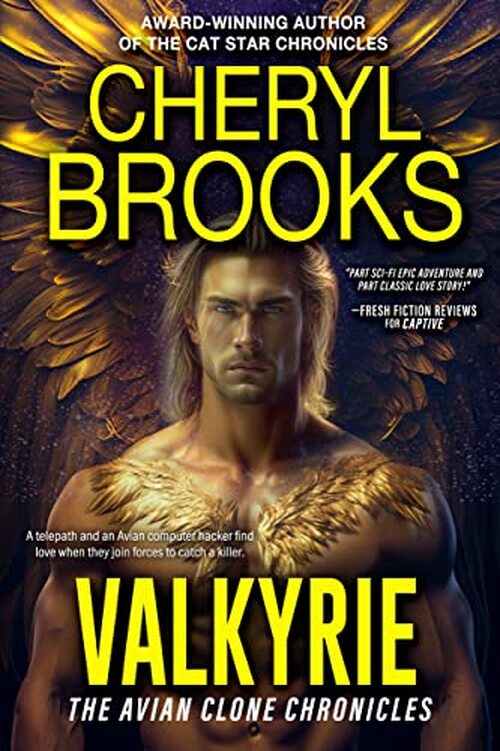 Stunningly handsome Avian clone Valkyrie is highly intelligent with superior senses and a pair of golden wings, but he has one trait that allows his horrific past to haunt him—he can't forget anything.
Zia, a lovely Mordrial woman with telepathic abilities, works in the orphanage where she and her elder sister, Letsa, grew up. But now Letsa is dead—killed by an unknown assailant with an illegal laser weapon. The police are stumped, and Zia hopes Val's legendary computer skills can help her crack the case.
When Val reluctantly agrees to help Zia, he gets far more than he bargained for as their working relationship develops into something much deeper. Zia suspects that Val might be The One, but first she must help him let go of the past and move on, as they risk their lives to bring a killer to justice.
Romance Science Fiction | Fantasy | Romance Suspense [Self Published, On Sale: May 10, 2023, Paperback / e-Book, ISBN: 9781736030936 / eISBN: 9781736030929]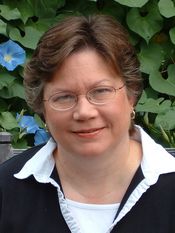 Cheryl Brooks is a former critical care nurse turned romance writer. She is the author of the Cat Star Chronicles series, the Cat Star Legacy series, the Cowboy Heaven series, the Soul Survivors trilogy, the Unlikely Lovers series, and several stand-alone books and novellas. She is a member of RWA and IRWA and lives with her husband and sons near Bloomfield, Indiana.
No comments posted.