Chapter 4—Jo
The Early Wolf Catches the Witch
Booker the Wolf smiled at me, flashing matching dimples on either side of his mouth, and I nearly laughed, despite the momentary shock and heightened apprehension electrifying my body. He was leaning against a mirror in jeans and a long coat, one booted ankle resting on top of the other, with his arms crossed over his chest. It seemed like he took the pose to look more casual and less intimidating, and it worked. Somewhat.
"I guess the early wolf catches the witch?" I said, looking away and placing one fingertip along the silvery surface of the mirror to my left.
"Something like that," he allowed, his voice as smooth as good Scotch. "And hello to you, too, Jo Murphy." Then he cocked his head, eyes sharpening, and added, almost as an afterthought, "Your hair is longer."
This time, I couldn't hold back a chuckle, especially at the momentary chagrin that crossed his features. I don't think he'd meant to say it, and that momentary fumble, more than anything else, helped me relax a little. "Funny thing about hair," I deadpanned. "It just grows on you."
His grin was real this time, not calculated, and it did amazing things for his face. Goddess, what a face. It was much like I remembered it from Ste. Genevieve: amber eyes, straight nose, high cheekbones, superhero chin. The dimples were new to me—he hadn't done much smiling back at Other Worlds Emporium—but he knew that he was attractive, and he'd clearly been trying to use it to his advantage. There was power, authority, emanating from him—his aura so strong that it could casually dominate anyone who allowed it. When Booker the Wolf told someone to do something, it got done. When he wanted something, he was used to getting it.
When I walked closer to him, that aura enveloped me, although mine pushed back. None of that here, bucko.
I stopped when I was a few feet away, not willing to get within reach. He was leaning to the right side of the corridor, so I stayed close to the left. Damn it, he was far too appealing to me already. Booker the Wolf's body was all broad-shouldered menace, as tall as I remembered—easily more than six feet—and filling the corridor, but his smile in that gorgeous face was pure charm, and those ridiculous dimples made him seem like a harmless, insanely attractive man.
A wolf in sheep's dimples.
His eyes were locked on me now. I could've sworn they'd begun to glow a bit—molten honey, I couldn't help thinking, wow—and I found my gaze held there. But since I was definitely the sheep in this instance, I should maybe stop drooling over his cutie-pie dimples and those beautiful, hypnotic eyes and focus.
I dropped my eyes and took a deep breath, looking again at the mirror next to me. It was easier to look at his reflection. "What is it I can do for you, Mr. Booker?"
His smile more or less stayed in place, but the dimples disappeared. All business now. "Just Booker." His eyes were gaining intensity with every second that they didn't blink, and his voice took on a slight edge of frustration. "Why can't I come into your shop? I couldn't even cross the damn street."
"Because I don't want wolves in the Sanctum." He tensed, his eyes shifting away for a second. Damn it, I offended him. Then, directly on its heels, Why the hell do I care about his feelings? Focus, Murphy. "Okay, Booker. What is it I can do for you?" If I had to repeat the question a third time, I was leaving.
He blinked. It was a small miracle. "The Council sent me to ask you what happened to the Fenris werewolves," he said, his deep voice rippling through me.
This was more or less what I'd been expecting. I'd figured the wolves would want to try to get vengeance on me for the Fenris for a long time now. However, the "Council" thing was new.
"A council?" I asked, unable to keep the skepticism from my tone. "Of what? Werewolves?"
He'd been giving the impression of lounging so far, but this brought him to attention pretty quickly. He straightened and took a step toward me, one predatory move, and I couldn't help but take a step backward in response. His nostrils flared, and his eyes flashed with irritation. Not rage, but still alarming enough.
Don't back down.
Booker took another step forward before he checked himself. "How can you be a powerful-enough witch to apparently eliminate the Fenris from the known world, but you don't know about the Council?" he asked with ill-concealed frustration.
I snorted and used my spiking alarm and indignation to fuel some bravado, although I was still shifting my body away from his. "Like this." I waved my hands in the air in a meaningless pattern that I hoped looked witchy enough for him. "Stop posturing and answer my question. Who or what is the Council?"
Booker's giant chest rose and fell, his aura shifting, and he found himself another spot good for leaning. He didn't quite get back to the nonchalance he had exhibited earlier, but it was close enough that I stopped edging away.
When his eyes met mine again, they were serious. "There's a council of supernatural beings from different races that govern the rest of us. Well, 'govern' isn't the right word." He seemed to take a moment to gather his thoughts, and I wondered if it were to create a lie or to find the best way to explain the truth. "They do what they can to keep the supernatural world as much of a secret as possible. Make it so we can police our own, that kind of thing."
Suspicious as I still was, his aura didn't feel like he was lying, and the concept made a certain amount of sense. Having a supreme authority over the supernatural community seemed like a reasonably good idea, if there were that many different types of creatures out there.
Or, given the amount of corruption that tended to seep into such groups, maybe it was the worst idea ever.
I thought back to the money. After I'd escaped from the hell the Fenris had kept me in for days, I'd come back to myself somewhere else, cleaned up, wearing clothes that weren't my own—and I had a large bag of cash. Like, a ridiculous heist movie amount. It had to have come from the Fenris den. It smelled like them, felt like them. As much as I hated knowing I had something they had touched, I'd kept it, cleansed it as best I could. A secret nest egg, courtesy of my would-be killers.
I wouldn't have been able to buy the Sanctum, renovate the first two floors and my apartment, and start the occult shop without it. It was nearly gone at this point, and I'd been banking on the shop to make my way from now on, renovate the middle floors as I went.
Booker seemed to be waiting for me to acknowledge what he'd said so far, so I did with a short nod, hoping that burst of nerves hadn't been too apparent. Then I said, "So, you're like a wolf cop?" The moment the words came out, I cursed myself, heat rising in my cheeks. Smooth.
He laughed, and once again, it transformed his face. The delight there seemed real. "I've seen that movie, too, and no. I have too many other responsibilities to my own clan and my own pack. I'm more like a contract bounty hunter. For now."
While I digested that, he frowned and added, with a harder edge to his voice, "The Fenris posed a major problem to the Council, but right when the Council was on the brink of an all-out war with them, they disappeared. The only clue left behind was a video." He paused, and had the grace to look away when he said, gruffly, "Of you."
It was like a punch to the gut. There was video? If there was video of me taking care of the Fenris, then that meant there was video showing why I'd done it. Of what they'd done to me.
I pressed my fingers above my chest and tried to get some air in. That is past. This is present. Focus on this moment in time. I focused on regulating my breathing, keeping myself calm, and all the while, the wolf watched me, his eyes unblinking but giving nothing away.
Copyright © Phoebe Walker with permission from City Owl Press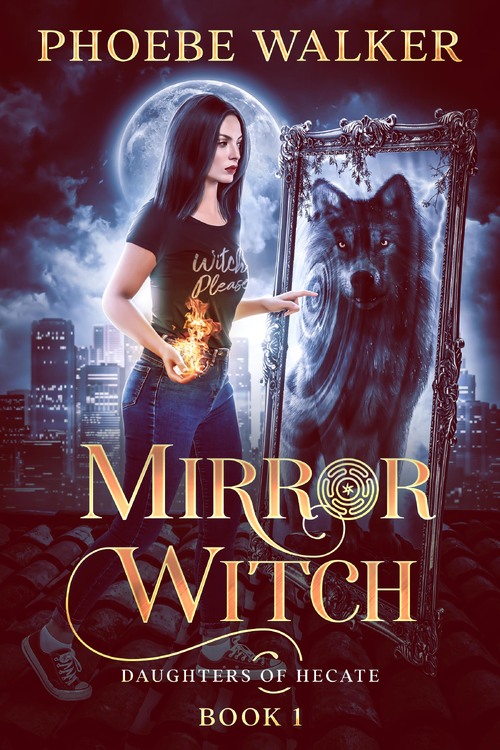 Jo Murphy was just an ordinary New Age witch who had a knack for reading tarot before she was kidnapped and tortured by the Fenris, a pack of insane werewolves. Since she escaped that hell after calling on the goddess Hecate for help, Jo hasn't been the same, emotionally or magically. It left her with PTSD nightmares, a boatload of paranoia, and access to new powers that she doesn't understand, including the ability to walk through mirrors. With the Fenris gone—apparently by her hand—Jo started running and didn't stop until another werewolf tracked her down.
When Ezekiel Booker answered the Council's call to find and question Josephine Murphy, he thought it would be one last job before he settled down to become alpha of his own pack in St. Louis. However, Booker didn't bank on how she would affect him when they came face-to-face—and then she disappeared. When he finally finds her again, she's settled down and created a magical sanctuary and occult shop out of an old building in his territory. And it's entirely warded against werewolves. Booker doesn't want to hurt Jo—far from it—but he does need to find out why the Fenris wolves have completely disappeared. He contacts her, determined to prove that she's not in danger from him. Meanwhile, Jo wants to trust alpha wolf Booker, but she's not the naïve young witch she once was. There's something in him that calls to her, and all her senses are telling him he's on her side; it doesn't hurt that he's hot as hell and seems attracted to her. Even so, old habits and suspicions die hard. But then a necromancer attacks Jo, using the freshly killed body of her friend and protégé as a weapon, and their only clue is a mysterious rune necklace and an all-girl Goth band that isn't quite what it seems. Now Jo has no choice but to join forces with Booker and his pack to find out who's raising the dead in St. Louis … or become a corpse herself.
Romance Paranormal [City Owl Press, On Sale: May 1, 2023, Paperback, ISBN: 9781648983139 / eISBN: 9781648983146]
About Phoebe Walker
Phoebe Walker is the pen name of co-authors and general partners-in-crime Jennifer "Jay" Bull and Mary Morris.
No comments posted.