1--What is the title of your latest release?
2--What's the "elevator pitch" for your new book?
Contractor Shannon Hammer and her crew have been hired to renovate Lighthouse Cove's Gothic Victorian church into a world-class art museum, but work comes to a screeching halt when they discover the body of a young woman in one of the chapels. With the help of her boyfriend, thriller writer Mac Sullivan, and her closest friends, Shannon will follow the clues to stop the killer from striking again.
3--How did you decide where your book was going to take place?
All the Fixer-Upper Mysteries take place in Lighthouse Cove. If you haven't read the books yet but that sounds familiar, you probably caught the movies on Hallmark Movies & Mysteries. Lighthouse Cove is a quaint Victorian small town in northern California, with incredible ocean views and a few too many murders per capita.
4--Would you hang out with your sleuth in real life?
Absolutely! Shannon is the kind of woman I admire—she's smart, observant, and hard-working, and she's also one of the most loyal friends you could ever have. In fact, she's the kind of friend who, if you were suspected of murder, would go above and beyond to find the real killer, and help you clear your name.
5--What are three words that describe your sleuth?
Meticulous, honorable, loving.
6--What's something you learned while writing Dressed to Drill?
I learned a lot about the Gothic Revival era of Victorian architecture, particularly in churches. "Gothic" sounds dark and forbidding, but they really are some of the most beautiful churches. Do an image search for Victorian Gothic church, and you'll see what I mean.
7--Do you edit as you draft or wait until you are totally done?
Much to the detriment of my efficiency, I edit and edit and edit and edit. It's just how my brain works. I can't move forward until I feel I've nailed the scenes that have come before. I know some writers can skip around and then weave the scenes together, but that doesn't work for me. I need to write in order, and I feel compelled to re-read the previous days' work and make changes before I can move the story forward.
8--What's your favorite foodie indulgence?
Hershey's Kisses
9--Describe your writing space/office!
That answer changes depending on where I am in the process of writing a book. I don't mean that my office changes—I write in my home office every day. But wow, does its messiness change! Before I start writing a new book, I can even see my desktop. By the end, papers are scattered all over it, including post-It notes on every exposed inch, with reminders like, "Shannon needs to find X clue" or "Get up and walk." (The first one is a reminder about the book; the second is a reminder to myself that I will turn into a lump if I don't move around occasionally.)
10--Who is an author you admire?
Oh, so many! I'll go with a classic for my answer here - Agatha Christie. Not only is she still one of my all-time favorite storytellers, but she was a remarkable woman who forged a career at a time when there were incredible barriers to her success. So impressive!
11--Is there a book that changed your life?
Pat Conroy's The Prince of Tides, because the writing was so lyrical and descriptive that he made me want to be a writer. I remain in awe of his talent.
12--Tell us about when you got "the call."
I'll tweak my answer here to tell you about when my agent called with the news that Hallmark Movies & Mysteries would be creating a series of movies based on my Fixer-Upper Mystery books. Jewel (the singer and actress) was attached to the project right from the beginning because she had been looking for a script with a strong, capable heroine like Shannon. I had known already that Hallmark had optioned for the series, but I was aware that in most cases, those options amounted to nothing. So, when my agent called to give me the good news, I was thrilled! I thanked her effusively, hung up, and just sank onto my sofa and cried as the feelings overwhelmed me.
13--What's your favorite genre to read?
I truly love mystery novels with smart, intricate plots. I love books with strong, likable characters with interesting personality traits, people who return in book after book so that when I open the next book in the series, I have that feeling of meeting up with old friends again. I enjoy mysteries with several plausible suspects, so it's challenging (but doable) to solve the crime before the protagonist does. I like books that teach me something but in an entertaining way. Basically, I like to read what I write: traditional mysteries.
14--What's your favorite movie?
I love movies, but I can't say that I have a favorite. How about if I tell you about a recent favorite show to stream? Murder in Provence on Amazon Prime is fabulous. The main characters are intelligent and sophisticated and humorous, and the romance between them feels genuine and lovely. I'll warn you, though, it could be an expensive show to watch because although it's free for Prime members, it will make you want to plan a trip to France. The scenery alone makes it worth the watch.
15--What is your favorite season?
Probably autumn. I live in the California desert, where summers are brutally hot. Autumn is a relief.
16--How do you like to celebrate your birthday?
With a small group of close friends and family, a good meal, and a nice bottle of wine.
17--What's a recent tv show/movie/book/podcast you highly recommend?
Books: Winter's End by Paige Shelton is so good! I highly recommend it for readers who like a moody mystery with a strong sense of place - that place being the town of Benedict, Alaska. For a lighter read, I'll recommend Fatal Fascinator by Jenn McKinlay. At a high-society British wedding weekend, the groom is found murdered, and his affair with a bridesmaid is revealed. Who better to solve the crime than two hatmakers? Jenn's sense of humor shines through with every word of this very satisfying mystery.
18--What's your favorite type of cuisine?
Whatever someone else is kind enough to cook for me.
19--What do you do when you have free time?
I'm sorry, but I'm not sure I understand what you're asking. Free time? What is that? I seem to go from one deadline to the next. The day after I turned in The Twelve Books of Christmas (coming in October), I started work on the next Bibliophile Mystery, which will feature a rare first edition of Peter Pan with a mysterious past.
20--What can readers expect from you next?
Dressed to Drill is the current Fixer-Upper Mystery, and the next Bibliophile Mystery will be The Twelve Books of Christmas in October. Bookbinder Brooklyn Wainwright and her husband will fly to Scotland for the surprise holiday wedding of their dear friend Claire to the Laird of Castle McKinnon. Mysterious "accidents" have been happening to Claire since she moved into the castle on the shores of Loch Ness, and Brooklyn will investigate to determine whether these near misses have any connection to the twelve Christmas books that have gone missing from the castle's library.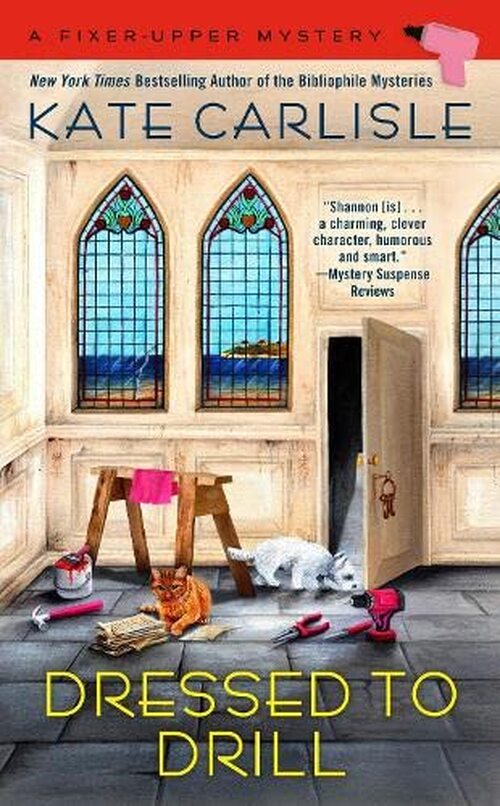 Contractor Shannon Hammer's new project, renovating an old church, reveals some old sins when a body is found on the premises in the latest Fixer-Upper Mystery from the New York Times author Kate Carlisle.
While Shannon Hammer is thrilled to attend the premiere of the movie based on her boyfriend Mac's latest book, she can't wait to trade her killer heels for work boots and start her next renovation project in Lighthouse Cove: a quaint Victorian church that has seen better days. And will see them again—as a museum—if Shannon, her talented crew, and her sister Chloe have anything to say about it.
But on the first day of demolition, work comes to a screeching halt when they stumble on the body of a beautiful young woman in one of the chapels. Who killed the assistant art director? Suspects crawl out of the woodwork as fast as Shannon can restore it. The church is hiding a century of secrets from the days that smugglers wreaked havoc on the California coast. But it's a more recent secret that someone
Mystery Cozy [Berkley, On Sale: May 2, 2023, Mass Market Paperback / e-Book, ISBN: 9780593201350 / eISBN: 9780593201367]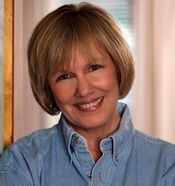 Golden Heart and Daphne du Maurier Award winning author Kate Carlisle spent over twenty years working in television production as an Associate Director for game and variety shows, including The Midnight Special, Solid Gold and The Gong Show. She traveled the world as a Dating Game chaperone and performed strange acts of silliness on The Gong Show. She also studied acting and singing, toiled in vineyards, collected books, joined a commune, sold fried chicken, modeled spring fashions and worked for a cruise ship line, but it was the year she spent in law school that finally drove her to begin writing fiction. It seemed the safest way to kill off her professors. Those professors are breathing easier now that Kate spends most of her time writing near the beach in Southern California where she lives with her perfect husband.
A lifelong love of old books and an appreciation of the art of bookbinding led Kate to create the Bibliophile Mysteries, featuring rare book expert Brooklyn Wainwright, whose bookbinding and restoration skills invariably uncover old secrets, treachery and murder. Kate is a member of Sisters in Crime, Mystery Writers of America, International Thriller Writers and Romance Writers of America. She loves to drink good wine and watch other people cook.
No comments posted.