Hi, I am Elizabeth Rose, the author of over 100 books and counting, and I am here today to tell you a little about my new book, the start of my Below the Salt Series.
Picking up the Gauntlet features Lady Raven Blake, a strong woman who knows how to wield a sword, and who is not about to be given away as the bride to the winner of the tournament. She has a plan to ensure this doesn't happen, but it involves the armorer, Jonathon Armstrong who her father has hired to guard her to keep her out of trouble.
Love has no bounds, but marriage has rules. A noble must never marry anyone from Below the Salt.
P is for proper – something that Lady Raven is not, since she can fight as good as any man
I is for Intrude – Raven thinks Jonathon is intruding since he's just a commoner and her father has assigned him to stay at her side and guard her – though she doesn't need guarding
C is for Castle Blake - where the tournament will take place
K is for Kiss – Something Raven does to Jonathon to blackmail him (at first)
I is for Impress – Jonathon hopes to impress the guild with a masterpiece that will make him a master of his trade
N is for Night – The private times that Raven and Jonathon meet in the forge
G is for Gauntlet – When Raven has the gauntlet dropped at her feet, she doesn't hesitate to take the challenge, even when it means trouble
U is for Underestimate – Raven underestimates Jonathon's skill with weapons as well as with a hammer and anvil
P is for Promise – Jonathon promises never to let anyone hurt Raven in any way
T is for Tiltyard – Where the joust at the tournament will take place
H is for Helm – Something Raven needs Jonathon to make for her as part of her plan
E is for Excited – The way Raven feels when she is alone with Jonathon
G is for Gallows - Where Jonathon might end up if Lord Corbett Blake finds out Jonathon has had intimate moments with the man's noble daughter
A is for Armorer – Jonathon is an armorer who makes and repairs armor for the nobles
U is for Undying – The feelings between Raven and Jonathon are undying, and also forbidden
N is for Noble – Lady Raven is a noble and expected to marry someone of her status
T is for Tryst – Raven and Jonathon are having a secret tryst, and this can only mean trouble
L is for Love – the love that Raven and Jonathon find when in each other's arms
E is for Exposed – When the plot thickens, all deception and secrets are exposed
T is for Together - How Raven and Jonathon hope to be in the end
Below the Salt #1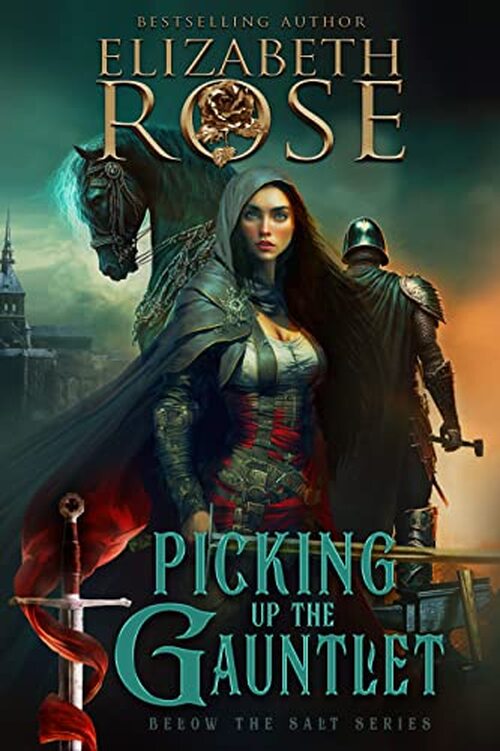 He's been hired to guard her, but not even the best armor can keep one's heart from breaking
Lady with a Sword:
Lady Raven Blake has trained alongside her twin brother, Rook for years. She is intrigued with weapons and skilled at wielding a sword. Raven likes excitement in her life, but her father wants her to start acting like a lady. To her horror, he's planned a tournament, and whichever nobleman wins will receive her hand in marriage as the prize.
Infuriated, Raven comes up with an idea to ruin this plan and stay single. Now, all she needs is the help of the armorer who her father has foolishly assigned as her bodyguard, trying to keep her out of trouble.
The Armorer:
Jonathon Armstrong is an armorer, swordsmith, and blacksmith who knows not only how to create weapons, but how to use them too. At times he has even hired out his sword and served as a mercenary to the nobles. Lord Corbett Blake has a trusted friendship with Jonathon and approaches him, offering him a temporary position as his new castle smith. However, what he really wants Jonathon to do, is to be his unruly daughter's bodyguard during the day and only work at the smithy at night.
Jonathon can't turn down a noble's request, even though everyone knows the lord's daughter has no trouble protecting herself. And when the beautiful Lady Raven tricks him into making her a suit of armor in secret, he falls into a situation that could easily bring about his demise. If being dragged into her deceptive plan doesn't land him in the dungeon, something else surely will. Jonathon has grown fond of the woman. He's lost his heart to the noblewoman, and she has returned the feelings for him.
Two people from such different walks of life are not allowed to be together. Love between a noble and a commoner is forbidden, and can only mean trouble in the end.
Love has no bounds, but marriage has rules. A noble must never wed anyone from below the salt.
Romance Historical [Oliver-Heber Books, On Sale: March 21, 2023, e-Book, / ]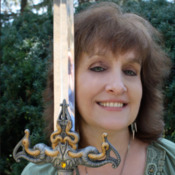 Elizabeth Rose is the author of over 100 books and counting. She writes medieval, historical, contemporary, paranormal/fantasy, and western romance. She is an award winning, bestselling author and an amazon all-star. Her books appear as ebooks, print, and audiobooks as well.
Her favorite characters in her works include dark, dangerous and tortured heroes, and feisty, independent heroines who know how to wield a sword. She loves writing 14th century medievals, and is known for her many medieval series.
Elizabeth started writing romance back in 1996 and had her first book traditionally published in 2000.
She loves anything paranormal and is inspired by spending time in nature. Elizabeth has a secret garden that serves as her outdoor office where she writes in her hammock in the summer. This same secret garden inspired her series, Secrets of the Heart.
No comments posted.