1--What is the title of your latest release?
2--What's the "elevator pitch" for your new book?
The Last of Us crossed with The Handmaid's Tale
A new breed of moth escapes from the Amazon and infects the world, killing men, or turning them into savage monsters. The women who survive must make hard decisions about the future of the world and the best ways to protect those men born into it.
3--How did you decide where your book was going to take place?
The post-apocalyptic landscape took a lot of world-building. I had to make the familiar, strange (train stations, towns etc.) To pull this off, I needed to know the area really well, and be able to visit settings whilst I was writing so I set the novel in the south of England near my hometown.
4--Would you hang out with your protagonist in real life?
Absolutely - especially the older version of Mary. Despite the fact she's over seventy she's a strong formidable heroine with a dry sense of humor. The younger version of Mary is a little more unsure of herself as she hasn't yet had to overcome the hardships of the new world.
5--What are three words that describe your protagonist?
In her later years - Tough, Determined, Caring
6--What's something you learned while writing this book?
Many surprising things: some moths migrate vast distances, up to 3000 miles. Petroleum has a maximum shelf life of about a year.
7--Do you edit as you draft or wait until you are totally done?
I write about 40k words before going back and doing a full edit. Then I write the rest of the novel. By 40k I know what direction the book is going in and how it will end, so I go back through and change any plot lines that are not working, delete any characters I don't like or add in other plot points I will rely on later. After I've finished the full manuscript, I go back and edit the whole thing many more times.
8--What's your favorite foodie indulgence?
Mmm, steak - rare, with peppercorn sauce and skinny fries.
9--Describe your writing space/office!
It's a small room off the kitchen which used to be the dining room. Now it contains a huge comfy sofa, a footstool, assorted hot water bottles and a small fluffy dog. I don't enjoy writing at a desk (it feels too much like school) so I slob, semi-reclined on the sofa and type. Not great for my back, but handy if I want to snooze.
10--Who is an author you admire?
So many… Stephen King is the one who springs to mind. You wouldn't call his style eloquent, and his endings sometimes drift, but he can tell a story which I will stay up all night to finish. A story that will nibble away at me whilst I'm doing something else, calling to me like a siren. That's what I admire most in a writer (and what I aspire to possess) - The ability to keep a reader captivated when a thousand other things are demanding their attention.
11--Is there a book that changed your life?
Probably Margaret Atwood's The Handmaid's Tale. When I first read it at sixteen, I didn't think much of it - "Why don't those women FIGHT!?" I thought. Later, I had a better understanding of soft power, patriarchy, and the insidiousness of cultural norms. When I returned to the book, it really resonated with me and introduced me to ideas about gender and language.
12--Tell us about when you got "the call." (when you found out your book was going to be published)/Or, for indie authors, when you decided to self-publish.
I tried to sub Moths to a few agents during lockdown, but had no success, so I self-published a version of the novel in 2021. It did surprisingly well. I sold the Audio Rights to WF Howes and even had some interest from a TV production company. The sales were strong enough over a period of about six months that I felt able to resubmit it to a couple of agents suggested to me by an author friend. One agent was interested in working with me but on another project. Liza, however, felt confident she could find a home for Moths and its unpublished sequel, Toxxic which was already gathering a good amount of preorders. I signed with Liza at Mushens Entertainment and she sold both novels to Angry Robot in August 2022. The whole process from self-publishing to now has been a series of optimistic and exciting emails and calls. I've loved every single minute of it.
13--What's your favorite genre to read?
My favorite is unsurprisingly dystopian, post-apocalyptic and zombie novels which I chomp through like the Hungry Caterpillar. I also like paranormal romances - sexy vampires, werewolves, gods, demons - that sort of thing.
14--What's your favorite movie?
Arrrrggg - too many! Drugstore Cowboy and Aliens.
15--What is your favorite season?
Summer - always.
16--How do you like to celebrate your birthday?
My whole family and a big buffet, or a trip to the cinema with my husband.
17--What's a recent tv show/movie/book/podcast you highly recommend?
The Last of Us. I watched the first few episodes, expecting it to be bad. I don't play video games, so my only preconceptions were that TV shows based on video games are always unflinchingly terrible. But - be still my beating zombie-loving heart - this has me hooked and swooning. I mean, if you're not a massive fan of the genre it might not affect you quite so deeply…
18--What's one of your earliest book memories?
In my Nan's caravan on Hayling Island, on the sofa bed reading The Valley of Adventure by Enid Blyton and knowing that I had The Castle of Adventure to start the moment I'd finished the former. Oh, the joy of having a book on standby!
19--What do you do when you have free time?
I walk on the beach with my husband and our dog, and I watch TV.
20--What can readers expect from you next?
Toxxic! The sequel to Moths should be out in 2024 from Angry Robot, and I'm very excited to share it!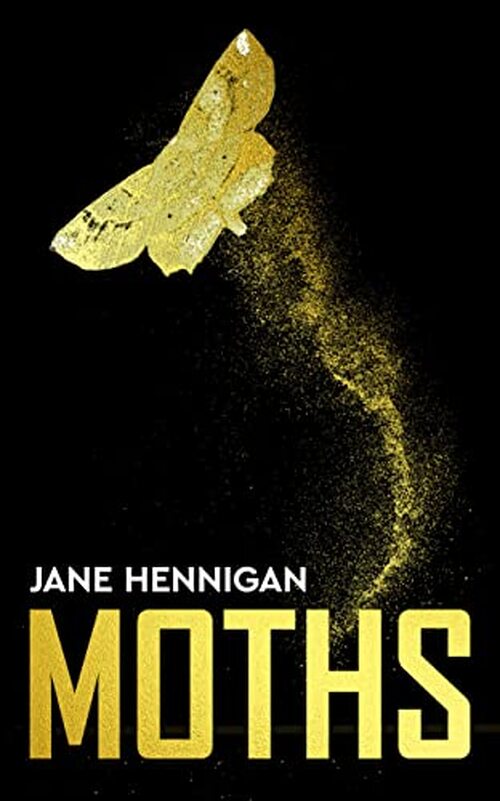 Forty years ago, the world changed. Toxic threads left behind by mutated moths infected every man and boy, killing them quietly in their sleep, or turning them into crazed killers. No one was safe from their psychopathic wrath and no one could reach them. All seemed hopeless.
But humanity, as it does, adapted and society moved on. Now, men are kept in specially treated dust-free facilities for their safety, and are never able to return to the outside. The world is quiet, but secrets are kept safe in whispers.
Very few people remember what life was like before the change, but Mary knows. She had a family. She was happy. This is her story.
Dystopian | Science Fiction [Angry Robot, On Sale: March 14, 2023, Paperback / e-Book, ISBN: 9781915202697 / ]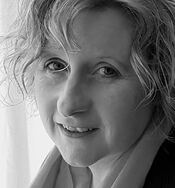 Jane is a forty-something mother of two living in Surrey in the UK. She finally made it to university at the age of thirty-four, studying philosophy and English literature. After graduating, Jane began teaching English and philosophy, squeezing her passion for writing into any spare time she could find.
No comments posted.