1--What is the title of your latest release?
2--What's the "elevator pitch" for your new book?
A magical Chinese calligrapher and a French half-elf's fledgling relationship is imperiled by both their secrets colliding, and they must decide how much they value being the architects of their own lives while facing murderous family, abusive work situations, and unexpected losses.
3--How did you decide where your book was going to take place?
I wanted a place in the South that wasn't Atlanta and was a little out of the way, but still had enough people going through it that my main character could feasibly run a shop frequented by a wide variety of customers. I decided on Raleigh, North Carolina—in the Research Triangle, but it's far enough from major cities like New York that my character could relax and be less afraid of being recognized.
4--Would you hang out with your protagonist in real life?
I would! If Luc would handle dinner, that is. Elle seems like the more fun person between the two, so I'd hang out with Elle for adventures and meet up with Luc, either at a restaurant of his choosing or for a dinner party at his house.
5--What are three words that describe your protagonist?
For Elle, she's peaceful, artistic, and stubborn. For Luc, he's tactical, stylish, and a foodie.
6--What's something you learned while writing this book?
That I could actually write a book!
7--Do you edit as you draft or wait until you are totally done?
Um . . . yes. I have different drafts for different purposes, so in the zero draft, I don't edit at all, and in the first draft, which is a full rewrite, I edit as I go and don't move on until I'm satisfied with the chapter.
8--What's your favorite foodie indulgence?
Probably expensive chocolate: I prefer dark over everything else. I've been a chocoholic ever since I discovered I could buy gourmet bars in college. Those were big spends at the time!
9--Describe your writing space/office!
I'll write anywhere that affords me comfort and solitude, so I write either in bed or at the studio, where I have a proper desk, a bunch of notebooks, and a couch to retire to in case I want to write somewhere cozier. Plus, a whiteboard, which is critical. Regardless of whether I'm writing at home or at the studio, I need to be warm. I guess all the blood goes to my brain when I'm writing, so I end up freezing and needing either a bunch of blankets or a space heater blasting away at me.
10--Who is an author you admire?
Rebecca Roanhorse. She's written in every category, but picture book and I wouldn't be surprised if one day, she put one out. She's hardworking and supportive of fellow authors and has weathered a lot of drama unfairly tossed her way with grace and aplomb. And her body of work really speaks for itself.
11--Is there a book that changed your life?
Might be cliché, but The Lord of the Rings. I was first introduced to fantasy via Lloyd Alexander's The Black Cauldron, but it was The Lord of the Rings that made me obsessed, not just with the world itself but with the beauty of the English language.
12--Tell us about when you got "the call." (when you found out your book was going to be published)/Or, for indie authors, when you decided to self-publish.
I feel rather guilty not remembering exactly what happened, but I'm pretty sure, you know, within reasonable doubt, that I was driving when I got an urgent message from my agent. I told her I'd be back home in a bit, and then once I got back, I retreated to the master bathroom—if I'm taking a call, and video calls especially, it's going to be in the master bath because all my orchids are there and it's the most pleasant spot in the house—and called her. And she gave me the news.
13--What's your favorite genre to read?
The easy answer is fantasy! The hard answer is fantasy, romance, and nonfiction of the medical and natural sciences type.
14--What's your favorite movie?
Another incredibly hard questions, as I tend not to have a single favorite. But let's go with Studio Ghibli's Whisper of the Heart for right now.
15--What is your favorite season?
When I lived up north, winter. I adore snow, but I like what happens after it falls a lot less. In the South, it's fall. Spring loses points because of all the pollen. There's gorgeous weather in March and April, but the pollen is enough to keep one inside.
16--How do you like to celebrate your birthday?
In passing. To be more detailed, birthdays tend to be cursed for me, so I simply pretend they don't exist. I get to be timeless and ageless.
17--What's a recent tv show/movie/book/podcast you highly recommend?
I loved Andor a lot. I'm not even a huge Star Wars fan. I'm more like . . . I know about Star Wars by proxy. I absorbed Star Wars stuff through friends who are megafans. I saw the movies once so I wouldn't be lost in the zeitgeist. So I think it's a big deal if I, non–Star Wars fan, say Andor is deeply thought out, compelling, and excellent television.
18--What's your favorite type of cuisine?
Oh, Chinese, of course. How could I answer otherwise? Japanese comes in a very close second.
19--What do you do when you have free time?
I don't understand the question.
20--What can readers expect from you next?
It's a question I myself don't know the answer to!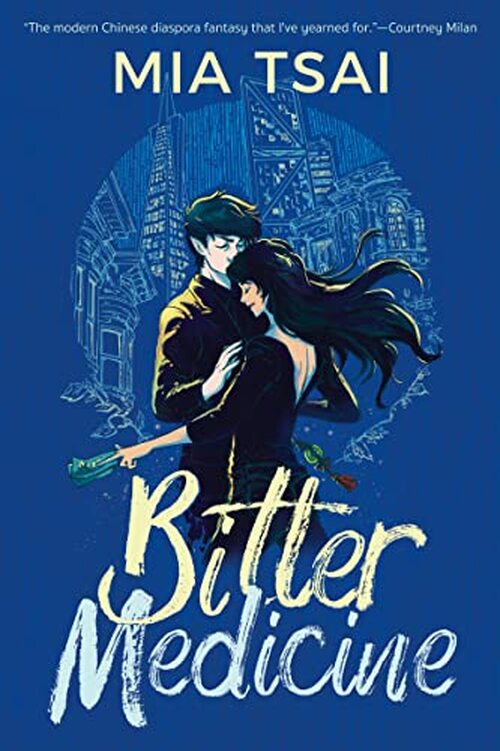 In this inspired contemporary fantasy, a Chinese immortal and a French elf try to balance new romance, familial loyalty, and workplace demands. In her debut novel, Taiwanese American author Mia Tsai has created an unforgettable paranormal adventure that is full of humor, passion, and depth.
As a descendant of the Chinese god of medicine, ignored middle child Elle was destined to be a doctor. Instead, she is underemployed as a mediocre magical calligrapher at the fairy temp agency. Nevertheless, she challenges herself by covertly outfitting Luc, her client and crush, with high-powered glyphs.
Half-elf Luc, the agency's top security expert, has his own secret: he's responsible for a curse laid from an old assignment. To heal them, he'll need to perform his job duties with unrelenting excellence and earn time off from his tyrannical boss.
When Elle saves Luc's life, they begin a dangerous collaboration, but their chemistry blooms. Happiness, for once, is an option for them both. But Elle is loyal to her family, and Luc is bound by his true name. To win freedom from duty, they must make unexpected sacrifices.
Romance Paranormal | Fantasy [Tachyon Publications, On Sale: March 14, 2023, Paperback / e-Book, ISBN: 9781616963842 / eISBN: 9781616963859]
Mia Tsai is a Taiwanese American author of speculative fiction. She lives in Atlanta with her family and, when not writing, is a hype woman for her orchids and a devoted cat gopher. Her favorite things include music of all kinds (really, truly) and taking long trips with nothing but the open road and a saucy rhythm section. She has been quoted in Glamour once. In her other lives, she is a professional editor, photographer, and musician.
No comments posted.