1--What is the title of your latest release?
The Good Luck Café (Somerset Lake series #4)
2--What's the "elevator pitch" for your new book?
In order to save her mom's café, Moira goes head-to-head with small town mayor Gil Ryan, throwing her hat in the upcoming election. As the campaign heats up, secrets and sparks fly.
3--How did you decide where your book was going to take place?
All my books take place in fictional small towns in North Carolina. North Carolina is my home state and I love the setting. The Good Luck Café is book 4 in my Somerset Lake series so I pretty much knew my story would take place in my already established mountain town.
4--Would you hang out with your protagonist in real life?
Definitely! Moira is courageous and she fights for what she believes in. She doesn't hesitate to help others when she can. She's deeply caring and a good friend.
5--What are three words that describe your protagonist?
Brave. Independent. Caring.
6--What's something you learned while writing this book?
I learned a lot about the process of being a 911 operator, which I've always thought would be an interesting profession. I found myself on 911 TikTok, listening to real life calls, which was both interesting and a bit terrifying.
7--Do you edit as you draft or wait until you are totally done?
I do a little of both. A lot of times I'll write until I get stumped or until my words stop flowing as easily. Then I'll go to the beginning of the story and start reading through and editing, trying to get a feel for what needs to happen next.
8--What's your favorite foodie indulgence?
Rice! I love rice so much, but it often puts me into a food coma after eating it so I don't indulge too often—at least not if I'm on a deadline. Jasmine rice is my favorite, but I'll eat any type.
9--Describe your writing space/office!
This answer is going to bore you, haha. My writing space is a comfy chair in a small crook in my house. I have a space heater and a heated blanket because I am chronically cold. It's a cozy space which is my main requirement when I'm writing.
10--Who is an author you admire?
I admire so many authors for so many reasons. If I had to choose one, I would choose Brenda Novak because she's not only an amazing author who writes in several genres, but she's also an amazing human. She supports other authors and highlights their work for her readers, and she also raises money and awareness for Type 1 Diabetes, which is a cause close to her heart.
11--Is there a book that changed your life?
All of Nicholas Sparks' early books were life changing for me. My desire to become an author really took off when I started reading books like A WALK TO REMEMBER and THE NOTEBOOK. I wanted to write stories that pulled heartstrings just like that. The fact that Nicholas lived an hour away from me also made me realize that my dream could come true no matter where I was. I think I had thought that a person had to live in a big city to be successful, which was just a misconception I had developed growing up.
12--Tell us about when you got "the call." (when you found out your book was going to be published)/Or, for indie authors, when you decided to self-publish.
My "call" was in 2014. I was pregnant with my third child and I had been preparing for most of that year to indie publish three books. I had already gotten them professionally edited and hired a cover artist. Then the "call" came that Random House was interested in one of my books for their Loveswept line. My agent asked me to put my indie publishing plans on hold while we prepared for a traditional debut—and I've been chasing deadlines ever since.
13--What's your favorite genre to read?
I love reading women's fiction and thrillers. I also love contemporary romance, of course.
14--What's your favorite movie?
While You Were Sleeping. I have probably watched this movie more than 20 times in my life and I never tire of seeing it. I love the comedy and the romance. I love the chemistry between Sandra Bullock and Bill Pullman too. It's such a sweet movie.
15--What is your favorite season?
Summer! I work in the school system which means I get the summers off. This is when I have plenty of writing time and I get to spend more time with my children. I live for the summers!
16--How do you like to celebrate your birthday?
I have a love hate relationship with my birthdays where I want to celebrate, but I also don't want anyone to make a fuss. Ideally, I just want to spend time with my family and enjoy a good meal together.
17--What's a recent tv show/movie/book/podcast you highly recommend?
I highly recommend Katherine Center's HOW TO WALK AWAY. I devoured that book. It was everything I want in a romance and the hero of that one just leapt off the page for me. This book is the one that put Katherine in my favorite authors category.
18--What's your favorite type of cuisine?
Asian food is my absolute favorite. I would eat it every night if my body wouldn't protest.
19--What do you do when you have free time?
Write! If I'm too tired to write, though, I love to binge watch different shows on Netflix or Amazon Prime.
20--What can readers expect from you next?
My first women's fiction novel releases this August! THROUGH THE SNOW GLOBE is a time loop story with a little bit of magic thrown in. I'm ridiculously excited about this book. It's different from what I've written to this point. My second women's fiction novel comes out next year and it also has that subtle magical element threaded into its storyline. Don't worry though. I'm still writing contemporary romance as well, so expect more of those in my future.
Somerset Lake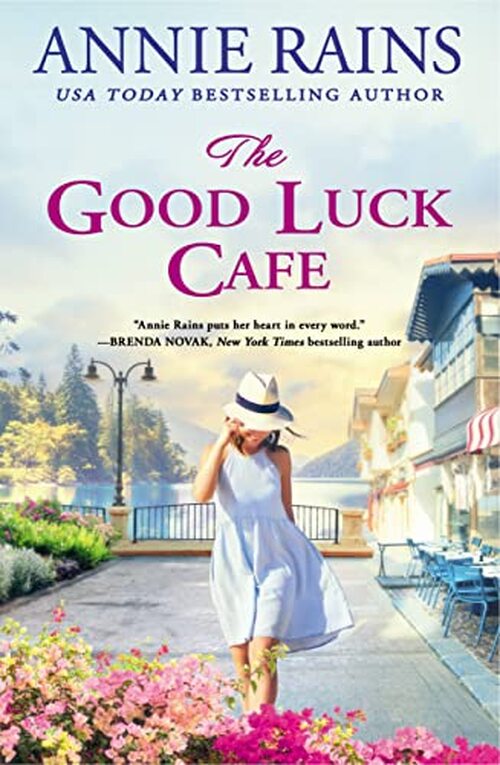 The Thursday night book club is back! USA Today bestselling author Annie Rains returns to Somerset Lake, North Carolina, with a heartwarming story that follows the book lovers as they band together to help Moira save her mother's cafe.
Moira Green is perfectly content with her life. She has a rewarding career and plenty of wonderful friends, including the members of her weekly book club. Then everything in her life goes topsy-turvy when the town council plans to demolish the site of her mother's beloved café to make room for much-needed parking. Moira is determined to save her mother's business, so she swallows her pride and asks Gil Ryan for help.
Moira and Somerset Lake's mayor were good friends once, the kind who could laugh at everything and nothing at all. Until one night changed everything between them. And now, with Gil supporting the council's plans, Moira is forced to find another way to save Sweetie's—and it involves campaigning against Gil. Going head-to-head in a battle of wills reveals more than either of them are ready for, and as the election heats up, so does their attraction. But without a compromise in sight, can these two be headed for anything but disaster?
Romance | Small Town [Grand Central Publishing, On Sale: March 14, 2023, Paperback / e-Book, ISBN: 9781538710081 / eISBN: 9781538710104]
Hope, Heart, & Happily Ever Afters!
Annie Rains is a USA Today bestselling contemporary romance author who writes small town love stories set in fictional places in her home state of North Carolina. When Annie isn't writing, she's living out her own happily ever after with her husband and three children.
No comments posted.