1--What is the title of your latest release?
2--What's the "elevator pitch" for your new book?
When two frenemy firefighters team up to compete in a reality game web show, the sizzling attraction they've ignored for years threatens to explode, putting the game and their future at risk.
3--How did you decide where your book was going to take place?
It's the third book in the Mile High Firefighter series (all books can be read as standalones) and set in Colorado like the others. I live in Colorado, so I love representing my home state in my stories.
4--Would you hang out with your heroine in real life?
Oh, heck yeah! Díaz is awesome and I would love to hang with her.
5--What are three words that describe your hero?
Funny, Sweet, Sexy.
6--What's something you learned while writing this book?
Most of the book is set at the edge of the Rocky Mountain National Park. I've been there dozens of times, but I learned a ton about the history and wildlife as I was researching for this book.
7--Do you edit as you draft or wait until you are totally done?
I fast draft and don't even look back to edit until I'm done. If I stopped to edit as I wrote, I'd never finish because I'd always want to make the previous words perfect before moving on.
8--What's your favorite foodie indulgence?
Oysters and crab legs! It's hard to be a seafood lover in a landlocked state.
9--Describe your writing space/office!
Recently we had some shifting in our house as a family member moved in with us, so I had to move out of my office. Now my desk is in the corner of our bedroom. Not ideal, but it's space I'm grateful for and now when I get those amazing ideas at 3 in the morning I can just roll out of bed and start typing! So much better than trying to figure out 3am chicken scratch handwriting, lol.
10--Who is an author you admire?
I can't pick just one! Talia Hibbert, Jamie Wesley, Avery Flynn, Cynthia Eden, Evie Mitchell, oh my I could go on forever, lol. There are so many amazing authors out there!
11--Is there a book that changed your life?
Frog and Toad Are Friends. It was the very first book I read on my own and I was so proud of myself. It started my love of reading.
12--Tell us about when you got "the call." (when you found out your book was going to be published)
With my first book, it was an email form the editor (I didn't have an agent at the time). It was amazing! Such a rush of happiness and accomplishment. Each time I get an email or call saying a book proposal has been accepted it's that same rush. Never goes away and I love it!
13--What's your favorite genre to read?
Romance, of course!
14--What's your favorite movie?
The Neverending Story. I have a Falkor and Auryn tattoo. My ebook cover is the book cover from the movie. I also have a replica Auryn and fan art…I might be a little obsessed, lol.
15--What is your favorite season?
Fall. Cozy sweaters, hot tea, pretty leaves, but no snow to shovel? Sign me up!
16--How do you like to celebrate your birthday?
Curled up in bed with romance novels and horror movies and not a single thing on my to-do list.
17--What's a recent tv show/movie/book/podcast you highly recommend?
TV show: Our Flag Means Death. Movie: Spirited. Book: Knot My Type. Podcast: Buzzing About Romance
18--What's your favorite type of cuisine?
Tie between Sushi and Italian.
19--What do you do when you have free time?
Read, watch movies, play tabletop games, aerials, infuse vodka.
20--What can readers expect from you next?
I'm part of the Happily Ever After Collective Patreon again this year and we have a fun line up of authors. I'll also be releasing some novella from past Pateron's and anthologies.
Mile High Firefighters #3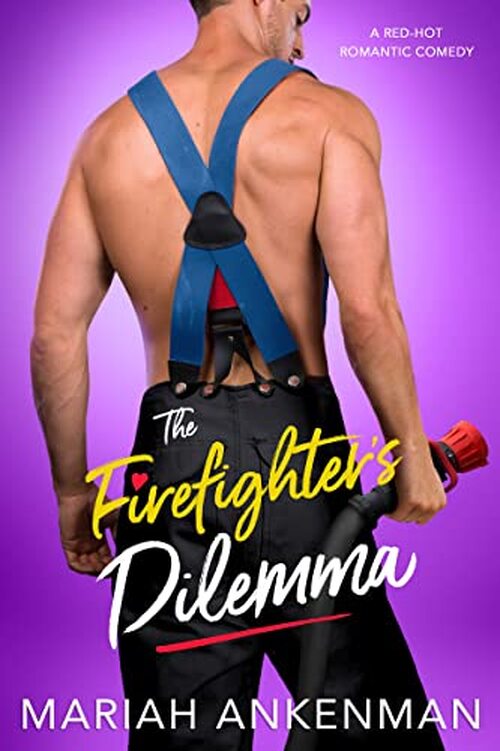 Firefighter Stephanie Díaz won't let anyone stop her from becoming the youngest female fire chief in Denver. Not the jerks who'd like to see an ambitious Latine woman admit defeat. Not the ultra-bro firefighters she has to work with. And definitely not her ridiculously hot and often infuriating, fellow firefighter Eli Ward. Now Stephanie has the chance to prove to everyone that she's got what it takes…but there's one helluva catch.

The Battle of the First Responders is a live, balls-out competition in the secluded Rockies and Stephanie has been selected—along with Ward as her partner. On the line are their reputations, a whole lot of cash…and the promotion they've been fighting for. Teaming up is the perfect chance to finally settle their never ending one-upmanship, but it also exposes the smoldering attraction they've held at bay.

Now their days are fueled by a high-stakes, adrenaline-fueled competition. Their nights are filled with sizzling deep kisses that steal her breath away. But this sexy little fling is about to set off a five-alarm blaze she can't control…
Romance Contemporary [Entangled: Amara, On Sale: February 27, 2023, e-Book, ISBN: 9781649372543 / eISBN: 9781649372543]
Bestselling author Mariah Ankenman lives in the beautiful Rocky Mountains with her two rambunctious daughters and loving husband who provides ample inspiration for her heart-stopping heroes.

Whether she's writing hometown heroes or sexy supernaturals, Mariah loves to lose herself in a world of words. Her favorite thing about writing is when she can make someone's day a little brighter with one of her books.
No comments posted.