We met over a dead body, it was definitely not a meet-cute.
– Kat from Too Wrong to be Right
Meet Awkward?
Meet Disaster?
Meet Catastrophe?
These are some of the expressions that come to mind when I think about how to describe the moment the two main characters in TOO WRONG TO BE RIGHT, my new release from St. Martin's Press, cross paths for the first time. It's the moment romantic comedies often refer to as the 'Meet Cute.' And I'm obsessed.
It's true. I can't get enough of them. I love meet cute stories so much I host an Instagram chat series, Mad About Meet Cutes, dedicated to talking to other romance authors about all things meet cute. I also teach a workshop called "Building a Meet Cute from the Inside Out," that deconstructs and examines the elements of this quintessential piece of storytelling. And of course, I gleefully plot the meet cutes in my own romance novels.
So how did my two romantic leads wind up meeting each other over a corpse? *Taps fingers like an evil mastermind* No, I wasn't channeling my inner Wednesday Addams, though I bet she could write some killer meet cutes. I was simply asking myself the not so simple question of what could these two people be doing that would bring them together in the same place, at the same time?
I started with my heroine, Kat. Since she'd appeared in my last book, TOO GOOD TO BE REAL, I already knew she worked as a florist. After breaking up with her boyfriend and inadvertently adopting said ex-boyfriend's hedgehog, all Kat wants to do is close up shop and hang out with her besties. (Is it really a rom-com if the story doesn't start with your main character having the most terrible, horrible, no good, very bad day?) But first she has to make a last-minute delivery.
This is where my wheels began to turn. I knew this delivery would be how my two main characters met, but what was it that Mick, my hero, did for a living? I closed my eyes and did that scrunched up thing with my face when I'm thinking really hard. And maybe I actually was channeling my inner Wednesday because in a rush of images, the idea came to me all at once, as if in a supernatural vision. I imagined Mick running his family's funeral home with his siblings, pictured him tugging at the dress clothes he was expected but hated to wear, heard him grumbling as he went to check on the casket for an upcoming service.
Of course, he's surprised to find someone standing over the body. Of course, it's Kat, doing her best to follow the flower delivery instructions. And of course, what happens next is awkward, cringey, and hilarious.
Some people may find the secondhand embarrassment to be too much, but personally I love when a meet cute comes with a side of humility. Not because I want to torture my characters (okay, maybe I do…a little), but because these moments of awkwardness make our characters vulnerable. We get to see them with their guard down, watch how they handle themselves in unfortunate situations, and learn a bit about what makes them tick in the process. Bingo. Is it any wonder why I love meet cutes so much?
But now that I'd set up this bizarre situation, I was stuck making it part of the story. Which meant I had a romance hero who worked in a funeral home. This led to some unexpected and fascinating research into the evolving funerary business. I learned a lot about conservation-friendly green burial options. Did you know actor Luke Perry was buried in a mushroom suit? I also dug into the process of opening a bar in a funeral parlor and learned about local Chicago businesses doing exactly the kind of thing I was writing about in my book! Sometimes, the truth really is stranger than fiction.
Perhaps you're wondering how these macabre elements mix with the romance. Well, as an early reviewer on NetGalley said, "You know a book is great when you drive past a funeral home in real life and for a split-second wonder if you could find love inside!"
A swoony, slow-burn rom-com, Melonie Johnson's Too Wrong to Be Right features a true romantic on a mission to find her happily ever after.
After her latest jerk of a boyfriend dumps her (and ditches her with his pet hedgehog), florist Kat Kowalski is done chasing after Mr. Wrong. With her two best friends moving on to more serious relationships, she's ready to stop repeating the same mistakes that are leaving her stuck in the single lane. Armed with a list of qualities for her perfect Mr. Right, Kat swears off dating until she finds him.
Then in a meet-disaster involving a corpse and a salty cockatoo, she stumbles across Mick O'Sullivan at his family's funeral home. Their immediate chemistry warns Kat to keep things platonic; after all, following her heart never worked out in the past, and this time she's determined to listen to her head. But can Kat and Mick be just friends? As she gets to know him better, the lines blur, and Kat starts to wonder if she's gotten it wrong and Mick is exactly who she's been looking for...
Romance Comedy [St. Martin's Griffin, On Sale: February 28, 2023, Trade Paperback / e-Book, ISBN: 9781250768827 / eISBN: 9781250768834]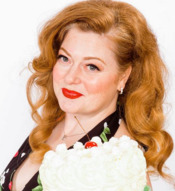 USA Today bestselling author Melonie Johnson—aka #thewritinglush—enjoys sipping cocktails that start with the letter m. Declared a "writer to watch" by Kirkus and a "fizzy, engrossing new voice" by Entertainment Weekly, her smart funny contemporary romances include the romantic comedies Too Wrong to be Right and Too Good to Be Real, both featured as most anticipated romances by Buzzfeed and Goodreads, and her award-winning Sometimes in Love debut series: Getting Hot with the Scot, Smitten by the Brit, and Once Upon a Bad Boy. She lives in Chicagoland with her husband and their two redhead daughters. A former high school English and Theatre teacher, Melonie now spends her days in her Star Wars office, dreaming up meet cutes.
No comments posted.