1--What is the title of your latest release?
2--What's the "elevator pitch" for your new book?
My latest release is called "Kiss Me, My Duke" and is about a young housekeeper with a mysterious past who decidedly has no plans to kiss her arrogant employer-duke, but somehow winds up traveling with said handsome duke to London to search for a missing family member…and eventually doing a little kissing. Or, if that doesn't grab you, here's the tagline: Before she was his servant, she had another name...and all of London swooning at her feet.
3--How did you decide where your book was going to take place?
I write Regency historical romances and most of the books in that genre are set in London–often during the Season, like in Bridgerton. Because I am willful and stubborn, I try to avoid London and have only set a couple of books there. But this book demanded a London setting, so my hero and heroine travel from a country townhouse straight to the Big City and visit some delightfully dangerous locales as part of their adventures. (They may even face down a lioness, but I'm not telling.)
4--Would you hang out with your heroine in real life?
My heroines are all unique, but they can be grouped by personality type. Some are prickly, some are sunshiney, some are serene. I love them all, but the serene ones are the ones I can personally relate to the least. Laurel from Kiss Me, My Duke is more of the practical and slightly prickly type, so yes, we would definitely get along well!
5--What are three words that describe your hero?
Well, "tall, dark, and handsome" fits but is such a cliche… So I'll cheat and go with arrogant, masterful, and stubborn.
6--What's something you learned while writing this book?
How did you know I was dying to tell someone that the Tower of London used to have a menagerie full of exotic animals that had been gifted to the English royalty, including a polar bear at one point? It was given to Henry III in 1252 and was even allowed to fish in the River Thames, though with a muzzle and a chain.
7--Do you edit as you draft or wait until you are totally done?
I usually edit as I go. Especially since I lie in bed at night thinking of errors I've made…
8--What's your favorite foodie indulgence?
Oh, you mean plain cheese pizza like Kevin in Home Alone? We have two kids under five so I would call us the opposite of "foodies" at this stage in our life. Though we do eat the occasional sushi!
9--Describe your writing space/office!
I have three options, including one that a cozy little room that looks onto our river-side back yard, but for some reason usually wind up working while sitting in my bed!
10--Who is an author you admire?
I would say my writing style leans towards humor with a lot of adventure and spice thrown in, but sometimes I wish I could write like the Queen of Regency, Mary Balogh. She is pure class. She makes you truly feel immersed. And lastly, she infuses her books with a quiet wisdom. I am constantly wishing to be wise!
11--Is there a book that changed your life?
So many! A Tree Grows in Brooklyn and the Harry Potter series to start.
12--Tell us about when you got "the call." (when you found out your book was going to be published)
February 14, 2022 I was asked to join Wolf Publishing! It was a great Valentine's Day surprise! (I actually started off self-published and now am "hybrid" – a combo of both.)
13--What's your favorite genre to read?
Fantasy and science fiction! Historical romance for a comfort read. (The book still stuck in my brain right now is Seveneves by Neal Stephenson.)
14--What's your favorite movie?
I watch more TV than movies these days and the show I'm currently indulging in is Billions with the amazing Damian Lewis (ok, Paul Giamatti is great, too). Short summary: nemeses on Wall Street.
15--What is your favorite season?
Any season that is not winter! Which is kind of funny because I lived in the Arctic for years as a teacher. But the older I get, the more I appreciate sunlight and going to the beach with my kiddos.
16--How do you like to celebrate your birthday?
Okay, now that I have small children, I am so done with adult birthdays! Kid birthdays have themes! And party games! And loot bags!
17--What's a recent tv show/movie/book/podcast you highly recommend?
The Peripheral (on Amazon Prime, based on the books by William Gibson) or Gentleman Jack (AppleTV, period drama).
18--What's your favorite type of cuisine?
Well, I was going to say Chinese, but now am hungry and craving Thai… So let's go with that! Yellow potato curry please! Low spice because I am a wimp.
19--What do you do when you have free time?
I love RPG video games but have to be careful because I get very easily sucked in and they can take up a lot of time. In fact, when I made myself quit playing them, I wrote six books in a year (2021) which just goes to show how much time I was using gaming. But it's wintertime so I have been indulging a little. Right now, I'm playing the second game in the Horizon Zero Dawn series–a series which is proof to me that video games can be as well-written as books.
20--What can readers expect from you next?
Kiss Me, My Duke is actually part of a series which follows two families (both alike in dignity) of siblings as they find love and happiness. This is Book 2 and tells the story of the eldest brother of one family and the eldest sister of the other. In Book 3, we'll be following Marigold Spencer, the younger sister, as she encounters an infuriating rogue who literally falls bleeding into her bed one night!
In this simmering steamy Regency romance by USA Today bestselling author Fenna Edgewood, a handsome but arrogant duke and a prim young housekeeper join forces in a dangerous endeavour… only to find out that falling in love will be the greatest risk of all.
Lost: One duke's sister. Found: The unexpected love of a lifetime.
Edmund "Dare" Blakeley, the Duke of Dareford, is on a mission to find his younger sister who has been ruthlessly abducted. The only problem? He needs the help of his housekeeper to do it.
Before she was his servant, she had another name… and all of London swooning at her feet.
Miss Laurel Spencer has no wish to cavort with a duke–even if he is her brother-in-law. In her younger days, she saw how love can utterly destroy a woman.
But when the duke's younger sister and Laurel's elder brother go missing, she reluctantly agrees to accompany Dare to London to search for them.
As Laurel calls upon old friends in low places, including the most notorious gaming hell in London, her past begins to resurrect itself. Soon Dare is forced to realize how little he knows about the enigmatic woman by his side... and how desperate he is to uncover everything he can about her.
One reckless moment of passion...
Suddenly, a missing sister is the least of Dare's worries. After a wild night in Laurel's bed, his happiness hinges on proving his love is sincere... to a woman terrified of ever risking her heart, even if it means becoming his duchess.
As the Blakeley family mysteries are uncovered, not everyone is glad to see the truth coming to light… and one man will do anything to see that it stays buried.
Romance Historical [WOLF Publishing, On Sale: January 3, 2023, e-Book, ISBN: 9783985361373 / ]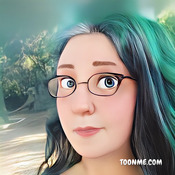 Fenna Edgewood writes swoon-worthy humorous stories of love, family, and adventure. In other words, the most important things in life! She is an award-winning retired academic who has studied English literature for most of her life. After a twenty-five-year hiatus from writing romance as a twelve-year-old, she has returned to the genre with a bang. Fenna lives above the Arctic Circle with her husband and two tiny tots (who are adorable but generally terrible research assistants).
No comments posted.