1--What is the title of your latest release?
DRAKE, A Pittsburgh Titans Novel
2--What's the "elevator pitch" for your new book?
Drake McGinn is an embattled hockey goalie and single dad to three boys. Having walked away from the game after allegations by his ex-wife caused the league to turn their backs on him, Drake never had any intention of returning to the ice. But Brienne Norcross, team owner of the Pittsburgh Titans, made him an offer he couldn't refuse. Now Drake and Brienne are playing a game of their own—one that involves secret hookups and midnight rendezvous. This dirty talking dad and ball-busting billionaire are about to take Pittsburgh by storm.
3--How did you decide where your book was going to take place?
Drake is the fifth book in my Pittsburgh Titans hockey series so all the books are set there. But I chose Pittsburgh because I love that city so much. It has a rich history in sports and a lot of my family is from Western Pennsylvania, so I liked the nostalgia of it.
4--Would you hang out with your heroine in real life?
I love my heroine, Brienne Norcross, but alas… she's so damn busy with her career of running a multi-billion-dollar company and owning the Pittsburgh Titans, she'd never have time to just hang out. If she made the time, I'd totally be there. She's very genuine despite being a powerhouse of a woman and she just needs some girl friends to hang with.
5--What are three words that describe your hero?
Alpha, Sexy, Brooding
6--What's something you learned while writing this book?
I learned a bunch of boring stuff about what CEOs of billion-dollar companies do. Luckily, I didn't put a lot of it in the book.
7--Do you edit as you draft or wait until you are totally done?
I wait until I'm totally done. I don't plot but have a general idea where the story is going. I sort of word vomit out everything and don't edit/ polish until I have the entire story finished.
8--What's your favorite foodie indulgence?
Hmmmm…. Cake. Preferably chocolate but any type really.
9--Describe your writing space/office!
My office is in the basement, and I have a beautiful view out my window of the lake I live on. But I also write in my living room in a cozy chair with my feet kicked up on an ottoman.
10--Who is an author you admire?
Nora Roberts. She's such a role model for any romance author.
11--Is there a book that changed your life?
In a roundabout way, Prisoner of My Desire by Johanna Lindsey. It was the very first romance book I read and I was in my mid-twenties, I think. I was reading thrillers and horror at that time. At any rate, it hooked me on romance. I went from historical romance to paranormal romance to writing my own romance. That led me to leaving a sixteen-year career as a lawyer to become a full-time writer.
12- Can Drake be found in audio format?
Answer: Drake is in audio and was narrated by the amazing Aiden Snow and Maxine Mitchell. Here's a tiny snippet of the gorgeous, baritone notes of Aiden Snow. Warning: NSFW https://on.soundcloud.com/F833H
13--What's your favorite genre to read?
Thriller / Horror (Dean Koontz is my favorite author)
14--What's your favorite movie?
Thor: Ragnarok. I saw it in the theater six times and probably a bazillion times at home after that.
15--What is your favorite season?
Fall. Crisp air, falling leaves and football!!!!
16--How do you like to celebrate your birthday?
I'm a very low-key celebrator. Just my immediate family for a meal and some cake. No presents!!!
17--What's a recent tv show/movie/book/podcast you highly recommend?
Wednesday on Netflix. I can't believe how good it was. Jenna Ortega is an amazing actress but honestly, Thing steals the show.
18--What's your favorite type of cuisine?
That's a hard one as I like so many different types of foods and ethic cuisines. I only have one thing I dislike and that's licorice. Past that, I'll eat and try anything. If I had to absolutely pick my favorite, I love calabash fried seafood as I grew up on the North Carolina coast and that's like a staple! Specifically, fried oysters (although I like raw and steamed too).
19--What do you do when you have free time?
I don't have much free time between writing and being a single mom. It's usually maybe an hour at night where I can watch a bit of TV before falling asleep. I like watching series I've already seen before so I can fall sleep and not be too hooked on what I'm watching. I'm currently re-watching Arrow.
20--What can readers expect from you next?
2023 is going to bring 5 Pittsburgh Titans releases (Drake, Cannon, Hendrix, Bain and Camden) and 3 Chronicles of the Stone Veil releases—The Ruin of Gods, The Riven Thief and The Crimson King--which is my fantasy romance series.
Pittsburgh Titans #5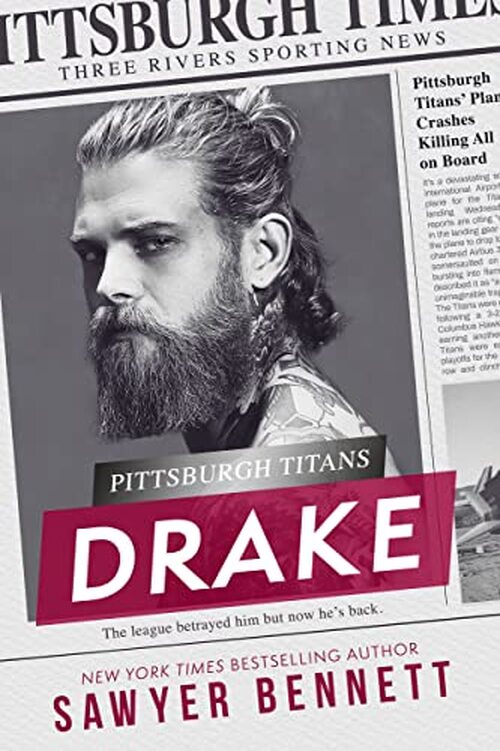 Drake McGinn turned his back on hockey after the league betrayed him. Will the Titans be his chance to clear his name and take back the career he once loved?

After I made the decision to divorce, my ex-wife set out on a smear campaign against me, telling anyone who would listen that I was betting on hockey and throwing games. It wasn't surprising that my ex told the lies, but the fact that the media, league, and fans chose to believe her baseless claims was unforgivable. I walked away from it all and never looked back.

Having settled into life as a single dad to three boys, I'm content. I have more money than I could ever need, and plenty of time to do whatever I want, whenever I want, and whoever I want. So when Brienne Norcross, the team owner for the Pittsburgh Titans, shows up at my house with a job offer, I have no problem turning her down. But the no-nonsense billionaire, with sinfully seductive red lips and killer heels that would look hot as hell thrown over my shoulders, won't take "no" for an answer.

Now I need to find balance between hockey, my boys, and the explosive chemistry Brienne and I can no longer deny. A cast-off hockey player and the league's only female team owner? I can think of a million reasons why it could never work but can't bring myself to care about a single one of them. Game on.
Romance Sports | Romance Contemporary [Big Dog Books, LLC, On Sale: January 3, 2023, e-Book, ISBN: 9798833897645 / eISBN: 9798833897645]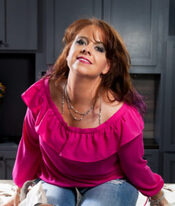 New York Times and USA Today Bestselling Author, Sawyer Bennett is a snarky southern woman and reformed trial lawyer who decided to finally start putting on paper all of the stories that were floating in her head. Her husband works for a Fortune 100 company which lets him fly all over the world while she stays at home with their daughter and three big, furry dogs who hog the bed. Sawyer would like to report she doesn't have many weaknesses but can be bribed with a nominal amount of milk chocolate.
No comments posted.