Excerpt from NEVER RESCUE A ROGUE by Virginia Heath. Copyright © 2022 by the author and reprinted by permission of St. Martin's Publishing Group.
"What about you Diana? Did you miss me too?"
I-I…" As she floundered at his unexpected and forthright question, Diana almost—almost—confessed the unpalatable truth. That not only had she missed him, but not a day had gone past that she hadn't worried about his welfare or recalled his kiss. Fortunately, a sound behind them saved her from herself. She grabbed his sleeve and yanked him behind the topiary then pressed a finger to her lips. "Shhhh!"
"We are hiding now because…?" Giles mimicked her covert stance despite being bewildered by it.
"Because I just overheard Lady Pamela Beckett and Lieutenant Rory Fitzherbert arrange to meet out here." Admitting she was working was better than admitting she cared about him.
"That is hardly worthy gossip Diana, let alone anything scandalous enough for The Tribune, when everyone knows Rory Fitzherbert has been head over heels in love with that girl for the last year."
"Or so we all thought— but while you were gone, Lady Pamela became engaged to Lord Stifford. They are due to marry tomorrow—on Christmas morning." An unlikely and hasty turn of events which not even Diana had foreseen.
He frowned perplexed. "Why on earth is she marrying him?" Why did Giles always smell so…alluring, drat him? And why did his whispered, deep voice still send distracting shivers down her spine when she was determined to double her efforts not to be distracted by him? "Stifford's an odious little oik who I am convinced wears a corset under his coat as I am sure I have heard it creak a time or too when we've played billiards. He cheats at that too, which is another reason I don't like him."
"That's as maybe but he is her choice and clearly the lieutenant is unhappy with it because he was fuming when I heard him, and demanded she meet him outside immediately to discuss it." It had been a nasty, hissed conversation as he had accosted her outside the retiring room. Diana hadn't heard the actual words, but the tone raised all her blood-hound's hackles. "He made her cry Giles."
"So you are here more to protect Lady Pamela than write a story, aren't you?" She was. She had been that frightened woman in the presence of a bigger, stronger man but her upbringing in a very different sort of environment to Mayfair meant she knew how to fight back. The genteel Lady Pamela wouldn't have a clue.
Giles studied her with interest. "I am starting to think that my Goddess of the Hunt is as much a rescuer as she is a kicker of hornets." He prodded her arm as if she were a strange, mystery substance rather than a woman. "I also suspect there lurks a soft center beneath your hard as nails exterior too. That you are more a rose cream than a nut brittle." He peered at her face, his mere inches from hers thanks to the limited space behind the Buxus, and her stupid pulse ratcheted up beneath his gaze. "How do you plead?"
She didn't deny it. "She was crying Giles. Frightened. I couldn't ignore that."
"Why on earth would she be frightened of Rory? I've known him for years and he wouldn't hurt a fly, let alone the woman he adores." As two male boots approached, Diana pressed her finger to her mouth again and glared before she mouthed 'Be quiet!'. The feet did not stop at the edge of the terrace but instead jogged down the steps into the garden and disappeared down the path.
When her companion failed to see the urgency of the situation she tugged at his sleeve. "We need to keep an eye on them Giles. For her sake."
"We really don't." He regarded her with exasperation tinged with pity. "And I should just like that noted now for the record so you will be in doubt that you are wrong once this fool's errand is over. Mark my words, they are having a final tryst before she marries her creaking, corset-wearing cheat in the morning."
"Remind me again—which of us uncovers the truth that nobody else can find and which of us cannot even organize his own paperwork?" She glared down her nose for good measure to let him know she thought him and idiot, wishing the mention of the paperwork in Shropshire didn't remind her of the kiss they had shared there.
Clearly amused by her suspicions, he gestured for her to lead the way, so hunched like thieves, they went in the same direction of the boots, taking a convoluted route to avoid on the path where her prey might see them. He followed her lead as they darted from hiding place to hiding place, chuckling softly as they crouched behind the assorted flower beds and shrubberies as if their mission were ridiculous, until they spied Lieutenant Fitzherbert pacing to the left of a small, ivy-covered pergola which resembled a bird cage.
Diana motioned for him to crouch down further, mouthed 'over there' as she pointed to a solitary clump of bushes butting the right side of the pergola.
Giles shook his head. "It's too exposed and much too close. We'll be stuck there for the duration which likely won't be wise if they are having a tryst."
"We need to be close else we won't hear anything useful."
"What the blazes do we need to hear? If they are having a tryst—which they are by the way—we certainly don't want to hear that!"
"He made her cry Giles! If he has dragged her out here to continue his onslaught, or worse tries to attempt bully her into changing her mind, we shall need to hear it to know when to step in!"
As Rory turned his back to stare at the sky, Diana darted across the twenty feet of open lawn before he could stop her. Giles followed and threw himself behind the bush too before the fellow suddenly turned and resumed his pacing—this time right in front of the pergola and completely blocking their exit just as he had cautioned.
While Diana pressed her nose against the leaves to watch, Giles nudged her with his elbow. "Do you do this sort of thing often?" He was squatted on the soggy grass and trying to huddle as best he could in the insubstantial fabric of his evening coat. "Because freezing to death in a Mayfair back garden isn't my idea of fun way to celebrate Christmas Eve."
Virginia Heath's Never Rescue a Rogue, the next book in the Merriwell Sisters series, is filled with whip-smart banter, swoony romance, hilarious mishaps, and twisty reveals that will make you gasp and laugh in delight.
Diana Merriwell and Giles Sinclair only tolerate one another for the sake of their nearest and dearest. Everyone believes that the two of them are meant to be together, but Diana and Giles know that their constant pithy barbs come from a shared disdain—not a hidden attraction. Diana loves the freedom of working at the newspaper too much to give it up for marriage, and Giles is happily married to his bachelor lifestyle. But they do have one thing in common—the secrets they can't risk escaping.
When Giles' father, the curmudgeonly Duke of Harpenden unexpectedly turns up his toes, it's only a matter of time before someone comes crawling out of the woodwork who knows the true circumstances of his only son's birth. As the threat of blackmail becomes real, Giles must uncover the truth of his parentage first, or else he and all those who depend upon him will be ruined—and dogged bloodhound Diana is his best hope at sniffing out the truth. As Giles and Diana dive into his family's past, the attraction that the two of them insisted wasn't there proves impossible to ignore. Soon, the future of the Sinclair estate isn't the only thing on the line…
Romance Historical [St. Martin's Griffin, On Sale: November 8, 2022, Trade Paperback / e-Book, ISBN: 9781250787781 / eISBN: 9781250787798]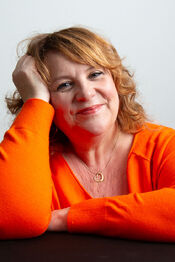 When Virginia Heath was a little girl it took her ages to fall asleep, so she made up stories in her head to help pass the time while she was staring at the ceiling. As she got older, the stories became more complicated, sometimes taking weeks to get to the happy ending. Then one day, she decided to embrace the insomnia and start writing them down. Fortunately, the lovely people at Harlequin took pity on her and decided to publish her romances, but it still takes her forever to fall asleep.
1 comment posted.