THE MATCHMAKER AND THE COWBOY Copyright © 2022 Robin Bielman, Excerpt with Permission from Entangled
"In the quiet of the bunkhouse, he heard her sigh. He didn't give false compliments and always meant everything he said. God, he wished she were close enough to touch. To run his fingers through her hair. To press his lips to hers and learn how she liked to be kissed. Stop going there, Hunter.
"What's your least favorite food?" she asked, roping them back into superficial territory.
"Don't have one. I pretty much like everything. If it's put in front of me, I'll eat it. Yours?"
"Peppers. I don't even like them on my plate."
"Peppers everywhere are mourning the plea­sure of your mouth." Jesus, did he just say that? Apparently, he still bumbled his words around her. "Do you want to go back to Africa some day?" he rushed to ask, the question the first thing to pop into his head. "Or someplace else?"
"If given the opportunity, I'd love to. I know Maverick loves to travel; do you?" she asked.
"It's not in my blood like it is in his, but seeing other parts of the world would be great. Especially with the right person."
"Well, she could be just around the wedding cor­ner."
"I've no doubt." With Callie's magic touch and Bella's phone number in his phone, he was out of the gate. Kennedy's medical assistant had been sweet to text him to see how he was feeling, and they'd struck up a conversation that ended with some flirting. Plus… "I refuse to be the first person to break your streak."
"So, you're a 'take one for the team' kind of guy."
"Yeah." For her, he'd do anything. "Growing up, I took one numerous times for my brothers to get them out of trouble. Being the baby boy, my parents allowed me to get away with more than they'd ever allowed Cole or Maverick. And being that I always wanted my brothers to think I was cool, I didn't mind."
"Not to mention the times you bailed Nova out of trouble."
"That was different. I'll protect her until my last breath."
"She's lucky to have you."
You could have me, too.
"All three of you," Callie continued. "My sister looked out for me in her own way, but she never took any blame for me, that's for sure. Okay, impor­tant question, would you wait for me to watch the next episode of a TV show we started together?"
He loved that she said, "me" and "we." "How long do I have to wait?"
"That's irrelevant. It's a show we both love."
"Then it's a no-brainer. Of course I would wait. It sounds like you're asking from experience. Who is he and what streaming service do I need to hack into and cancel?"
She laughed. He rolled to his side so he faced her direction and wished he could see through the barn door. Her reading light, still on, gave a tiny bit of il­lumination.
"Sadly, it's happened more than once."
"Those guys were boneheads."
"Selfish boneheads," she amended.
"Dumbass selfish boneheads," he continued on her behalf. He hated that those guys had helped build the wall around her heart.
She turned off the light, and the sound of rustling met his ears. "Who was your first kiss?" she asked curiously.
Now they were talking. For the first time ever, she was asking an intimate question. "Natalie Shoemaker. We were thirteen, and as far as first kisses go, it was good."
Callie let out a breath like she'd been holding it. "She was best friends with Brooke."
"You sound relieved. Did you think because we were in the same grade it was your sister?" He rolled over onto his back as he tried not to laugh. He and Brooke never clicked, even as friends.
"Maybe."
"The first time I met your sister was when the two of you came to the ranch for a riding lesson. By then, I'd kissed a few girls." None he'd wanted to kiss more than Callie at first sight. "Who was yours?"
"Ashton Weeks. I was older than you were."
"How old?"
"Seventeen, almost eighteen."
"You dated him for a while, right?" he asked nonchalantly. In reality, he'd called the guy Asston Reeks (not to his face, of course) because he hated the guy on the spot. He'd really hated the guy when he'd failed to attend Nova and Callie's graduation party and he'd seen how upset it made Callie. Come to think of it, her parents had failed to attend that night, too, so that probably played into her sadness as well.
"Right." She yawned, the sound easy to decipher in the warm, quiet confines of his home.
"Last question," he said. "If you knew the world was going to end in a week, what would you do?"
"I don't know."
"Come on. You have to pick something."
"Be with my family and friends. Sail to Catalina. And sew something outrageous to wear to Disney­land."
"For someone who didn't know a second ago, those are pretty specific. I like it."
"Now it's your turn."
He'd confess to her about his long-time crush. "I'd be with my family for sure. Ride Rebel repeat­edly. And eat burgers and fries for breakfast, lunch, and dinner."
"Mmm. I could do that, too."
"Let's do it tomorrow," he suggested.
"I think that could be arranged. As long as you feel up to it."
She had a point, given he'd not been hungry at all this evening. He'd only downed a small cup of chicken noodle soup to follow the "take with food" instructions on his medication. Given the chance to spend more time with her, though? He'd be up for it, no matter how he felt."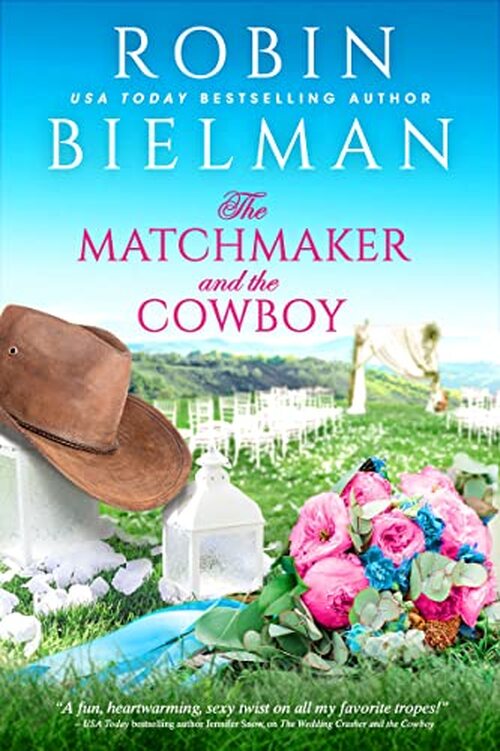 Callie Carmichael has a gift for making bridesmaid dresses—some even call them magical. Somehow, every person who's worn one of her dresses has found love. Real love. And as long as that happily-ever-after is for someone else, Callie is happy. Because she's fully over getting her heart broken…which is why her new roommate is definitely going to be a problem.
After being overseas for six months, Callie's only choice is to stay with her best friend's ridiculously hot brother, Hunter Owens. Cowboy, troublemaker, and right now, the town's most coveted bachelor. Only, Hunter isn't quite the player she thought. And if it weren't for her whole "no more love" thing, their setup could get confusing really fast.
Now, Hunter wants Callie to make him a best man suit—a "lucky for love" kind of suit. But what happens if she makes the suit and he finds true love…and it isn't her?
Romance Contemporary | Romance Comedy [Entangled: Amara, On Sale: October 25, 2022, Mass Market Paperback / e-Book, ISBN: 9781649372789 / eISBN: 9781649372963]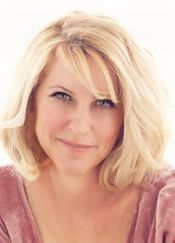 USA Today bestselling author Robin Bielman lives in Southern California with her awesome family and her very cute dog, Harry. She writes both sweet and sexy contemporary romances with one goal in mind: to leave you with a smile on your face. When not attached to her laptop, she loves to read, go to the beach, and frequent coffee shops. She loves to stay in touch. Visit her at robinbielman.com or on Instagram: @robin_bielman. xoxo
No comments posted.