1--What is the title of your latest release?
2--What's the "elevator pitch" for your new book?
Overboard meets Elf in this humorous, heartwarming holiday rom-com!
3--How did you decide where your book was going to take place?
Alaska is the setting for this new Wild Coast series, and it was the perfect place to set a cozy, Christmas themed romance-lots of snowy mountains and warm fireplaces.
4--Would you hang out with your heroine in real life?
I'm not sure lol…She's a daredevil, adventure seeker so I'm not sure she'd want to hang out with ME! I'm a little more like the hero in this story lol.
5--What are three words that describe your hero?
Hot, protective, and determined
6--What's something you learned while writing this book?
Researching aspects of the U.S. Coast Guard has been a big part of writing this series. With this book, learning about the elite team of rescue swimmers and the intense training they endure was really fascinating to me. Definitely increases the hotness rating for the hero of this story.
7--Do you edit as you draft or wait until you are totally done?
My process is a bit of a nightmare! I am not a plotter (though screenwriting has taught me the value of a great outline, so I'm applying it more to my novels these days), so I tend to fast draft the first draft of the novel, then go back and re-order the scenes, layer in more character development and description and weave subplots together. So, I'm a "write first, edit later" type of author. If I had to go back every day and edit what I wrote the day before, I'd never finish anything lol.
8--What's your favorite foodie indulgence?
I like anything carbs lol! And I blame it on my need to have creative fuel. When I'm trying to go carb-free, I'm too grumpy or in a head fog to write lol.
9--Describe your writing space/office!
I used to have a designated office when I lived in Canada, but now in Spain, I write wherever the wind takes me- the beach, the water park, poolside at home, in my den…Have laptop, will travel.
10--Who is an author you admire?
Debbie Macomber. She was the first romance author I read and she continues to be my go-to for all Christmas romance needs lol.
11--Is there a book that changed your life?
Malibu Summer-a Sweet Valley High Special Edition that I found second hand at a yard sale when I was a teen. It was my first introduction to romance, and I fell in love with stories about falling in love. I started writing my first romance that summer.
12--Tell us about when you got "the call." (when you found out your book was going to be published)
My first 'call' was back in 2012 from Victoria Curran at Harlequin to contract what became my small-town contemporary Brookhollow series. My agent had submitted my book, The Trouble with Mistletoe, three weeks before, so I never expected to hear so quickly. I was shopping when the call came in. I missed it, but it turned out even better as she left a voicemail that I could listen to over and over!! I did call her back and we had a great call, but that voicemail remained in my mailbox for a long time lol.
13--What's your favorite genre to read?
I love romance and thrillers. I also read a lot of non-fiction-biographies, etc.
14--What's your favorite movie?
While You Were Sleeping- it's perfection! But a very close second is The Family Stone.
15--What is your favorite season?
I love warm weather, that's why I moved to Spain, but my favorite season is fall-the changing of the leaves, the cooler days, the fashion…I do miss fall living in Spain, but I don't miss the inevitable Canadian winters that follow.
16--How do you like to celebrate your birthday?
I call it my birthday month lol. Starting March 1st to 22nd, my husband will do small, cute things for me every morning! I'm spoiled.
17--What's a recent tv show/movie/book/podcast you highly recommend?
I'm really enjoying the Resident Alien series. I love the storytelling, the fun dialogue, and the diverse cast.
18--What's your favorite type of cuisine?
Mexican food is the best! But I also love Chinese food and Italian.
19--What do you do when you have free time?
Write, lol. But as I noted, I can do it anywhere, so I tend to mix work with pleasure a lot.
20--What can readers expect from you next?
I have several more instalments in this Wild Coast series, and I'm hoping to announce a new spin-off series next year! On the film side, readers can catch two new holiday rom-coms this series-Christmas in Maple Hills and Christmas Lucky Charm (based on my novel, A Lot Like Christmas)
Can a hometown Christmas bring together these two polar opposites?
After traveling to all corners of the globe, Isla Wakefield has returned home to celebrate Christmas with her adoptive family. The gorgeous Alaskan wilderness is the perfect place to recharge before moving on to her next adventure—whatever that may be. Too bad that being home means once more butting heads with Chief Petty Officer Aaron Segura, Port Serenity's resident buzzkill.
Isla's fearless spirit has always infuriated Aaron—but fascinated him, too. Having lost his sister years ago, he's never understood how some people can live so recklessly. But after a terrifying ice-climbing accident leaves Isla with amnesia, she and Aaron both see each other in a brand-new light. Forgetting the pain of her past makes Isla fearless in a completely different way. She's not afraid to show Aaron exactly how she feels, yet he can't help but wonder…will this temporary change of mind lead to a permanent change of heart?
Bonus Novella
In Love in the Forecast, meteorologist Monica Mallard signs up for Port Serenity's annual navigation contest as a distraction from recent heartbreak. But when she's paired with silver fox Captain Keith Beaumont, Monica finds the second chance she never could have predicted.
Romance Holiday [HQN, On Sale: October 25, 2022, Mass Market Paperback / e-Book, ISBN: 9781335448637 / eISBN: 9780369719270]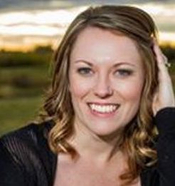 Jennifer Snow is an award-winning, USA Today bestselling author of more than thirty-five romance and thriller novels. Publishing with Entangled, Grand Central, Harlequin, Berkley, and Thomas & Mercer, she has more than ten years of experience crafting stories that connect with readers worldwide. Her books have been translated into five different languages and have been optioned for film and television. Jennifer is the writer of the Mistletoe series of screenplays and is known for her romantic comedies and female-driven dramas for TV and film. She lives in Torrevieja, Spain, with her husband and son.
No comments posted.