IMPERFECT ANGEL Copyright © 2022 Christi Barth Excerpt with Permission from Entangled
"A sob caught in the back of her throat. Tears slowly rolled down her face.
Hellfire. Weren't women supposed to like honesty? His intent was to make her feel better. How'd it backfire so massively?
"What'd I say?"
"Everything." She hitched in a ragged breath. Then another. "You got everything across. Which is why I'm crying. Why I've been crying. I'm terrified."
"I'm glued to your side now. Nothing gets past me. You don't need to be scared of dying." It was a slight exaggeration. Reassurance, though, seemed the obvious, necessary remedy right now.
Was he going to have to hug her after all, to get her to calm down?
"Not of dying. Well, of course that's terrifying, but I'm crying because it's too much to take in. How can the fate of the world rest on my shoulders?"
Rhys was genuinely confused. He'd explained it. "Because your uncle chose you as his successor."
"Not the logistics of it. Which, yes, weird enough that a few drops of blood and DNA kicked this whole thing into gear." Maisy thudded her fist against her chest. "I'm nothing special. I dabbled at being an artist, but I'm not good enough, not special enough to be one. I can't even draw—well, there are basics I can't do. I was a good teacher but not good enough to convince the school board that my lessons had lasting impact on my students. Not enough to keep them from cutting the program and laying me off."
Rhys remembered the news coverage. "That's all about budget numbers. Not your ability. Cutbacks. Bottom lines."
"I'm certainly not wholly good as a person. I cheated on my calculus final in eleventh grade." She wrapped the sheet around her fists. Looked down at them. "I ghosted a guy last year who had a horribly small penis."
"Sounds justifiable." There were enough men in the world that she shouldn't have to settle.
Her head snapped up. "Don't you see? I'm not worthy. I don't want to let the world down. I don't want people to suffer, to die horrible deaths, because I wasn't good enough or strong enough to prevent it."
His leg thudded back to the floor.
Rhys had traveled the world, encountered every imaginable evil, many times over. He'd seen good people, so-so, and toxic sucking horror shows of people. After all these decades, nobody surprised him. Not anymore. Everyone fit neatly into a category.
Until tonight.
Maisy stunned him.
She didn't feel worthy? That's what had her crying her eyes out?
So many of the humans he'd encountered were too selfish or prideful to ever worry about being worthy if this had fallen in their laps. Maisy just might be different after all.
No training. No innate skills or strength that would mark her as Keeper, but she had a tremendous heart.
She wasn't worried for herself. No, it was all concern for others. That wasn't the mark of simply a good person.
It made her extraordinary.
Rhys moved closer. Lined up his thigh against her hip. "I'm going to tell you something. You have to swear never to repeat it, though. Especially not to my partners, Zavier and Gideon."
Maisy nodded, sniffling.
"I'm not worthy, either."
Her eyes went wide. "You're an angel."
"Half angel," he corrected. "I carry around these Heaven-given wings. Powers. Doesn't stop me from being petty and enjoying a win at cards. Snaking the last cookie away from Gid. I hold grudges. I exact revenge. I won't share the remote."
"Shocked your wings haven't molted right off for that transgression."
Good. If she was snarking at him, she wasn't crying. "The secret to doing the right thing? It's not being a good person. It's not being the right person. It's commitment. Following through on your intent. Not letting anything dissuade you."
Sniffing and squinting suspiciously, Maisy said, "That sounds too simple."
"It's not simple at all. Some days. Others, it comes naturally. Either way, you just keep going."
"Or I could stay in bed and commit to having a good cry."
"Aww, Maisy, don't do that." Rhys wiped away her tears with the side of his thumb. A shock pinged through him at that small touch. Almost like the energy ping he'd felt in his wrist when her power activated. "It won't fix anything."
"What will? I swear I'm paralyzed at the thought of how many things I could do wrong."
Extraordinary times called for extraordinary measures. Guess he'd have to fake being a hugger.
Just for tonight.
Just to fix this. Since it was partially his fault.
"Come here." Rhys snaked an arm low around her hips. Put the other over her shoulder to pull her flush against him. At first, she was rigid. Once he started stroking her head, though, she absolutely melted against him.
He felt every individual inch of her body where it touched his.
The thin tank top didn't prevent him from noting the soft globes of her breasts against his bare chest. The firm jut of her nipples. The warm softness of her arms as they encircled his ribs. Her hair smelled of lemons and lavender. It felt like satin ribbons streaming under his hand.
Rhys wasn't aware of her as the Keeper. As the mystical power conduit he was charged to keep safe.
Rhys was overwhelmingly aware of Maisy as a woman.
As the woman he wanted.
How much time had passed while they embraced? No clue. Rhys just knew it was too long to only touch her and not have more. So on the next pass of his hand, he gathered all that silk and tugged to tilt her head back.
Maisy's eyes flew open, blinking at him.
Then he kissed her. And her eyelids immediately fluttered shut at the press of his lips against hers.
That inherent softness she radiated extended to her mouth. It was like sinking into a down pillow, slicked with honey. Maisy molded her lips to his, giving back every bit that he gave her.
Rhys was giving a lot.
He kept one hand on her head to tilt it for optimal access. With his other, he dragged her up onto his lap in one swift yank. Maisy's butt landed right on top of his stiff cock. Her lips parted as she gasped. Rhys seized the moment to infiltrate her mouth with his tongue. She welcomed it, twining in a dance with his. Both fighting for control, but neither one a loser.
God, but the woman could kiss. Not just with her mouth. Her entire body rubbed against his. Her hands stroked up and down his back, leaving goose bumps in their wake.
Goose bumps?
Yeah, it was still spring in freaking Buffalo, but a hardened warrior didn't get goose bumps. Not from the cold. Definitely not from a random kiss with a—as she kept hammering home— mostly stranger.
This was a bad idea."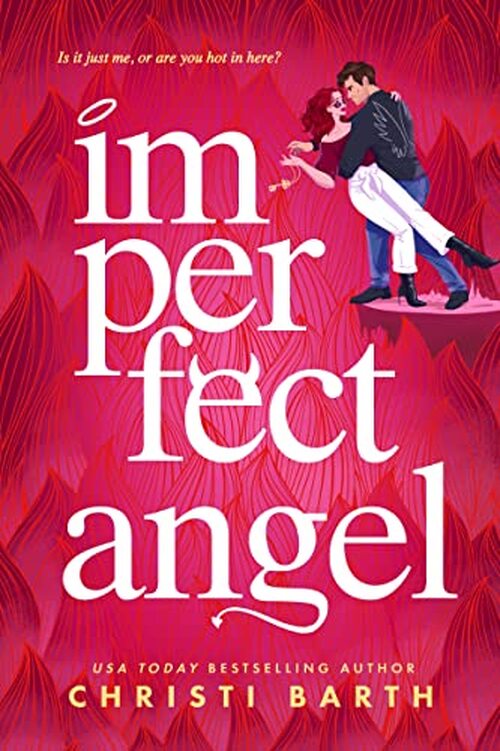 Three days ago, all Maisy Norgate had was a stack of bills, about a gazillion jobs, and her sunny-as-hell outlook. Now, thanks to an uncle she never knew about, she's inherited an ornate skeleton key with absolutely no idea what it's for—or why she has it. Which is exactly when a ridiculously handsome guy claiming to be an angel shows up at her door and all hell breaks loose…
Nephilim Rhys Boyce cannot believe that Maisy is the new Keeper of the Key. Why would anyone bequeath this warm, bubbly redhead the key to Hell? And to make matters worse, she's given the key to the first person who asked for it. A demon. Yep, Maisy is determined to make his job—not to mention some seriously inconvenient temptation—as hard as possible.
First a half angel with a very human chip on his shoulder must find a way to convince Maisy that angels and demons do exist. Then Rhys will have to break the really bad news…that she might have accidentally ended the world.
Romance Paranormal [Entangled: Amara, On Sale: July 26, 2022, Trade Paperback / e-Book, ISBN: 9781649372116 / eISBN: 9781649372253]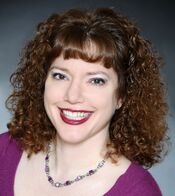 Christi Barth earned a Masters degree in vocal performance and embarked upon a career on the stage. A love of romance then drew her to wedding planning. Ultimately she succumbed to her lifelong love of books and now writes contemporary romance. Christi lives in Maryland with her husband.
No comments posted.