The relationship between the hero and heroine in your new book is different from most relationships I read about in historical romances. Emmeline and William Pershing have been married for eight years, but it was a marriage of convenience. Do you enjoy writing stories in which the hero and heroine have an established past rather than meeting for the first time? What has the dynamic been like between them for eight years?
This is the first time I've written a story that deals with a marriage already eight years in. Just as a writing preference I love doing the "meet cute", but for Something in the Heir I wanted to do more of exploration about what love is, exactly, and how you find it after you think it's passed you by. I think this book is as much a book about love as it is about romance.
Because the birthday celebration necessitates fake children, there is a definite farcical element to SOMETHING IN THE HEIR. Do you enjoy a farce? Is it challenging to write?
It's definitely different tonally than I usually write. I went with the idea that love is insane, hilarious, and larger than life. My prep for this was watching a LOT of Cary Grant movies, along with some of the great screwball comedies of the 30s and 40s. The biggest challenge was having the larger-than-life plot and populating it with characters that were still relatable.
Is it difficult writing child characters?
I love writing child characters. They're so straightforward but so whimsical at the same time.
How much research, if any, goes into one of your historical novels?
Something in the Heir is somewhere around my 50th book, most of them set in the UK during the Regency. At the beginning of my career, I did a lot of research, and my research library is somewhere around 500 books, but now I mostly have to research very specific things. For this story, it was mostly the correct street slang used during the Regency period.
What's most important to you in creating a story – good dialogue, the characters, the story, or the emotional connection?
They're all important. I probably start with the basics of the characters – where they are, what they want, and what they need. The rest of the story comes out of that.
If you could only pick one of your books, other than this one, to a romance reader unfamiliar with your work, which one would you pick? And why?
I would probably choose IT'S GETTING SCOT IN HERE, the first book in my Wild, Wicked Highlanders trilogy. In my opinion, and I don't know if it's shared, my writing and my characters get more layered and complex with each book I write. So I'd like a new reader to start with something more recent—plus, Highlanders and a lot of humor.
Other authors I've interviewed have told me that the kinds of books they enjoy reading are different from the kind of books they enjoy writing. What do you like to read? Favorite books? Favorite author?
I'm kind of the same – I think if all I read was Historical Romance, my writing would tend to stagnate. I like that kind of paranormal/sci-fi-fi stories like the Game of Thrones series, the Pendergast series by Lincoln and Child, the Michael Crichton-type stuff.
What are you currently working on?
I just finished another Regency romp – BAD DOGS AND ENGLISHMEN. This one is definitely more romance-focused than SOMETHING IN THE HEIR, but I would still describe it as a madcap caper. A mix-up of dogs, a no-nonsense scientist, a Society flirt, and a very determined suitor. Kind of "Bringing Up Baby" but with grand balls and carriages.
In Something in the Heir, smart, capable heiress Emmeline Pershing will do anything to keep her beloved home; and all it takes is an arranged marriage and a teeny white lie to fulfill her family's silly inheritance rules! But now her little fib means that she and her completely unsuspecting husband are going to inherit big — and very messy! —trouble in this spicy, sexy delight from bestseller, Suzanne Enoch.
Emmeline and William Pershing have enjoyed a perfectly convenient marriage for eight years. Their relationship is a seamless blend of their talents and goals. They've settled into separate, well-ordered lives beneath the same roof, and are content to stay that way—or so Emmeline thinks. And if William has secretly longed for a bit more from the woman he adores, he's managed to be content with her supreme skills as a hostess and planner, which has helped him advance his career.
Then when Emmeline's grandfather, the reclusive Duke of Welshire, summons them both for his birthday celebration and demands they bring their two little angelic children, William is stunned to discover that his very proper wife invented not one, but two heirs to fulfill the agreement for living at Winnover. But surely if Emmeline and William team up and borrow two cherubs to call their own, what could go wrong? Enter George, age 8, and Rose, 5—the two most unruly orphans in Britain.
As the insanity unfolds, their careful, professional arrangement takes some surprisingly intimate turns as well. Perhaps it takes a bit of madness to create the perfect happily ever after.
Romance Historical | Romance Comedy [St. Martin's Griffin, On Sale: September 20, 2022, Trade Paperback / e-Book, ISBN: 9781250842527 / eISBN: 9781250842534]
Borrowed orphans attempt to play aristocratic children to bamboozle grandfather
I admire the utter uniqueness of this story. It's definitely one-of-a-kind!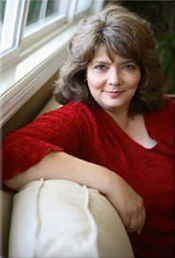 A lifelong lover of books, Suzanne Enoch has been writing them since she learned to read. She is the author of two well-received traditional Regencies, 24 and counting England-set Historical Romances, four contemporary Romantic Suspense novels, and a growing number of Scottish Highlands Historical Romances.
A native and current resident of Southern California, Suzanne lives with a green parakeet named Kermit, some very chirpy finches, and a small army of Star Wars figures (including a life-size Yoda). Her books regularly appear on the New York Times and USA Today bestseller lists, and when she's not busily working on her next book or staging fights with action figures, she likes to read, play video games, and go to the movies with her large and supportive village.
1 comment posted.